Issue Date: May 14, 2004
WORLD
Theologians want more women appointed to church boards
BANGALORE, India -- Catholic theologians in India have called for 50 percent representation for women on church consultative bodies and suggested ways to promote positive attitudes toward women. Members of the Indian Theological Association said such steps are necessary to ensure women's status as equal partners in the church. They made their call in the final statement of their annual meeting.
Sixty-five theologians, 22 of them women, attended the meeting April 25-29 in Bangalore. "Women's concerns: Indian theological response" was the theme. The final statement from Bangalore suggests appointing women as counselors and spiritual directors in seminaries to help seminarians develop "a healthy relation with women." Another suggestion is for seminaries and ongoing formation programs for priests to include more "gender-sensitization."
Association members want the church to popularize "inclusive language" in liturgy and catechesis to help develop a positive attitude toward women. They also want the church to use more feminist passages in liturgy, and to encourage women's participation in Gospel proclamation during liturgy.
Weeklies protest Beijing veto
HONG KONG -- In bold front-page editorial statements, the two weekly newspapers of Hong Kong diocese have expressed discontent with Beijing's decision to rule out universal suffrage in Hong Kong for elections in 2007 and 2008. The May 2 issues of the Chinese-language Kung Kao Po and English-language Sunday Examiner carried banner headlines that read in their respective languages: "Hopes for direct elections and universal suffrage crushed."
The Examiner used large white letters inside a black box that took up the top two-thirds of the tabloid-sized paper for the message: "We have been ignored. We have been insulted. We have been deprived of our rights. We know how to forgive. We trust in prayers. We are patient and will persevere. We still believe that the vital force of the 'One Country, Two Systems' principle will triumph."
Peter Leung Shing-kwok, Kung Kao Po deputy editor-in-chief, said the newspapers wanted to put Hong Kong's grievances before China's leaders. "The central government did not give us a chance to voice our opinion, so that is what we can do here," he said.
Ambassador meets dissidents
HANOI -- U.S. Ambassador Raymond Burghardt met April 28 with Thich Huyen Quang, 86, patriarch of the outlawed Unified Buddhist Church of Vietnam. The Buddhist leader and his deputy, 75-year-old Thich Quang Do, have been accused of possessing state secrets and trying to reorganize their church with the help of outside forces. According to the U.S. embassy in Hanoi, Burghardt, who speaks Vietnamese, Chinese and Spanish, met for an hour of "private conversation" with the patriarch in central Vietnam's Binh Dinh province. The Buddhist leader has been kept there under de facto house arrest since last October.
Lynching of mayor shocks nation
LIMA, Peru -- Three weeks of protests that ended with the lynching of a mayor has shocked Peru. Bishop Elio Pérez Tapia of Juli, a mostly rural area on the Bolivian border, criticized government officials and the judiciary for not resolving troubles before violence ensued. He called for dialogue between community groups and authorities.
On April 26, Ilave Mayor Cirilo Robles was dragged through the streets, beaten and kicked, then lynched. Residents had been calling for his resignation. However, Peruvian law does not allow mayors to resign; they must be removed through cumbersome legal proceedings.
USA
Stem-cell research challenged
WASHINGTON -- A Catholic official has challenged 200 House members who wrote to President Bush April 28 urging federal funding to create new lines of stem cells for research. The representatives said that cell lines now eligible for federal funding "are insufficient for human clinical trials and are 'contaminated' by the mouse feeder cells in which they were cultured."
"Besides demonstrating a lack of respect for developing human life, that letter also relies on demonstrably false factual claims," said Richard Doerflinger, deputy director of the U.S. bishops' Secretariat for Pro-Life Activities. Human embryos are destroyed in the process of making stem cell lines.
Poll shows split over abortion
WASHINGTON -- A poll conducted April 15-17 by Zogby International showed that 56 percent of respondents said that abortion should never be legal or be legal only when the mother's life is in danger or in cases of rape and incest. Forty-two percent of the respondents said abortion should be legal for any reason for the first, first and second, or all three trimesters of pregnancy.
Asked if they considered themselves "pro-life" or "pro-choice," 49 percent said pro-life while 45 percent said pro-choice. By a 61-34 percent margin, poll respondents said abortion should not be permitted after the fetal heartbeat has begun.
Zogby interviewed 1,209 Americans by telephone. The poll's margin of error was plus or minus 2.8 percent. It was made public April 23 in Washington.
Carol Tobias, political director for the National Right to Life Committee, which commissioned the poll, said "only 13 percent of the public" supports the "extreme position" of "abortion on demand throughout pregnancy."
---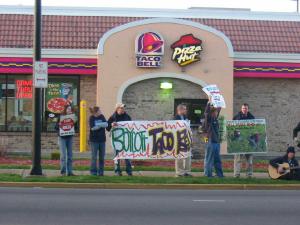 Fast food, fair food
Notre Dame students protest outside a Taco Bell in downtown South Bend, Ind. Following student protests, including a 15-day hunger strike, the University of Notre Dame said April 28 that it will postpone renewal of a sponsorship contract with Taco Bell until the fast-food chain is more forthcoming about its labor standards. Members of the Progressive Student Alliance began meeting with members of the administration when they found out about Taco Bell's sponsorship of a post-football game radio show in September. In February the university agreed to evaluate the Taco Bell contract. The student alliance is supporting the Coalition of Immokalee Workers in pressuring Taco Bell to ensure that its suppliers give just treatment and fair wages to the farm workers who pick the tomatoes it buys.
---
Bishop weighs in on budget
WASHINGTON -- Priorities in approving the federal budget for next year should include full funding for a social services block grant, expansion of health care coverage for the uninsured, and rejection of efforts to cut Medicaid and housing voucher programs, according to the president of the U.S. bishops' conference.
Writing to House and Senate budget conferees, Bishop Wilton Gregory of Belleville, Ill., asked that special attention be paid to the human consequences and moral dimensions of budget choices. "Those decisions help or hurt people, strengthen or weaken family life and advance or jeopardize the future of our nation," he said.
Gregory said that even with an improving economy the demand for social services continues to grow. "Preserving an adequate safety net for the poor and vulnerable is a fundamental moral obligation of a responsible society that must be balanced along with priorities like homeland security and military expenditures," he wrote.
He also said the nation has international responsibilities that require increases in development assistance.
---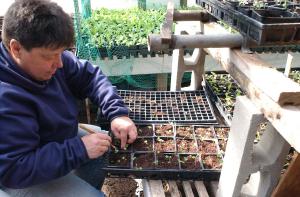 -- CNS/Dianne Towalski
Seeds of change
Nett Hart transplants seedlings in one of the greenhouses at Webster Farm Organics in Foreston, Minn., April 12. Consumers and farmers rarely know each other, but Catholic parishioners in central Minnesota have created partnerships that encourage personal relationships. Bernie Evans, who holds the Virgil Michel Ecumenical Chair in Rural Social Ministries at St. John's University in Collegeville, believes community-supported farms are an important way for people to re-establish a connection with the earth as the source of their food and build relationships that support common goals and values. Consumer-farmer partnerships also incorporate many of the church's criteria for a just agricultural system, he said.
---
COMPILED FROM NEWS SERVICES, CORRESPONDENTS AND STAFF
National Catholic Reporter, May 14, 2004