Issue Date: May 14, 2004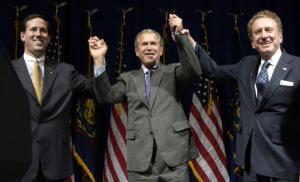 -- John Eagle/Getty
From left: Sen. Rick Santorum, President George W. Bush and Sen. Arlen Specter at an April 19 rally in Pittsburgh.
Pragmatism over principle in Pennsylvania Senate race
Pro-lifers question Santorum's endorsement of Specter
By JOE FEUERHERD
Washington
The pro-life movement has no greater friend in Washington than Sen. Rick Santorum, R-Pa.
So why did he betray them? Or did he?
Speaking at the first National Catholic Prayer Breakfast April 28, Santorum chastised the clergy, saying too many priests lack the backbone needed to energize the faithful.
"One of the reasons American Catholics are not as fervent is because many in our clergy are not as fervent in teaching the faith," the 46-year-old conservative Catholic told the 1,000-plus prayer breakfast attendees. "Catholics have not been given a proper Catholic formation," said Santorum, because "priests get up and talk around issues and not at them."
Santorum -- leader of the Senate effort to ban "partial-birth abortion" and a major proponent of a constitutional amendment to ban gay marriage -- is a hero to many of the prayer breakfast attendees. He is viewed in these circles as an articulate and attractive rising Republican star who does not abandon the commitments of faith amid the rough-and-tumble of political life.
Which is what made the timing so awkward.
The night before the prayer breakfast Santorum's home state colleague and fellow Republican, Sen. Arlen Specter, celebrated a razor thin victory over conservative insurgent Pat Toomey, a member of the House who made Specter's pro-choice voting record a central issue of the campaign. Santorum backed the pro-choice Specter over Toomey.
Santorum supported the incumbent, he said, because Specter has "delivered" for Pennsylvania at key moments and because the four-term senator was a stronger general election candidate at a time when Republican control of the Senate is in jeopardy.
Santorum's endorsement (along with that of President Bush) provided the conservative cover Specter needed in a Republican primary to eke out victory, according to Pennsylvania political observers.
The sting of Santorum's endorsement is that much worse for pro-lifers because Specter is slated to become Judiciary Committee chairman in the next Congress. In 1986, as a member of the committee, Specter led Republican opposition to the nomination of Robert Bork to the Supreme Court, and it is thought that as chairman he could torpedo a pro-life nominee.
Some downplay Santorum's transgression. "If his working relationship with a fellow Republican senator from Pennsylvania requires him to make a pro forma statement of support, I don't think anyone believes that it expresses his support for Specter's pro-abortion policies," Crisis magazine publisher Deal Hudson, a Republican activist, told NCR in an April 2 e-mail. Santorum is a regular contributor to the conservative Catholic periodical.
Others were less forgiving. "I do think Santorum should pay a price for what he's done," wrote conservative commentator John Miller. "He has leadership ambitions in the Senate. Was his overflowing support for Specter aimed at convincing moderate GOPers that he's a big-tent kind of guy?" asked Miller.
Santorum had no choice, said St. Joseph's University Political Science Department chairman Francis Graham Lee. Santorum, Lee told NCR, "is in the Republican leadership. For him to work against, or not support, an incumbent Republican from his home state would be unheard of."
Santorum's position as chairman of the Senate Republican Conference, a leadership post, would have been threatened, said Lee, if he opposed Specter or provided only tepid support.
"It would have been political chaos for Santorum to come out publicly against Specter in the primary," agreed the Rev. Robert Edgar, general secretary of the National Council of Churches. Edgar, a former member of the House of Representatives, was Specter's Democratic opponent in the 1986 Pennsylvania Senate race.
"There are a lot of forces that would have worked against Santorum in the future" if he opposed Specter, said Edgar.
Lee said Santorum should be able to mend conservative fences prior to his 2006 reelection bid. Edgar said Santorum's support for Specter will actually help Santorum in 2006, making him appear more moderate than he actually is.
So was Santorum's endorsement smart politics? Perhaps.
But it wasn't good enough for one government lawyer at the prayer breakfast, who saw Santorum's support for Specter as hypocritical. "I'd like to ask him why he backed Specter" said the disillusioned pro-lifer.
But the crowd, either unaware or forgiving that pragmatism trumped principle, gave Santorum a standing ovation.
Joe Feuerherd is NCR Washington correspondent. His e-mail address is jfeuerherd@natcath.org.
Parishes distribute political endorsement
The heated Pennsylvania primary race pitting pro-choice champion Arlen Specter against pro-life insurgent Pat Toomey got down-and-dirty in the days preceding the April 27 election. Specter's campaign, and its surrogates, charged that Toomey was a latecomer to the pro-life cause, while Toomey's operatives said Specter was a "RINO" -- a Republican-In-Name-Only.
In an April 17 letter provided to the Toomey campaign, Fr. Frank Pavone, national director of Priests for Life, endorsed Toomey. "We need him, ultimately, in the U.S. Senate, where votes on pro-life matters are usually so very close, and where significant battles are ahead regarding the confirmation of federal judges and Supreme Court Justices," wrote Pavone.
In deference to IRS regulations regarding partisan activity by non-profit groups, Pavone's letter noted that his endorsement was made "as a private citizen, and not as the representative of the organizations I lead or of any church entity." But that didn't stop at least two Philadelphia archdiocese parishes from distributing the letter as an insert in church bulletins. Guidelines on political activity on the part of churches published earlier this year by the U.S. Bishops' Conference note that political endorsements should not be made "in the organization's official publication or at its official function."
"I would not have put [the letter] in a church bulletin," said Pavone.
A spokesperson for the Philadelphia archdiocese said the Pavone letter was included as an insert in the bulletins at the behest of the pastors.
-- Joe Feuerherd
National Catholic Reporter, May 14, 2004