Issue Date: May 14, 2004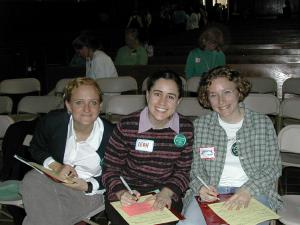 -- Matt Tilghman-Havens
At Boston College conference: "The church women want is the church we need."
Women call for transformed church
By BARBARA R. BODENGRAVEN
Boston
It was probably unintentional on his part, but Boston's Archbishop Sean O'Malley provided a good deal of the material for conversation at Boston College's latest installment of its Church in the 21st Century series, the one titled "Envisioning the Church People Want."
Catherine Brunell, 27, questioned how O'Malley, during an April 6 homily, could have equated feminism with the drug culture and divorce as a factor negatively affecting the religious practices of the baby boom generation.
"In my peer group, feminism is a good thing," Brunell said. "When the church links feminism to something evil or detrimental, people my age opt out of the church." She and her peers, she said, could explore their spirituality somewhere "more life-affirming."
Christopher Morck, 29, alluding to O'Malley's decision to omit women from the traditional Holy Thursday foot washing he conducted in Boston this year, suggested, "The church can't be a true witness of Jesus Christ unless it is totally inclusive."
O'Malley eventually issued a clarification of his comments as well as a defense of his record on women, citing activism on a range of issues (

see accompanying story). It is questionable, however, whether his statement would have blunted the criticism of some at the conference.
Irene Desharnais, an older woman with a grown daughter wanted to know why "I should continue to put my energies into a church that does not respect me or my daughter as women."
Brunell, Morck and Desharnais were among the approximately 600 attending Boston College's latest Church in the 21st Century session April 16 and 17 at the Jesuit university's satellite campus in Newton, Mass.
Boston College has taken the lead in exploring issues underlying the clerical sexual abuse crisis by providing a forum and resources aimed at helping to move the church from crisis to renewal. According to conference organizers, the session on women drew more attendees from a wider geographic spectrum than any other event sponsored by the college in the past year.
Jennifer Tilghman-Havens, director of the college's Women's Resource Center and co-chair of the event, said registrants came from as far away as Ireland, Nova Scotia and California. She said the wide interest "speaks to a hunger, of wanting to be nourished in a church where women don't always feel entirely accepted and embraced."
In a keynote address, Ada María Isasi-Díaz, a native of Cuba who has developed a theology from the perspective of Latinas in the United States, redefined the very foundation of the church.
"Holy, catholic and apostolic," in the words of Isasi-Díaz, should be translated "humble, pluralistic and prophetic."
Other keynote speakers on Saturday included noted author and theologian Elizabeth Johnson, editor of a series of essays written by several of the conference's presenters called The Church Women Want, and Miriam Therese Winter, composer, author and musician as well as a founding faculty member of the Women's Leadership Institute at Hartford Seminary in Connecticut. The roster included Bishop Matthew H. Clark of Rochester, N.Y., activist/author Edwina Gately, author Mary Gordon, renowned biblical scholar Pheme Perkins and author Thomas H. Groome, director of the college's Institute of Religious Education and Pastoral Ministry.
Johnson spoke to a standing-room only audience, outlining the history of patriarchal attitudes toward women in the church, providing context for the hierarchy's current policy that she said denies women full participation in the church today.
"A huge ambiguity about women runs through our Christian heritage," Johnson said. "Tertullian said women are the second Eve, the gateway to the devil. Augustine said women's souls are OK but their bodies are not in the image of God. Aquinas said that women are defective males. We are all heirs to this way of thinking. And, as with any prejudice, the prejudice becomes accepted. Women have internalized this inferiority and it becomes a pervasive idea that affects men as well as women."
Johnson outlined the difference between the patriarchal versus the prophetic messages of the Christian tradition, stating that the church as institution has chosen to emphasize the patriarchal, which has been used for centuries to predetermine unequal roles men and women play.
"The hierarchy cannot deny the growing participation of women in the life of the church today," said Johnson. "More than 80 percent of ministry in parishes is done by women -- we're the bulk of religious education directors, teachers, parish administrators and those offering Communion services. What's more, the sex abuse crisis has undermined the trust in the hierarchical structure, and the Vatican bureaucracy is clueless about the seriousness of what's happened. The church needs transformed structures that are fully transparent."
In a series of workshops following Johnson's address, conference attendees discussed strategies for change within in an institution that many here would say denies itself the full gifts and participation of all members.
Groome led a workshop titled "Is the Church Women Want the Church Men Want, Too?"
Groome, speaking to an overflow crowd, replied with a resounding "yes" in answer to the question.
"The church women want is not only the church men want, it's the church we need," said Groome. "Without it, it will be far less effective as a sacrament of God's reign in the world."
As one of the few men attending the two-day conference, Morck expressed his views in a more informal discussion group.
"Until men are as disturbed and upset about the exclusion of women in the church as women are, very little can happen," Morck said. "This has to be a shared pilgrimage, a shared process. There are so many women here. What I want to know is, where are their husbands? Where are the men who care about them, who care about the church?"
Bishop Matthew Clark of Rochester, N.Y., conducted his own inquiry into what women are looking for in the church and presented his findings in a workshop titled "When Bishops Listened to Women: The Women's Pastoral 12 Years Later." The workshop, which also featured Perkins and Susan Muto -- members of the failed "women's pastoral" committee of the U.S. Catholic bishops (1988-94) -- addressed the reasons why the initiative never gained acceptance. Clark, himself a part of that original committee, wanted to know if much had changed concerning the status of women and the church in the intervening years.
"I went to the people at St. Bernard's School of Theology and Ministry and simply asked what qualities women are looking for in the church today," said Clark.
According to Clark, "Women want their experience to be heard, honored, integrated and absorbed; they want their church to be affirming to all and welcoming to all those currently excluded. They want a process of listening that is not condemnatory, not dictatorial. They want a development of more adequate theology that speaks to matters of sex and sexuality, open and honest dialogue, wherein disagreement should not be feared. They want a church that looks for genuine healing and not just sustenance, a church that will look for remedies. And they want a spirituality that is reflected in rituals and celebrations that encourage and celebrate life while specifically addressing the stresses and strains of modern living."
Perkins' reflections included tough questions about maintaining the status quo in the church.
"Is the church too old, too ancient, too moribund to be saved?" asked Perkins, who spoke of the need of repairing a church "seriously crumbling at a number of points."
Perkins suggested that the church is in a time of testing.
"We are enmeshed in an ugly disaster thanks to the church's blind devotion to a culture of secrecy and shame," Perkins said. "Women's experiences can and must help translate this church into one of more egalitarian and collegial relationships."
Perkins was interrupted by applause when she said, "Women recognize patronizing and demeaning language even when it is cloaked in piety."
"The Women's Pastoral may have been a 'failed project,'" added Muto, "but it has not been a 'failed process.' Once the voices are released, you can't put them back into the boxes. Let me tell you, during those years of research and listening to women, we heard many voices of affirmation, but we heard many more voices of outright alienation, too."
The conference, according to one of the event's organizers, was all about voices, about women getting together first as a small and intimate gathering of Boston College women on Tuesday mornings for the past 10 to 15 years, ultimately growing into the full-fledged conference that took place this recent April weekend.
"Our small group of Tuesday morning women launched not only this conference but also the Women's Studies program on the BC campus," said Patricia DeLeeuw, conference co-chair, church historian and associate academic vice president of Boston College.
When asked about the church she envisions, DeLeeuw said: "The church I envision is one where women won't feel like second-tier people, where women will be visible in leadership roles and not just the support workers and majority of people in the pews. I would personally like to see the day when women could choose to be ordained. What I'd like to see is for women to be able to make more choices in the church structure and not be relegated to supportive roles."


-- Matt Tilghman-Havens
Sr. Jeannine Gramick
According to Loretto Sr. Jeannine Gramick, one of the presenters at a conference workshop titled "Women Leaders Creating Church," the way to achieve this envisioned church is twofold.
"We must trust and have confidence in our own moral discernment," said Gramick, who has long ministered to gays and lesbians in the church. "And above all, speak up."
Catherine Sabatos, 28, conference attendee, agreed.
"The church I envision is a church of equality that listens to and represents all voices. As women, we are not trying to take away from any structure that has existed for thousands of years. What we are trying to do is enrich the dialogue and enhance the life of the church."
Barbara Bodengraven is a Boston freelance writer.
National Catholic Reporter, May 14, 2004