Issue Date: May 14, 2004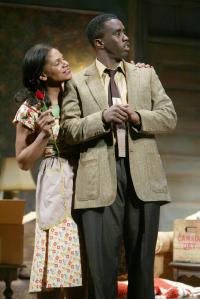 -- Joan Marcus
Audra McDonald and Sean Combs in "A Raisin in the Sun"
Broadway revival of 'Raisin in the Sun' shines
By RETTA BLANEY
What happens to a dream deferred?
Does it dry up like a raisin in the sun? -- Langston Hughes
Dreams deferred and retained drive the powerful Broadway revival of "A Raisin in the Sun," showing at the Royale Theatre through July 11. With theater veterans Phylicia Rashad and three-time Tony winner Audra McDonald, and rapper Sean (P. Diddy) Combs making his Broadway debut, this "Raisin" is an example of what live theater should be -- funny, moving and thoroughly engaging. In a season that has been filled with disappointing shows, this production is a real blessing.
When the show premiered in 1959, it was the first play written by an African-American woman to be produced on Broadway. The writer, Lorraine Hansberry, died of cancer six years later at the age of 34. "Raisin" is the story of three generations of the Younger family living together in a Chicago ghetto sometime in the decade following World War II and chronicles their dreams of better lives, with themes of racism, sexism and ethnic identity threading through their stories.
Mama (Rashad) introduces the dream theme early on, referring to her late husband. "Big Walter used to say, he'd get right wet in his eyes sometimes, lean his head back with the water standing in his eyes and say, 'Seems like God didn't see fit to give the black man nothing but dreams, but he did give us children to make them dreams seem worthwhile.' "
Unfortunately, Big Walter "just couldn't never catch up with his dreams."
Mama wants things to be different for their children, Walter Lee (Combs), a chauffeur who wants to open his own liquor store, and Beneatha (Sanaa Lathan), who wants to be a doctor. Mama and Ruth (McDonald), Walter Lee's wife, dream of a house away from their Southside slum.
Some of these dreams have a chance of being fulfilled when Mama receives Walter's life insurance check for $10,000. But Walter Lee is obsessed with getting the money. "Sometimes it's like I can see the future stretched out in front of me, just plain as day. … Just waiting for me, a big, looming blank space, full of nothing. Just waiting for me."
His obsession worries Mama. "You something new, boy. In my time we was worried about not being lynched and getting to the North if we could and how to stay alive and still have a pinch of dignity too. … Now here come you and Beneatha talking 'bout things we ain't never even thought about hardly, me and your daddy. You ain't satisfied or proud of nothing we done. I mean that you had a home; that we kept you out of trouble till you was grown; that you don't have to ride to work on the back of nobody's streetcar. You my children, but how different we done become."
But the world hasn't become that different, as they find out when Mama puts a down payment on a house in a white neighborhood and the family is visited by a member of the improvement association ready to offer them more money to stay away. He assures them "race prejudice simply doesn't enter into it," but that people there believe "for the happiness of all concerned that our Negro families are happier when they live in their own communities." Somewhat sadly he tells Walter Lee, "You just can't force people to change their hearts, son."
Walter Lee then must decide whether he will take a stand for his own pinch of dignity.
Combs is convincing as Walter Lee, though at times he seems to be playing more to the audience, and more for laughs, than with his fellow actors. The women are consistently strong, especially Rashad, who, with tears filling her eyes, cries out to God for strength after Walter Lee loses the family's money in a bad investment. The moment is intense and real.
Robert Nemiroff, Hansberry's husband and literary executor, wrote in 1988 about why plays like "Raisin," which has been translated into more than 30 languages, continue to touch people, even if the circumstances portrayed have changed. "For at the deepest level it is not a specific situation but the human condition, human aspiration and human relationships -- the persistence of dreams, of the bonds and conflicts between men and women, parents and children, old ways and new, and the endless struggle against human oppression, whatever form it may take, for individual fulfillment, recognition and liberation -- that are at the heart of such plays," he wrote. "It is not surprising therefore that in each generation we recognize ourselves in them anew."
Retta Blaney's latest book is Working on the Inside: The Spiritual Life through the Eyes of Actors.
National Catholic Reporter, May 14, 2004