Issue Date: August 27, 2004
USA
Boston to close more churches
BOSTON -- The Boston archdiocese said it will close 10 more parishes, bringing to a total 81 churches that will be shuttered by year's end under a massive reconfiguration plan. The closings, in the old industrial cities of Lowell and Lawrence, north of Boston, were considered separately from previously announced closings.
Archbishop Sean O'Malley said the closings were necessary because of changing demographics, dwindling congregations, a shortage of priests and costly repairs needed on many church buildings.
By year's end, 81 of the 357 churches in the scandal-scarred archdiocese will have closed. O'Malley has met with some of the affected parishes but has been unwilling to consider appeals.
Legal aid offered to Muslims
WASHINGTON -- The American Civil Liberties Union will provide free legal representation to any Arab or Muslim who is approached by the FBI in what the ACLU is calling "dragnet technique" interviews by the bureau.
The ACLU announced the free counsel in the wake of an early August announcement by Attorney General John Ashcroft and FBI Director Robert Mueller that a new round of interviews of Arabs and Muslims would begin soon.
Victims can't address nuns
WASHINGTON -- At press time NCR learned that the Leadership Conference of Women Religious, an umbrella group that represents the leaders of nearly 70,000 U.S. nuns, decided not to allow a group of sexual abuse victims to address their Aug. 19-22 national conference in Fort Worth, Texas. Instead, conference officers will meet privately with representatives of the Survivors Network of those Abused by Priests -- SNAP.
"We did not believe that the assembly offered an environment conducive for listening and dialogue," Sister of Charity Constance Phelps, president of the nuns' group, said in a statement. "Our commitment to meeting with SNAP is sincere, and we hope to have a productive discussion focused on critical issues relevant to supporting survivors and preventing further sexual abuse," Phelps said.
David Clohessy, SNAP's national director, said about 100 members of his group were abused by nuns. "It's terribly, terribly disappointing," Clohessy said.
Stem-cell research explained
ST. LOUIS -- People in the pews really need to understand the issue of stem-cell research, especially in light of the upcoming presidential election, said a nationally respected neuroscientist and theologian. Stem-cell expert Fr. Tadeusz Pacholczyk spoke to Catholic pro-life officials gathered in St. Louis in early August.
He said the debate on such research and the closely related issue of cloning is not just national in scope but international as the United Nations now faces again the question of whether to ban all types of human cloning.
Pacholczyk said the claim that embryonic stem-cell research shows the greatest promise for curing disease "is vastly oversold." The number of those cured by use of such cells is "exactly zero," the priest said. He said, "The true cures are coming from adult and umbilical cord stem cells." The priest noted the Catholic church supports three of four types of stem-cell research, opposing only the use of embryonic stem cells.
Students talk with space station
TULLAHOMA, Tenn. -- Students from St. Paul the Apostle and Good Shepherd Catholic schools made history for Tennessee Aug. 10 when they made contact with the International Space Station. "My heart skipped when we first heard him," radio control operator Mike Boyea said of the initial voice contact he made with U.S. astronaut Lt. Col. Mike Fincke.
Boyea, a ham radio hobbyist, and Mike Glennon, a technical specialist, helped organize the contact.
Crew members on the International Space Station have amateur, or ham, radio as a constant companion, and regularly communicate with schools around the world during their mission.
"It's a rather involved process to get permission to talk to the space station," Boyea said. For these students, the permission process took more than three years.
The students, who are on a year-round school schedule, had been studying space exploration in their science classes for about three weeks. They asked Fincke, the flight engineer and science officer, questions about space exploration and daily life on the space station.
---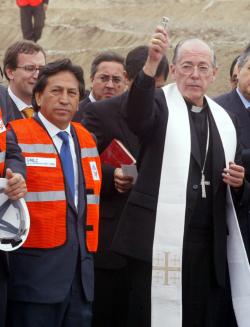 -- CNS/Reuters
Blessed Oil
Cardinal Juan Cipriani Thorne of Lima blesses the new Camisea natural gas pipeline during its launch in Lurin, Peru. At left is Peruvian President Alejandro Toledo. Peru celebrated the inauguration of its huge gas line two decades after the reserves were discovered. The government hopes the $1.6 billion project will be the economic catalyst to help pull the Andean nation out of poverty and cut its dependence on expensive oil imports. But the production facilities and pipeline through the rain forest, as well as new oil drilling in indigenous territory near the border with Ecuador, have highlighted ongoing questions about development projects in fragile environments that are also home to indigenous people.
---
WORLD
Vatican closes Austrian seminary
VATICAN CITY -- The Vatican closed Aug. 12 a 200-year-old Austrian seminary at the center of a sex scandal involving thousands of child pornography photographs and evidence of homosexual relations between priests and seminarians. Bishop Klaus Kung of Feldkirch, acting for Pope John Paul II, announced the decision at a televised news conference in Vienna following his three-week investigation of accusations against the Sanct Pölten Seminary, just outside Vienna.
"The seminary is closed from this instant," Kung said. "After the events of the last academic year, we must begin anew."
Austrian police July 20 charged an unidentified 27-year-old Polish ex-seminarian with distributing and possessing child pornography. The rector of the seminary, the Rev. Ulrich Kuechl, and his deputy, Wolfgang Rothe, resigned July 5.
Silver jubilee celebrated
ITANAGAR, India -- A village in Arunachal Pradesh, a state in northeastern India, has launched a yearlong celebration to observe the silver jubilee of Catholic presence in the state, once off limits to Christian missioners. Twenty-five years ago, 600 people of the Nocte tribe were baptized in the village of Borduria.
The hilly state, home to a predominantly tribal population, is surrounded on three sides by international borders -- with Bhutan, China and Myanmar.
Arunachal's first local Catholic, Wanglat Lowangcha, now state home minister, was baptized in 1978 while a student at a Salesian school in Meghalaya, another northeastern state. That same year, the state government passed a law banning "unethical" conversions. The next year, Lowangcha brought his school principal incognito to baptize villagers in Borduria.
At an Aug. 2 Mass commemorating the foundational event for the church in Arunachal, Lowangcha said told 3,000 participants not to forget the people who persevered through the early "rough days."
COMPILED BY DENNIS CODAY FROM NEWS SERVICES, CORRESPONDENTS AND STAFF
National Catholic Reporter, August 27, 2004