Issue Date: January 7, 2005
Under strain
Stress -- from both danger and overwork -- shadows relief workers serving in volatile countries
By ARTHUR JONES
Baltimore
Stress stalks the compassionate.
Earlier this year Provash Budden was running Catholic Relief Services' Basra operation in Iraq. Conditions were changing rapidly. On May 10 Budden said the call came from regional headquarters: "Please leave tomorrow."
These days Portland, Ore.-raised Budden is Asia region deputy director, based in New Delhi, India.
Twenty-three plaques in the Catholic Relief Service memorial garden here mark fallen colleagues, most of whose deaths were accidental, dating back to 1945. That year 11 CRS workers were lost when a small plane crashed into their offices in the Empire State Building.
Indeed, despite having thousands of staff members in some of the world's most violent areas, CRS, the U.S. bishops' 61-year-old global aid agency, which operates with a budget of $460 million, has lost no staff members in the line of fire since 1995. "Praise God," said Kathryn Dugan, the CRS official who ensures that staff in crisis situations have access to debriefing and counseling.
Though some CRS workers in the field have died, none has been "targeted" or deliberately murdered since Dimitri Lascaris in Burundi in 1995. The most recent accidental death was that of staffer Mohamed Sheku, killed in a car crash in Sierra Leone earlier this year. Accidents are not infrequent in countries with poor roads or land mines or ambush risks.
Aid agencies' staff on the frontlines of relief work in the world's trouble spots have unique issues to contend with. Yet strain comes less often from enemy fire than overwork. CRS, with 317 staff at its Baltimore headquarters and more than 4,000 national and international staff in 94 countries, is ready whenever potentially volatile situations turn nasty.
That happened in Herat, Afghanistan, in September. Herat erupted after the Afghan head of state Hamid Karzai sacked the local warlord, Ismail Khan, as regional governor. Pro-Khan demonstrators then stormed the United Nations compound in Herat and stoned U.S. troops on the streets. The headquarters of the Danish Afghan Committee, an international aid agency, was looted.
No CRS staffer was injured, said Kevin Hartigan, New Delhi-based regional director for Asia, but "some were on the telephone with colleagues who were fleeing for their lives from the mob. So they had a frightening couple of days there. The same thing had happened in the Congo in June -- anti-U.N. riots -- and we pulled people out of eastern Congo."
When aid workers experience dangerous events their plight does not go untended. Shortly after Herat erupted, Dugan telephoned Washington-based counselor Sharon Forrence from Baltimore. Forrence, who served in a similar capacity with the Peace Corps for five years, immediately telephoned CRS in Herat and counseled the staff individually by telephone.
If Forrence recommends it, staff will be pulled out for R and R. If they are international staff -- U.S. citizens, Irish or other Westerners -- Forrence may recommend home leave or further counseling.
The threat of personal violence in emergency aid situations is not the major cause of stress for agency workers. The bigger strain is getting the work done. Budden provides some insights.
Budden worked for United Nations and World Bank agencies and a couple of smaller nongovernmental organizations in Asia and Africa before joining CRS six years ago. From an initial CRS assignment in the Dominican Republic, Budden went first to Cairo as program manager for Egypt, with Turkey added following its 1999 earthquakes.
His brief was expanded to include Lebanon, Jordan and Iraq, and last year he moved to Basra as chief of programs and codirector for a USAID-funded program in collaboration with Save the Children U.S. and Caritas Iraq.
There were three other international staff and 55 Iraqi staff members based in Basra and an office in Nassiriya, two hours north of Basra.
"Throughout the year," said Budden, "though the media painted Iraq as a much more violent place, I felt quite comfortable in Basra. Day-in, day-out, supervising national staff, we were developing proposals with local communities.
"Fortunately there was quite a bit of Shi'a support originally for the British, Danish and Czech troops in the south, given the British military's mature style of managing things. By July and August this year there were 24 or 25 international nongovernmental organizations based in Basra." But with the U.S. bombings in April, he said, "most people cleared out."
CRS, Save the Children and Norwegian Church Aid remained. In April the situation grew tenser. CRS decided to discontinue the USAID program and set a May 30 exit date. On 24 hours notice, that was changed to May 11.
"We had to work hard in a space of 16 hours," said Budden, "but we were able to depart in an orderly fashion because we were already in a wind-down mode."
After some R and R, Budden was assigned to Asia. He misses the Basra team. "In the politically and militarily volatile areas," said Budden, "it's the national staff who are usually at the greatest risk. They're the ones who go to the project sites every day and work with the community. They are the face of CRS and Save the Children and Caritas. Because of security issues, international staff tend to keep a lower profile. The national staff are much more in harm's way."
Nineteen CRS national staff members were injured in Nassiriya last November in an explosion when the nearby Italian compound was attacked. "The office was back at work the next day," said Budden.
CRS and other major agencies do not neglect national staff in the many countries aid agencies serve. Dugan noted that in Latin America, when a CRS staffer was wounded during a holdup, he was rushed to the nearest hospital then medevaced to the United States. There was counseling in the hospital, which continued for the staffer and his family long after discharge.
But there are also anticipatory programs, because crises are not rare.
Counselor Forrence, who has been in countries such as Eritrea, Sierra Leone and the Congo, said, "Most sending organizations do a really good job with their staffs on the conditions they'll face, preparing them with realistic expectations."
"People in stressful situations must care for their physical needs," said psychologist James Guy, director of the Pasadena, Calif.-based Headington Institute. "So exercise is essential, despite the dangerous environment."
Headington, a stress management institute for humanitarian agency personnel, developed from research done for the Protestant humanitarian agency World Vision. Guy, reflecting on a workshop he gave for national and international staff in Nairobi, said, "They need to see that they rest, get adequate sleep, watch their diet. It's hard, but it's essential if they're going to get their work done."
Asia regional director Hartigan, who served in Africa, has lost half a dozen colleagues in various agencies during his 14 years with CRS. In volatile situations, such as in Afghanistan and Iraq, aid agency personnel may suddenly be no longer seen as neutral, he said. "That creates additional frustration, but we still accomplish a lot."
As for the supportive interagency camaraderie in the field, he said, imagine the mood in the United States immediately after Sept. 11. "People going through an insecure time yet tight and supportive of each other. It's a nice feeling. You can get nostalgic for it.
"But at night, when you're alone in bed at 2 a.m. and wake up thinking about this stuff -- having trouble sleeping like people did after Sept. 11 -- and it's just you. Then, sometimes, it's not so good."
But with a strong support group, most people most of the time find calm and resilience and just turn over and go back to sleep. A deep spirituality, said psychologist Guy, is a tremendous additional resource.
Dugan said, "Our staff has to have a great deal of dedication, inner strength to deal with the difficult situations facing the poor. A resilience in the face of tragedy. For dangerous posts we provide regular R and R to a suitable location away from the post, an allowance for additional calls home, and additional decompression time following a high stress assignment, e.g. Basra."
Aid agencies provide the best safety nets they can -- training beforehand, counseling when the worst happens.
Said Hartigan, "The people I knew in Angola were killed by land mines or in ambushes. The assumption was they were in the wrong place at the wrong time. The idea that you're targeted or threatened personally is much more disturbing, but most of the time that isn't the case."
Most of the time, said Forrence, what's stressful and "more challenging are the day-in, day-out realities of facing overwhelming odds."
In refugee camps and dislocated areas staffers "get totally exhausted because the feeling is the work is so urgent you should never stop." said Hartigan. "You feel you are making a significant difference. There's a lot of camaraderie, and in most places there's a sense of usefulness. Earlier this year we set up refugee camps in Chad for the [Darfur] Sudanese refugees. It was horrible, the logistics were awful, a lot of frustration. But we got a lot done because the base line was so low." But, he said, staffers need to know when to stop. "That's what colleagues and visitors do, ensure that workers know when to ease up," he said.
Arthur Jones is NCR editor at large. His e-mail address is arthurjones@comcast.net.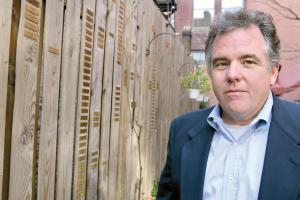 -- Rick Reinhard
CRS staffer Dimitri Lascaris' murder in Burundi in 1995 was probably the first time a Catholic Relief Services worker was deliberately targeted by those determined to disrupt the work. These days, in tense regions such as Afghanistan and Iraq, the deliberate killing or kidnapping of Western relief agency workers has become common.
Joseph O'Connor, pictured here in the CRS memorial garden in Baltimore, was regional director in Burundi in the 1990s. He said
he had the international staff out of the country for counseling in Nairobi, Kenya, in less than a week. It would have been sooner, he said, but they stayed for the funeral of Lascaris, a Greek who had grown up in Burundi's expatriate Greek community. CRS flew in a counselor to meet with the Burundi national staff. After counseling, O'Connor, who has also served in Gambia, Togo, Benin and Kenya, returned to Burundi for a further six months.
National Catholic Reporter, January 7, 2005