National Catholic Reporter
Subscribers only section
February 4, 2005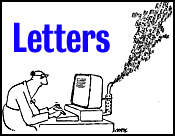 A subscriber's dream
I first started reading NCR 39 years ago while a student at Duquesne University back when there were still Fathers of the Holy Ghost instead of Spiritans. I was inspired to renew my lapsed subscription after reading Tom Fox's farewell and exhortation to keep the faith (NCR, Dec. 24).
Ironically, the online registration form offers only four choices of a subscriber's relationship to Holy Mother Church: 1) clergy/religious order; 2) full- or part-time church or diocese employee: 3) church volunteer and 4) not associated with the church (emphasis added). Who does your programming? Cardinal Ratzinger? I thought the whole point of NCR was to acknowledge that the laity does have a role to play in the church as the People of God. Or is it just that the sad state of today's church leadership, obsessed with sex and ignoring Christ's teachings on peace and love, is something none of us really wants to be associated with? I still regale my son and wife with my dream that the Holy Ghost will return and inspire the cardinals to elect me pope so I can make NCR the mandatory diocesan newspaper.
TOM BAKER
Alexandria, Va.
NCR responds: The NCR Webmaster says this is being corrected and thanks Mr. Baker for his gentle prodding.
---
Thank you, Jeannette Cooperman, for your column about a holiday without gifts (NCR, Jan. 14). Three years ago I joined Jesuit Volunteer Corps, the largest Catholic volunteer program. As a volunteer I lived on a small personal stipend and therefore could not afford to give my family and friends gifts. I had not been home for almost six months, so returning to see my friends and family was a gift in itself.
Two Christmases ago I decided to do something different from exchanging gifts. I was inspired by my best friend's family, who made donations to various nonprofits in each others' names. So, I made a different donation for each friend and family member, letting them know of the donation and providing information on the cause if they were unfamiliar with it.
This year, I asked my closest friends if we could just make a nice dinner to enjoy together. It was a great experience with my best friends -- finding recipes together and experimenting in the kitchen -- and having a meal without a television blasting. So thank you for spreading the word that Christmas is truly about being present to those we love. When could it be a better time to give of your energy and time than when we celebrate Jesus' birth?
CANDACE VEIT
Baltimore
Candace Veit is area director of the Jesuit Volunteer Corps.
* * *
How eloquently Jeannette Cooperman in her "holiday without gifts" column spoke to my heart. It seemed written for me. The article is framed, waiting to be hung on my bedroom wall. I can't wait till next Christmas to celebrate in just such a way.
This past Christmas I finally said the words, "Let's not exchange presents next year. Let's celebrate with a meal as a family." It felt so freeing to say those words.
Jeannette's article will give me the grace next year, as I have known in my heart for so long that Christmas with its gift-giving opens the season to disappointment and guilt, comparisons and exhaustion with a huge letdown, a holiday hangover for weeks afterward.
I will be sharing this article with some of the senior citizens in their 80s whom I visit. They feel guilty because they can no longer celebrate as in seasons past. Hopefully this article will encourage them to experience Christmas joy and a wonderful holiday, which they so richly deserve.
JANE SIEBEL
St. Louis
---
I think I understand NCR's point in including the article about Paul Shanley that focuses on Christian empathy and forgiveness by Sr. Jeannine Gramick and the one by David France that refutes charges that he was a founder of NAMBLA -- North American Man/Boy Love Association -- (NCR, Jan. 14): the integrity of Gramick, and balance.
However, your article about Shanley's record by Maureen Orth in that same issue makes the crucial point: Examine the documents. They contain a clear record of why accountability as well as forgiveness is necessary. Shanley's dark side should not be overshadowed by fond reminiscences or parsing so hurtful to survivors.
In a talk given in Rochester, N.Y., in September 1977, Dolores Stevens reported of Shanley: "He stated that the adult is not the seducer -- the 'kid' is the seducer and further the kid is not traumatized by the act per se, the kid is traumatized when the police and authorities 'drag' the kid in for questioning. He stated that he could think of no sexual act that causes psychic damage."
It is not unreasonable to assume that actions consistent with those stark words were part of his repertoire throughout his long years of promiscuity. His abuse of the bodies and souls of the vulnerable who came to him for help is reported vividly in Orth's article "Unholy Communion" in Vanity Fair (August 2002).
The quote here and the full text of original documents relating to the case, along with the Orth article, are available at www.bishop-accountability.org/assign/Shanley-Paul-Richard.htm#unholy.
CAROLYN DISCO
Merrimack, N.H.
* * *
Paul Shanley, like each of us, needs friends and human understanding. However, to devote so much news space to the fact that Jeannine Gramick is befriending and supporting him seems way overdone. She should support him in private. We should have the facts of his case, but the "jury should still be out," as for any American on trial. Adding Gramick's part in the story doesn't advance our understanding about the case. She was a personal friend years ago and her personal support should be done without publicity.
I doubt if anyone reading this paper would deny Shanley their empathy or compassion -- in spite of his seeming grievous sins. But he is a mentally sick man, many contend, and the legal system must and will decide how to deal with him.
MARY HEINS
Indianapolis
* * *
Jeannine Gramick reminds me, as I gasp in shock at her article, of the young Sister Mary James in the off-Broadway play "Doubt."
Sister Mary James is fiercely loyal to the accused parish priest. Later, when she realizes "something happened," she is angry with her sister superior for alerting her to the problem because now she can no longer sleep! Her peace has been disturbed, perhaps never to return.
Too many Catholics are just like her -- they resent being told of such horrors because now they can no longer sleep.
Since reading Gramick's article, I have been trying to understand how she could defend and forgive a man who has not acknowledged guilt and is clearly not a penitent. It must be because she can't believe that a man who did so much good long ago could possibly commit such evil.
I, too, have grappled with the image of priests I knew as friends saying Mass in our church, having breakfast and then molesting children. It is agonizing to try to absorb such a thought. It would be easier to deny, assume the mantle of a loving, forgiving Christian, and "move on." But the terrible truth is this: Our sleep should be disturbed. Something terrible has happened here and we will never be the same.
(Sr.) SALLY BUTLER, OP
Brooklyn, N.Y.
* * *
Because I fear that you will hear mostly from those who disagree with Jeannine Gramick's perspective on Paul Shanley, I thought I would let you know that I appreciated it. I don't know what the absolute facts are about this case. I do know that it is very easy to rush to judgment when this is not our role. Jesus sometimes showed irritation or disappointment, sometimes anger, but never that I recall, did he ever not forgive, and that, it seems, is what Jeannine Gramick is saying.
MARY E. SEEMATTER
St. Louis
* * *
The article by Sr. Jeannine Gramick in defense of Paul Shanley inadvertently points out one of the greatest obstacles to bringing abusive clerics to justice: personal ties to the abusers. This is precisely why bishops, fellow priests and religious and powerful members of congregations often conspire to ignore the cries of the abused and stand in the way of justice.
Remove the hyperbole and there is ample evidence that Shanley's transgressions did, indeed, erase any good he may have done.
She uses other defective arguments:
For years, abuse survivors have been told to be "Christian" and to "forgive" their abusers. This denied them justice and allowed the abusers to be relocated, where they abused again. Sister, abuse victims tried being "nice." It never worked. It still doesn't.
Then comes the argument that settlements divert funds from other people in need. Clearly Jeannine Gramick doesn't understand the long-term effects of sexual abuse. The difference is that when abuse victims are impoverished due to therapy costs, divorce, substance abuse -- they got that way at the hands of one of the church's clergy. So where, Sister, should the money go?
Finally, though lawyers (the industry) do profit from these suits and settlements, it is only the church's inadequate response that has made recourse to the civil courts, with its attendant disadvantages, necessary.
GREG BULLOUGH
Pipersville, Pa.
* * *
The essay by Jeannine Gramick is incredible. It is a well-written article by a woman religious whose work I have long admired.
As a counselor who has experience with victims and offenders of sexual abuse, I know hers is a reaction that also aids in the continuation of the cycle of abuse in families. The "mother" cannot possibility believe that the "husband" or "grandfather" can be abusing the son or daughter. It is the child's, or young adult's, "fault" for bringing all of this mess up. They shouldn't "blow the issues all out of proportion."
Many victims are discovering during this time of open dialogue that they were duped in their negotiations with the church during the past. They have learned that the counseling they were offered did not make them whole. They learned that the offenders were not punished or removed, but often continued to abuse again. In this new awareness, they are re-traumatized and suffer anew.
It is interesting that I hear laity and women religious talk of innocent priests, those falsely accused. I do not hear that from men who have been part of the priesthood. The vicar of clergy in this diocese states publicly that he does not know of falsely accused priests. There is no such thing as a consenting adult when one person is not a priest and the other is. Under any circumstance this is an abuse of power over a vulnerable person. Under any circumstance it is wrong and is not celibate.
ELIZABETH GOEKE
Portland, Ore.
* * *
Amen, amen, I say, to Jeannine Gramick's moving call to Christian compassion for those, like Paul Shanley, who are accused of sexually abusing legal minors. In the three years since the current round of scandals has been so dominant, concern for the alleged abusers has been lost in the clamor of legitimate concern for the victims, combined with the shrill voices of knee-jerk, vigilante enforcers, the money-grubbing of attorneys and clients who seem to feel that there is a cash price that somebody has to pay to offset everything bad in life, and the absence of human compassion in church officials who now are hanging a priest out to dry at the slightest accusation in order to protect the institution, just as before they hid an abuser in order to protect the institution.
Gramick's call for empathy and the angry reply by Maureen Orth in the same issue raise many reactions. Why will Gramick's comments raise so much concern? Why are most of the progressive Catholic reform organizations unreceptive to what she says? Isn't it time that we the public had some more details on just what acts of abuse are being alleged?
And finally, out of all the horrendous things like abandonment, hunger, homelessness, poverty, ignorance, physical violence and war that can befall a youth, why does an inappropriate sexual encounter with an adult seem to rank alone at the unforgivable center circle of Hell?
ROBERT F. MIAILOVICH
Arlington, Va.
* * *
Sr. Jeannine Gramick is concerned about the financial drain on the church because of the settlements in cases of horrible sexual crimes committed by direct representatives of the church against its most faithful, innocent members.
I have another concern. What about the drain of time and talent from those who work for the church in the initial cover-up of the crimes, and now in the continued defense of the actions of our church authorities? How can people continue to defend the indefensible? Settlements without truth won't heal anyone.
I find myself wailing: If only the leaders of our church had been forthcoming when the original offenses occurred, but if not then, at the very least they must do it now.
MARY PITCHER
Long Beach, Calif.
* * *
David France and Jeannine Gramick continue to be mesmerized by the con artist Paul Shanley. He was interested in gay liberation only because it provided young men for his bed. Complaints that he had abused young teenagers date from the 1960s, but Bishop John McCormick successfully kept the police away from Shanley, his classmate, until the statute of limitations protected him. Shanley was sexually omnivorous -- men, women, teenagers and maybe very young boys for dessert, boys who would be so traumatized and disturbed by their abuse that their testimony would not hold up in court. Gramick sweetly and charitably calls the victims greedy liars who are taking money away from the poor, as if a child who needs life-long therapy because he was abused by Shanley is not also poor. Repentance for the sins that Shanley committed is hard and bloody, and he has never even taken the first step of acknowledging the truth of what he has done. His defenders and enablers help him continue to live the lie that his life has become, to his destruction and the continued poisoning of the life of the church.
LEON J. PODLES
Naples, Fla.
* * *
Concerning Maureen Orth's article on Jeannine Gramick and Paul Shanley, the headline "more than he deserves" gets it just right. It takes us right into the Gospels, where there is more than enough bread and wine and fish, more than enough mercy and reconciliation for the woman caught in adultery, the thief on the cross and the apostle Peter. That's what characterizes the coming of the reign of God that Jesus preached. So I keep visiting prisoners who a guard tells me are trash, the addicted person who keeps falling, the person who has been sexually abused and the dismissed priest who has been an abuser. (Yes, it is sometimes possible to be on both sides.) No one in the Christian realm needs to deserve mercy and reconciliation.
(Fr.) KENNETH SMITS
Madison, Wis.
---
In its Jan. 7 issue, NCR ran a story with the headline: "Survey: Catholic investors wary of media violence." Those who read the article learned that violence in the mainstream media had gone from below No. 10 in 2001 to No. 6 on the 2004 Christian Brothers Investment Services survey of concerns that influence how Catholic institutions invest. Impressive. But we also read that another concern not mentioned in 2001, environmental justice, rose to No. 2 in 2004. I am delighted that media violence reached No. 6, but isn't the appearance of environmental justice in the No. 2 spot more headline-worthy?
(Sr.) TERRI MACKENZIE, SHCJ
Chicago
---
---
John Naughton's attack on Planned Parenthood (Letters, NCR, Jan. 14) was woefully short on facts. Allow me to correct him.
Many Planned Parenthood facilities are located in poor areas, many of them African-American, because upper-middle-class people have little need of their services.
No federal funds are used by Planned Parenthood for abortions. And in Mr. Naughton's state of Maryland, of the 36,000 patients seen by Planned Parenthood last year only 3,100 were for terminating pregnancies. Much of Planned Parenthood's work is providing prenatal and fertility counseling in addition to providing family planning assistance to those, married or unmarried, who want it.
Planned Parenthood's goal is a world of wanted and adequately cared-for children.
Alleviating or eliminating poverty, misery and their effects, both here and abroad, is something that all of us, Catholics and non-Catholics alike, should be working on. The mere pittance of public and private funding that is expended for family planning, which polls show most Catholics favor, is insignificant compared to the needs of the poor.
People like Mr. Naughton can't seem to see the forest for the trees.
EDD DOERR
Silver Spring, Md.
---
Thank you, thank you for the editorial about the Legionaries of Christ (NCR, Jan. 14). The consistent modus operandi of the church has been blame and denial. It has worked for about 1,800 years. The Legionaries are not the only ones still hanging on to that ancient method. Other bishops still hope to succeed with it. At our regional meeting, the pastoral leaders of Region 4 of the New Ulm, Minn., diocese declared that the Charter for the Protection of Children and Young People is basically worthless so long as there is no vehicle to hold bishops accountable. If indeed Marcial Maciel is innocent, let us see that demonstrated in a court of law, with all the safeguards of due process.
Using words from John Chrysostom and Ignatius of Antioch, my homily for the week we celebrated the baptism of Jesus was on the dignity of those "who have been sanctified in Christ," as Paul states in his first letter to the Corinthians. In my conclusion I state, "And so if anyone tries to tell you that you are only a lay person and so not of as much worth as others, slap them in the face; do something to shake them up a little and tell them that you are just as much baptized as they are and that this is what gives us the greatest dignity. It is also why people like you have every right to challenge those of us with clerical collars or pointed hats when you find the need."
(Fr.) JACK NORDICK
Graceville, Minn.
---
I'd like to applaud and thank John Tirman for his article "Mistrusted Muslims" (NCR, Jan. 14). Ever since Sept. 11, 2001, I and the Muslims around me have been frustrated at the mistrust against us and how our hands are increasingly tied in terms of reaching out to our communities. It was so pleasing to see these concerns noticed by Tirman. With such support from other communities, I hope the fear, mistrust and sometimes hate against our community will wash away and we can all work together.
LENA KHAN
Alta Loma, Calif.
---
I think it is ironic that George Bush has referred to himself as a "uniter, not a divider." Never before have I seen so many people protest a president during an inauguration. The voice of opposition drowned out that of support. Maybe it is because Bush plans to further extend tax cuts for the wealthiest 1 percent -- those who make $1 million or more. (They already received $148 billion in cuts last year.) Maybe it is because he plans to cut back Pell grants that make college affordable to working-class and middle-class students. Bush, of course, never had to worry about paying for his education. Maybe it is because those who have profited most from the illegal war in Iraq have been corporations like Halliburton, Bechtel and Chevron-Texaco, who have strong ties to the Bush administration. Is a man who so deeply divides the U.S. population -- and the rest of the world -- fit to be president? In a poll recently conducted in 21 countries, the majority stated that Bush's re-election has made the world a "more dangerous place." Here's to four more years of the great "uniter."
THOMAS BECKER JR.
Kansas City, Mo.
---
I would like to thank Fr. Michael Gillgannon for his informative and thought-provoking article on the ethical dimensions of globalization vis-à-vis the United States and Latin America (NCR, Dec. 17). We need this kind of input so that we can be better informed and more conscious citizens of our world.
NICHOLAS O'KEEFE
Doyles, Newfoundland, Canada
---
Regarding the letter "Busy doing good" by Joseph Kuciejczyk (NCR, Jan. 21), I write in defense of Susan B. Anthony and Carl and Frank Zeidler.
He states that Susan B. Anthony was an agnostic. She was a Quaker, not an agnostic. Quakers have strong religious beliefs.
He calls Carl and Frank Zeidler atheists. By no means were they atheists. They belonged to the Socialist Party, which classifies them politically, not religiously. Neither Quakers nor Socialists deny God's providence. I know Frank Zeidler personally and he is every bit a good, honest Christian, always doing good and seeking peace. Both he and his brother Carl never did anything to impress people. They did what they did because of their faith in God. They worked for the good of everybody without aiming to be in the limelight. Agnostics and atheists would never do what Susan and the Zeidlers did.
I advise Joseph Kuciejczyk to do closer reference work before he tacks such derogatory terms on to anybody. Milwaukee could never have had better mayors.
(Sr.) DOROTHY JOHNSON
Campbellsport, Wis.
NCR responds: Susan B. Anthony grew up as a Quaker, but her later religious identity may be a matter of opinion. In Chapter 10 of Eighty Years And More: Reminiscences 1815-1897 (1898), Elizabeth Cady Stanton wrote: "Today Miss Anthony is an agnostic. As to the nature of the Godhead and of the life beyond her horizon she does not profess to know anything. Every energy of her soul is centered upon the needs of this world. To her, work is worship. … Her belief is not orthodox, but it is religious. In ancient Greece she would have been a Stoic; in the era of the Reformation, a Calvinist; in King Charles' time, a Puritan; but in this 19th century, by the very laws of her being, she is a Reformer."
---
Letters to the editor should be limited to 250 words and preferably typed. If a letter refers to a previous issue of NCR, please give us that issue's date. We reserve the right to edit all letters. Letters, National Catholic Reporter, P.O. Box 419281, Kansas City, MO 64141. Fax: (816) 968-2280. E-mail: letters@natcath.org Please be sure to include your street address, city, state, zip and daytime telephone number.
National Catholic Reporter, February 4, 2005