National Catholic Reporter
Subscribers only section
March 4, 2005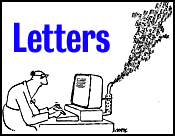 Spiritual elders
I am writing in response to the article "Caregivers find capacity for spirituality lingers" by Patricia Lefevere (NCR, Dec. 17). I serve as director of pastoral care at Stella Maris, a 445-bed long-term care facility in suburban Maryland. The article rings true to our experience in caring for people with Alzheimer's and other forms of dementia.
It is truly amazing to observe the response of a gathering of folks with cognitive limitations when a familiar hymn is sung, a well-known prayer is recited or familiar religious articles are provided. Our residents become alert and can often sing or recite every word even if their ability to speak is compromised. I find that even my attire is a cue. A figure in a clerical collar is more likely to be recognized as a source of comfort than the same figure in a shirt and tie. When at a loss for a familiar old hymn, I resort to Christmas carols and always observe broad participation.
The effect of these experiences for our residents spills into other areas. Residents are more calm, focused and ready to engage in other nonreligious activities. It is an incredible experience to listen to their stories and to share in their memories that might otherwise be inaccessible if not for the connection to deep-seated spiritual memories, practices and rituals.
Thanks to Patricia Lefevere for bringing this aspect of care for the elderly to the fore.
(Fr.) LAWRENCE M. JOHNSON
Timonium, Md.
---
In the article on the Virtus sexual abuse prevention program (NCR, Feb. 4), the national director of SNAP (Survivors Network of those Abused by Priests) is quoted as saying that the agenda of the National Catholic Risk Retention Group, the church self-insurance group that created the program, is simply to limit financial damage. While "risk retention" or loss prevention programs certainly reduce payouts, they do so by diminishing the incidence of the covered peril -- in this case, child sexual abuse. As a volunteer Virtus trainer for the New York archdiocese, I was recently faced with a statement similar to Mr. Clohessy's. I drew an analogy to a secular insurance company training schoolchildren in fire prevention. Clearly, the fire insurer benefits, but so do those whose houses don't burn down. Virtus training has a worthy dual goal: to train adults to stand between our children and potential molesters -- clergy or laypersons -- and to conserve future resources for the church's widespread good works. This is in no way meant to criticize Mr. Clohessy and SNAP for their understandable skepticism, but I am convinced that this program is bringing needed awareness and planning skills to many thousands of Catholics who love God and all God's children.
GEORGE J. MORRIS
New Rochelle, N.Y.
---
With the release of "The Merchant of Venice" (reviewed in NCR, Jan. 7), a new film currently in distribution throughout the United States, the subject of Shakespeare's anti-Semitism is brought, once again, to center stage.
Over and over, biographers have noted the fact that William Shakespeare was himself a moneylender with a lifelong involvement in competitive finance. In this, he followed the footsteps of his father, John, who at one time was lawfully charged and arrested for money lending at an illegally high rate.
William joined in his father's business and continued to engage in money lending along with his theatrical activities throughout his life. He was known as an extraordinarily hard bargainer and negotiator who demanded exceptionally difficult terms from even family and friends.
Shakespeare's portrait of Shylock becomes especially pertinent because of his own direct involvement with charging high rates of interest. Traditionally an unpopular trade, money lending was rife with competition.
In developing the character of Shylock, what was the dramatist/moneylender trying to say about competition, about his father, about the trade, about his hatred of the Jews and persona of moneylending itself?
HOWARD CLARK KEE
Philadelphia
Howard Clark Kee is the president of the American Interfaith Institute.
---
Thank you for your Feb. 4 essay by Fr. Charles Curran. After four years of exposure to his leadership and scholarship in the School of Theology at Catholic University in the 1960s, and now after ordination and 35 years of ministry in the church, I find that he remains for me and for many a model of outstanding and faithful priesthood. There is, however, one element lacking in Fr. Curran's essay, namely that among the theological giants mentioned in his essay he has failed to include his own name, for he was the promise and vision of Catholic thought at Catholic University in the '60s. There is perhaps no better historian of moral theology than Charles Curran, making his absence from Catholic universities and seminaries in this age of repressed thinking a cause of impaired theological development in the Catholic world.
While it may be true that there are a host of modern-day theologians roaming about the church somewhere, there are few the likes of Fr. Curran to inspire, to challenge and to cause creative thinking among young and upcoming servants in pastoral ministry. We miss him.
(Fr.) JOE SANCHES
Nashville, Tenn.
---
---
I commend Claire Schaeffer-Duffy's inspired review of Vermeer in Bosnia (Spring Books, NCR, Feb. 11). The phrase "… to attend to the world in all its confounding details and to hold human beings in long and thoughtful regard" is living poetry from a mother of four redheads and a 24-hour Catholic Worker.
JUDITH WILLIAMS
Waukesha, Wis.
Judith Williams writes from the Waukesha Catholic Worker.
---
An additional perspective on Sr. Jeannine Gramick's defense of Paul Shanley (NCR, Jan. 14):
"Naiveté at 5 years is cute; at 50 years it's lethal" (source unknown).
(Sr.) LUCILLE SOCCIARELLI, RSM
Fall River, Mass.
* * *
I was at the same conference with Sr. Jeannine Gramick in the early 1970s in Dayton, Ohio, at which she says she first met Paul Shanley. I was a Sister of Divine Providence at the time; I was in religious community for 17 years and left religious life in 1979. I too had worked with Shanley in Boston for a while in gay ministry -- until I began to ask too many questions and he decided that I should no longer be part of his Exodus Center project.
Unlike Sr. Jeannine, I had no trouble believing that Shanley was the pedophile he is. One of my best friends revealed to me in 1988 that he had been a victim of Shanley when he was 11 years old and Shanley was a curate at his first parish in Stoneham, Mass. Since then, I have heard more of the same.
Years ago Sr. Jeannine contacted me and asked where I was and why I was no longer involved in gay ministry. I believe in the ministry of Sr. Jeannine and I support gay men and women who are part of the Roman Catholic church, but I do not support gay priests who use gay ministry as a means to live a sexually active lifestyle. I feel the same about heterosexual priests who have sexual relationships with women -- clerical playboys of either sexual orientation who live secret lives. Let me state emphatically that sexual predators are criminals. Paul Shanley is a criminal.
The church teaches compassion and Christian charity for all human beings. Unfortunately, it has protected the Shanleys in its clerical ranks and cast outrageous doubts on their victims.
The four young men who were raped by Shanley (and the only one who testified) are a small percentage of Shanley's victims. Let justice be done. That, too, is the Christian message.
PAULINE SALVUCCI
Westbrook, Maine
Pauline Salvucci runs a Web site called Voices of Outrage: Where's the Justice? (www.voicesofoutrage.com).
* * *
When I read the article by Sr. Jeannine Gramick in the Jan. 14 issue of NCR, she reminded me of the Jesus I read about in the scriptures. I have always admired that man. In this article, I admire Jeannine.
What I admire is her ability to articulate what I hear Jesus saying in the scriptures. I do not hear her overlooking the injury done to others through sexual abuse. She says in the third paragraph, "Of course, I was appalled and horrified by the sexual violations against our young and not so young by persons in positions of trust."
I hear her saying that our sinfulness should be addressed within a loving Christian community rather than in the legal secular world where injustices can also occur. She says she understands why some sought the legal route when they could not find understanding, compassion and justice from church leaders. Yet, she contends that a Christian community should be a place where our sins can be exposed and repented, where we can confess our faults and be transformed by others' forgiveness. I see her looking at justice, accountability, rehabilitation and reconciliation rather than accusation and condemnation. She is looking for good, loving and healthy relationships rather than unloving ones. These are the kind of relationships I see the man Jesus attempting to evoke within the scriptures.
(Sr.) BETH RINDLER, SFP
Detroit
* * *
Having read Jeannine Gramick's portrayal of Paul Shanley in your Jan. 14 issue, I wanted to wait to comment until a verdict was reached in this case, which occurred Feb. 7. Even though NCR included critical comments on her article by Maureen Orth and David France, Gramick's article was the centerpiece, evidenced in its placement and her photo.
The New York Times (Jan. 26 and 28) and the Los Angeles Times (Jan. 26) gave informed information about Shanley's profile: the repeated oral and digital rape of a boy of 6 years old, the 24 credible accusations against him since the 1960s, his notorious history, lengthy personnel files filled with thousands of complaints about his sexually abusive behaviors, his clear link with NAMBLA.
Shanley's accuser gave graphic details about his molestation and continued rape over six years and ultimately created evidence for a "perfect storm" of child abuse, as the district attorney for Middlesex County said after the verdict. How visibly sad and revealing it was when the verdict was read finding Shanley guilty in each of the four counts (two of child rape and two of indecent assault and battery), and the 27-year-old firefighter victim sobbed and Shanley sat stoically, showing no emotion at all.
After the trial, Shanley's niece said, "There are no winners today. There are only losers."
This statement is blatantly false. The "winners" are the thousands of children abused by priests and bishops, and the "losers" are Shanley and, by extension, Gramick.
(Fr.) GERALD D. COLEMAN, SS
Menlo Park, Calif.
Fr. Coleman is a professor of moral theology at St. Patrick's Seminary and University in Menlo Park.
---
The Jan. 28 edition of the NCR has an editorial, headlined "An audacious proposition," that discusses the death penalty. One point made is that the church has yet to convince most of its members that capital punishment is inherently wrong, and the other point is that it is "undeniably foolish for the state to continue the killing."
For most of my life I have agreed that the death penalty is wrong, not from any moral conviction against taking a life (after all, we do have theologically approved "just wars") but rather from distaste for a practice that seems to fall only on those in our society unfortunate enough to be poor.
As far as convincing the average parishioner that the death penalty is morally wrong: Consider one of the most popular mantras in Christianity, namely "Christ died for our sins." Doesn't the story say that when Adam and Eve sinned, the garden was closed, our faculties were dimmed and heaven was closed until Christ atoned for our sins via his death on the cross? Recall that despite Christ's plea to his Father while in the Garden of Gethsemani that he be spared the crucifixion, his death went on as planned.
Are we to accept Christ's reception of the death penalty for our salvation as justified, and then be asked to grieve and protest about the execution of an eight-time murderer?
Please explain.
JOE GRANNEN
Vacaville, Calif.
---
Letters to the editor should be limited to 250 words and preferably typed. If a letter refers to a previous issue of NCR, please give us that issue's date. We reserve the right to edit all letters. Letters, National Catholic Reporter, P.O. Box 419281, Kansas City, MO 64141. Fax: (816) 968-2280. E-mail: letters@natcath.org Please be sure to include your street address, city, state, zip and daytime telephone number.
National Catholic Reporter, March 4, 2005