Issue Date: March 25, 2005
Astonishing grandeur
An exhibition of drawings at the Metropolitan Museum reveals Rubens' grace and greatness
By LEO J. O'DONOVAN
When he was about 24, Peter Paul Rubens painted himself with a group of five friends, including his brother Philip and the great humanist Justin Lipsius. Holding his palette, the artist looks over his left shoulder toward the viewer: handsome, confident, eager. Some 37 years later, shortly before he died in 1640, he painted a monumental image of himself as a courtly man of the world, his worn and aged face still distinguished but now confessing an introspective melancholy. In a dashing wide-brimmed hat, his left hand resting on a sword, he turns to look down at us with modest recognition that he has deserved the status of successor to the great tradition of the high Renaissance.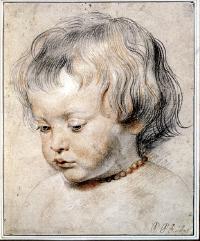 "Nicolaas Rubens Wearing a Coral Necklace," c. 1619: black and red chalk, heightened with white chalk, eyes, part of the necklace, sections of the mouth strengthened with pen and dark brown ink, on brownish paper, from the Albertina, Vienna
A prodigious career unfolded between these two pictures. Born in Siegen, Westphalia, in 1577 to a Calvinist father and a Catholic mother, Rubens 10 years later returned with his widowed mother to her hometown of Antwerp, then a citadel of the Catholic Reformation, where a school friend described him as having "the kindest and most perfect character." His formal schooling was brief, but his keen and searching intelligence led to his becoming as learned an artist as Europe has ever known, encyclopedic in his knowledge of the art and literature of antiquity and conversant in Flemish, Latin, French, German and Italian (his preferred language for correspondence with friends).
His apprenticeship years in Antwerp were followed by a pivotal eight-year stay in Italy (1600-1608), where, at 22, he was appointed court painter to Duke Vincenzo Gonzaga in Mantua. Rubens flourished in Italy, assiduously studying Titian and the Venetians, copying the paintings and frescoes of Michelangelo and receiving important commissions not only in Mantua but also in Rome, Genoa and Venice. He also undertook the first of many subsequent diplomatic missions, this one to Spain, where he painted his famous portrait of the Duke of Lerma (now in the Prado). These years were the crucible of his creativity, joining the humanistic elegance of the Renaissance to the northern realism in which he had been bred.
Hearing that his mother was very ill, Rubens returned to the southern Netherlands in 1608. Already an established master, he almost immediately received a commission for the great triptych of "The Raising of the Cross" (now in Antwerp Cathedral), which was soon followed by the still more moving "Descent from the Cross" (also in the cathedral). The next year (1609) he was appointed court painter to Archduke Albert and Archduchess Isabella in Brussels, although he was allowed to reside in Antwerp. That year too, at 32, he married Isabella Brant, with whom he had three children. He bought a stately home and opened a flourishing studio, with assistants and students to collaborate on his major oils, as they did through all the decades to follow. (In 1611 he reported that he had to refuse the applications of 100 further students.)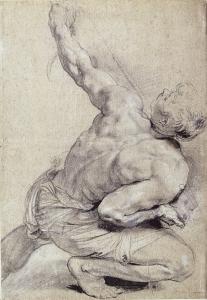 Crouching Man Seen from the Back, c. 1610: black chalk, accentuated with brush and black wash (added by Jacob de Wit), heightened with white, from a private collection, The Netherlands
It is at this point in Rubens' career that the sublime current exhibition of his drawings at the Metropolitan Museum of Art begins to soar. It is the first comprehensive survey of the artist's drawings ever mounted, and the artist has rightly been given the grand treatment that the Met accorded two years ago to the drawings of Leonardo. The result is similarly enthralling.
The 115-sheet exhibition -- of which a glorious 32 came from the Albertina in Vienna (joint organizer of the show with the Met) -- includes works from all phases of his extraordinarily productive life. In earlier galleries one sees his masterly draftsmanship in copies of the "Belvedere Torso" and Michelangelo's "Libyan Sibyl," his control of dramatic composition in a preparatory drawing for a painting of "Hero and Leander" and his frank and virile approach to sacred themes such as the baptism of Christ. But in Gallery 4, with its studies for "The Raising of the Cross," originality breaks through. A "Crouching Man Seen from the Back," who in the final painting holds the lower shaft of the cross, is a coiled bundle of musculature more concentrated even than in Michelangelo. A "Nude Man with Raised Arms," later given a full suit of armor, strains to support the upraised cross. And the "Study for the Figure of Christ" shows a twisting, youthful body that somehow conveys both agony and communion.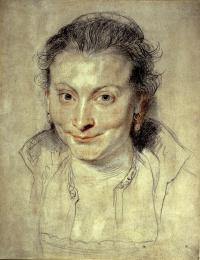 "Isabella Brant," c. 1621: black and red chalk, heightened with white, the eyes retouched in pen and black ink, the nose in brush and red body color, on light gray-brown paper, from the British Museum, London
The Lion's Den
In this gallery, too, are four marvelous sheets preparatory to "Daniel in the Lion's Den" (about 1612-13), from the National Gallery of Art in Washington. The innocent young Daniel, his legs crossed and his hands clenched in prayer, looks imploringly toward heaven. On either side are three of the nine lions from the final work: a great creature facing left toward the viewer, his left flank fully shown; a resting counterpart, facing the viewer from the right; and, perhaps most memorably, a "Lioness Seen from the Rear, Turning to the Left," with twitching tail and upturned left paw: tense, powerful, stalking. The figures are so lifelike, so perfectly placed on their sheets, so economically rendered, that one wonders how the painting could be any better. (If you have children with you at this show, bring them quickly before this wall.)
The exhibition's pitch of perfection, however, comes in the next gallery, which gathers portraits of Rubens' family and friends as well as noble sitters and even a Jesuit missionary. Here is Isabella Brant (1591-1626), his first wife: deeply dimpled, smiling quizzically, her alert, intelligent eyes fixed on her (one sees it) adoring husband as he sketches her, typically, with black and red chalk. We know this face from grand oil paintings by Anthony van Dyck, Rubens's student, displayed in the National Gallery of Art in Washington, and above all from Rubens' own incomparable double portrait of himself and Isabella "In the Arbor," shown at the Alte Pinakothek in Munich, Germany. But nowhere do we feel her presence more immediately and intimately than on this perfect page. Here, too, are enchanting sheets of their daughter Clara Serena as a "Lady-in-Waiting to Infanta Isabella" and their Nicolaas at three different ages, first as a 1-year-old with a coral necklace (a protection from "fits and anxiety"), then six or so years later wearing a red felt cap and finally in a quick study for a painting with his brother Albert. The first of these, one of Rubens' most famous drawings, is surely also one of the most endearing images we have of a beloved child.
Nearby is Susanna Fourment, the elder sister of Helena Fourment, whom Rubens married in 1630, four years after Isabella's death, and with whom he was again blissfully happy. (They had five children.) Helena herself is present in a large drawing that shows her seated in a chair, pensive but entirely comfortable as her much older husband seeks to capture her beauty on paper. (It is a preparatory study for the famous likeness in the Alte Pinakothek.) If you haven't previously loved drawings, before these sheets you will. They come from a man who loved to draw and loved the subjects he drew. They seem, in fact, to be love itself drawing.
Art and diplomacy
Here too are striking indications of the increasing demand for Rubens' work in the 1620s, and also of his greater diplomatic activity. From about 1622 comes a study of the head of Marie de Médicis (1573-1642), who commissioned 21 life-size paintings chronicling her life to decorate the Luxembourg Palace in Paris. After meeting George Villiers, the first Duke of Buckingham (and the favorite of James I and Charles I of England), at the French Court, Rubens drew him in preparation for an official portrait, commenting on his "caprice" and "arrogance." From a few years later comes a saucy image of Don Diego Messía, Marquis of Leganés, general field marshal for Philip IV of Spain and himself a great collector of art. And of Thomas Howard, second Earl of Arundel, whom Rubens met in London during a long diplomatic stay to promote peace between England and Spain, the show includes two quite different but revealing sheets (about 1629-30).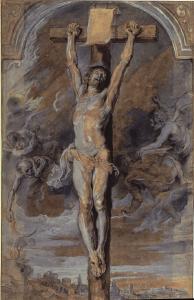 "Christ on the Cross" by Paulus Pontius, reworked and retouched by Peter Paul Rubens c. 1630-31: black chalk and brush and dark gray body color and touches of red ink (in eyes and left hand of Christ), and gray, white and greenish yellow body color; traced for transfer except for upper left and right corners; squared in black chalk, on tan paper, from the Museum Boijmans Van Beuningen, Rotterdam
The exhibition has nothing to remind us of the great ceiling decoration Charles I commissioned for the Banquet House in Whitehall, but three tender women's heads suggest the delicacy Rubens brought to the Saint Ildefonso Altarpiece (1632), painted for the parish church of the Brussels court and typical of his great altarpieces during the period between 1620 and 1634. There are also wonderful images from country life. An indomitable ox (about 1618) is given his entire due. Several rare landscapes reflect Rubens' enjoyment of Het Steen, the farm he purchased in 1635 near Mecheln. An atypical sheet, drawn with watercolor and gouache, brings heart and humor to "A Sermon in a Village Church" (about 1633-35). And his two studies for the "Flemish Kermis" or "Village Wedding" in the Louvre show all the exuberant and yet economically integrated energy he brought to subjects as varied as village life, battle and hunting scenes.
As you approach the last galleries of the exhibition, your astonished pleasure grows. Here are old master drawings that Rubens dared to retouch -- and improve. Next to them hang stunning title pages and frontispieces for the Plantin Press. A fine crucifixion by Paulus Pontius has been reworked so that it is even more dramatic and moving. Late drawings of banquet scenes both sacred and secular are done with a freer, broader brush. And then at the very end, introducing the drawings that prepare for "The Garden of Love" (about 1632-33) in the Prado, comes the most beautiful image of all, a fully modeled but deeply interior study preparing the head of Saint Apollonia for the monumental "Virgin and Child Adored by Saints" of 1628. Both the Apollonia, painted two years before Rubens' marriage to Helena Fourment, and "The Garden of Love," painted roughly two years afterward, celebrate the painter's ideal of womanhood. Both are likewise honors rendered to the holiness of human beauty.
This exhibition is not only the source of deep enjoyment (and instruction). It is also likely, along with an unusual number of other recent exhibitions in Europe and the United States, to contribute to re-establishing Rubens's reputation as one of the greatest of European artists. Perceived in the 20th century as bombastic and overripe, with far too many fleshy nudes tumbling over his canvases, Rubens fell decidedly from favor, perhaps especially in this country. Other great 17th-century painters -- Caravaggio, Velásquez, Rembrandt and Vermeer -- were more acquainted, it seems, with the darker uncertainties and anxiety we experience in our time. Now it may be not be just our anomie at the dawn of a new century that leads us back to Rubens, but the recognition that a man can find joy and hope in even so troubled a world, and that he can express his happy confidence with such supreme freedom and variety. Perhaps Rubens can help us to see again, precisely in a time of seemingly insurmountable conflicts, that the creation we so often grievously mar is still more marvelously graced.
It would be a quite Catholic viewpoint, wouldn't it?
Peter Paul Rubens: The Drawings will be at the Metropolitan Museum of Art in New York through April 3.
Fr. Leo J. O'Donovan is president emeritus of Georgetown University in Washington, a professor of theology there and a frequent contributor of art criticism to NCR.
National Catholic Reporter, March 25, 2005