Issue Date: March 25, 2005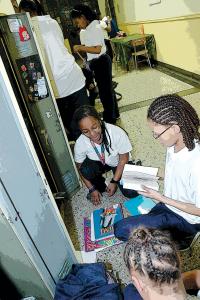 -- Jennifer Silverberg
Students Patricia Blake, left, and Ta'Nya Jones stop at their lockers before going to study hall at Marian Middle School, one of three schools in St. Louis belonging to the national Nativity-Miguel network.
Setbacks and hope
The main content of this special section on Catholic Education, which focused on two articles about school programs serving marginalized populations, was already set when NCR staff writer Dennis Coday took note of the onrush of news of Catholic school closings that came in February. Coday proposed that a larger story was needed to grapple with the concerns raised by the closings and "reorganization" of schools, many serving inner cities of metropolitan areas (

see story). Accompanied by a closer look at the proposed closings in Chicago from reporter Robert McClory (

see story).
The most pressing question provoked is whether the Catholic church is abandoning students in poor, urban areas. "It would be tragic if we let this ministry of the church disappear," Jesuit Fr. Joseph O'Keefe of Boston College told Coday. "We can learn from experiments that exist now and could exist within the next few years about new structures that would really work. I hope people see it as an important priority and to have the creativity and the boldness to really do something about it."
That creativity can be seen in the work of Mary McDonald, superintendent of Catholic schools in Memphis, Tenn., where she has overseen the reopening of seven inner-city schools. "I know that what we have done can be replicated," she says. When she hears of a Catholic school closing, "I feel like picking up the phone and saying, 'Before you close anything let me talk to you.' " A story on the Memphis example brings a note of hope to Coday's report.
The same vitality can be found in the Nativity-Miguel network of schools, which follows a model developed by the Jesuits to educate children from low-income families. The network now includes 57 schools in 26 states. Reporter Geri Dreiling visited three in St. Louis; her story tells of their challenges and successes (

see story).
Writer Patricia Lefevere profiles another noteworthy effort: St. Anthony School Programs, an inclusive educational and life skills curriculum for mentally disabled students in the Pittsburgh diocese (

see story). NCR staff writer Jeff Severns Guntzel takes a look at how Catholic educators keep out of the fray of the U.S. debate on creationism versus evolution, communicating to their students Catholicism's acceptance of the scientific account of the physical origins of the universe (

see story).
Catholic education encompasses more than schools, however, Renée LaReau talks to Catholics whose outlook has been altered by JustFaith, a parish-based program that integrates spirituality and the church's social justice teachings (

see story).
-- Teresa Malcolm
Other articles in this issue
National Catholic Reporter, March 25, 2005