Issue Date: March 25, 2005
Catholic schools grapple with forces of change
By DENNIS CODAY
News of school closings in metropolitan areas came one story after another. Reports from smaller cities soon surfaced.
The stories came so close together, a few weeks in February, it seemed we were reading the death notice of Catholic education in the United States.
The Brooklyn, N.Y., diocese is closing 22 schools.
The Chicago archdiocese is closing 23 schools.
The New York archdiocese is closing six schools and more will likely follow soon.
St. Louis archdiocese is closing 24 parishes and 10 elementary schools.
The Sacramento, Calif., diocese is closing 10 elementary schools.
The Toledo, Ohio, diocese is closing four schools and merging two others; it is closing 17 of its 157 parishes and merging 12 parishes into four.
La Cross, Wis., created six merged schools in 2000; this year two of these will close.
In Quincy, Ill., in the Springfield diocese, seven schools are merging into four.
The Trenton, N.J., diocese will end 150 years of Catholic education in its see city this June when the last two remaining schools there will be merged with other schools into a new institution to be located in neighboring Hamilton, N.J.
In the Newark, N.J., archdiocese, two schools are closing and nine will be merged to form four regional schools to serve Newark, Union City, Jersey City and Fort Lee.
Adding to the ominous tone, The New York Times reported that New York Cardinal Edward Egan had said the school closings are antecedents to larger reorganizations -- what Egan called the coming "realignment" of the archdiocese -- that will be completed by December.
The closings in Toledo and St. Louis came as a result of larger reorganization efforts that spanned more than a year of meetings and planning sessions. The Detroit archdiocese, which has closed 21 schools over the last two years, is in the midst of similar realignment, which is to conclude in August.
Moreover, each news account of these closings included a paragraph that read almost like a template. The closings, the paragraph read, came because of declining populations in older urban areas, dwindling parish membership and tuition increases that put the cost of a Catholic education out of reach of low-income and moderate- income families.
The headlines, however, weren't news to Michael Guerra, executive director of the National Catholic Education Association; it's a trend he has been watching for years.
"The pattern over the last four or five years has been roughly 30 to 40 new schools opening every year and then 100, 125 150, 175 closing," Guerra told NCR. "That last number is creeping up each of those years."
The latest figures available from the association, data for the end of the 2002-2003 school year, show 1,842,918 elementary school students enrolled in 6,727 Catholic elementary schools and 641,334 secondary students in 1,228 Catholic secondary schools.
Forty years ago, in terms of schools and students, Catholic education was twice the size it is today. The greatest decline came between 1965 and 1985. The next decade was relatively stable, and Catholic school enrollment actually grew from 1995 to 2000.
"If you're standing back looking at a chart on the wall, you'll see Catholic schools in this country dipping tremendously after the Second Vatican Council, leveling off and then beginning to climb in terms of enrollment," Guerra said. "In the last five years there has been a decline again.
"Let me pause and say that in all of these issues," Guerra continued, "the more important number is the number of students, not the number of buildings." He said that if two half-empty buildings can be consolidated into a single school serving the same number of students, "that is good news ... because you have a stronger, more viable institution serving the same number of students."
The dioceses that announced school closings are trying to persuade current students to enroll in consolidated schools. The Chicago archdiocese, for example, gave each school family a "student travel kit," with information and maps about nearby schools; necessary phone numbers and Web sites; and a DVD called "Continuing Your Catholic Education," which has comments from students, parents and educators who have gone through a school closing.
Nicholas Wolsonovich, the archdiocesan schools superintendent, told Catholic News Service that at least five other Catholic elementary schools are within three miles of the schools being closed (see related story on Page 4a).
Jesuit Fr. Joseph O'Keefe sees some hope in the massive closings. "My hope is they are part of a more strategic initiative rather than 'We can't make our operating budget so we are just going to close,' " said O'Keefe, dean of the Lynch School of Education at Boston College. "The closing of schools is tragic. Haphazard closing of schools is especially tragic. Strategic closings of schools give hope."
"The inner-city parochial school system is the perfect system for the late 19th century," O'Keefe told NCR. "So the closing as part of a strategy to do things more effectively, that's a very different story than each year more and more of them will close."
There are indications that the setbacks for Catholic schools may have more to do with larger societal forces than with changes in the church. Nathan R. Kollar, professor of religious studies at St. John Fisher College in Rochester, N.Y., has been studying changes in church structures over the last 50 years.
The United States, he said, is entering a "population trough." Population growth isn't steady, he said. It ebbs and surges. "We are going into one of the troughs right now where there are basically just fewer kids. You know that when one of these troughs comes along you're going to be in tough shape just because there are few kids."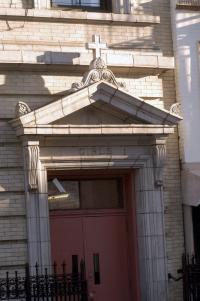 -- Photographer Showcase/
Frances M. Roberts
An entrance to St. Anthony of Padua School in Greenwich Village, one of the schools to be closed by the New York archdiocese
The age group now just beginning elementary education is the opening edge of that trough, Kollar said.
Western and Sun Belt states may not notice the trough, he said, because they are experiencing population booms. "You just don't see the decrease because you have people moving into an area that didn't have [as many people] before," Kollar said.
"Whereas in places like ours [Rochester, N.Y.], not only are [people] moving out of the area but there are fewer children. As a consequence of these two things together you just aren't going to have kids coming into the schools," he said.
Guerra also spoke of this trend. He said two-thirds of the contraction in schools and enrollment comes from the large, old dioceses in the Northeast and Midwest -- Boston, New York, Chicago, Detroit and St. Louis among them. "So there are problems that we are wrestling with in the older cities and they are both demographic and economic.
"You've got the Catholic population moving out of the cities to the suburbs or to the Sun Belt and when you look at the development of new schools you see they are opening in Atlanta, Orlando and Austin and Anaheim," he said.
Kollar's research also points to gradual but significant changes that have taken place in U.S. schools, changes that have made running schools much more expensive. "I noticed all the things that have been added on since 1950," he said. For example, today's schools have to have cafeterias. "I'm old enough to remember that we didn't have a cafeteria. That has to be added on," he said.
Schools today must have computers, labs and gymnasiums, as well as buildings adapted for access and safety. All these mandates cost money, Kollar said. A Catholic school that emphasizes only basic reading, writing and arithmetic "simply isn't going to work today," he said.
As the costs increase, parents of Catholic school students have to decide how much tuition they can bear. Or as Kollar said, "Sooner or later, the parents ask, 'Am I getting enough education for the money I am paying out?' "
O'Keefe said that in recent years public schools have become competitive with Catholic schools in ways not seen before by offering alternatives, such as charter, pilot and focus schools. "The options parents are offered are greater, for at least some elements that were traditionally found in the parochial schools: sense of community and a coherent philosophy. There are examples of Catholic schools closing in May and charter schools opening in September. You don't have a crucifix on the wall but it kind of continues.
"As people have less and less expendable income, that becomes an attractive alternative," O'Keefe said.
On top of these external changes affecting Catholic schools, Kollar told NCR, one set of changes comes from the heart of the church. "The principal motivators that sent people to Catholic schools in the past aren't there anymore," he said.
Catholic parents sent children to Catholic schools, he said, "because they were harassed in the public schools. Not just because they were Catholic but because they were Polish or Irish or whatever. So you went with your own because it was more comfortable to be there." This factor no longer exists, he said.
Another motivating factor was the feeling reinforced by clergy, religious and social peers that Catholics must attend Catholic schools. "If you didn't send your children to the Catholic school -- at least in the Northeast -- you were going to go to hell," Kollar said. "I think for the most part, if I am reading it right, the hell motivator doesn't work anymore."
This idea is echoed in research of Michael Cieslak, the director of research and planning for the Rockford, Ill., diocese. Cieslak surveyed Catholics 16 years old and older who attend Mass at one of the 105 parishes in the diocese. The questionnaire asked parishioners to rank in order of importance 34 descriptors of "a vital parish."
Cieslak found that overall the item "Children have access to a Catholic elementary school in the area" ranked 25th among the 34 items. Cieslak found that respondents who had a school attached to their parish ranked this item sixth. Respondents with no school in their parish ranked the item 31st. He concluded: "Religious acculturation within Catholic schools seems to have diminished in importance."
"The whole acculturation issue was us banding together to retrain our identity," he told NCR. "The whole issue of coming together, circling the wagons, that is no longer as important as it one time was. For many people, that was the raison d'être for the whole Catholic school system and that simply isn't there anymore.
"It seems to me," Cieslak said, "Catholic schools need to redefine and are redefining their mission."
Guerra and O'Keefe don't think the mission of Catholic schools per se has to change. They also reject charges that the church is abandoning its mission to the poorest students. But they both say dramatic operational changes must happen. Guerra said, "When the future of the parish school depends on tuition increases and the parish is serving a low-income population, it becomes impossible to sustain it."
"Stand alone parochial schools just can't work anymore," O'Keefe said, referring to schools attached to a single inner-city parish. "The silver lining in the cloud in Brooklyn and Chicago is that people are saying we really need to do something. We need to do something pretty dramatic."
They said dioceses and school administrators are looking at new models of administration and some are experimenting. As examples of successful experiments, Guerra pointed to Memphis, Tenn. (see related story on Page 4a), and O'Keefe to Washington. For about seven years, Washington has been operating 13 inner-city schools as a coordinated consortium, "a new kind of diocesan structure that allows for much more sustainability," O'Keefe said.
He explained, "A school that serves low-income kids can get federal funds, for example, for afterschool programs and for nutrition programs, but it takes a lot of data collection about the poverty level of parents, and you have to write up a grant to the feds and it's lots of paperwork.
"One school would have a very hard time doing that effectively. A cluster of five or six schools could hire somebody who is the grants person. Likewise with fundraising, likewise with staff development," he said.
O'Keefe also sees an evolving role for principals. "We need to prepare people who have the set of skills and the job description of a president of a small college." Besides overseeing the school plant, teachers and students, today's principals are doing a lot of external work "getting resources and making connections," he said.
"Some of the most exciting things we have seen is partnerships [between schools and] health care providers, Catholic charities, social service providers, neighborhood agencies and liaison with the local public schools," he said. "Those are some of the schools in my sample that have very high levels of poverty and have enrollment growth."
O'Keefe is convinced the money exists to keep inner-city Catholic schools open. He cautions though that philanthropists don't want to write checks to meet operating deficits. They "will work with us on some of these creative endeavors," he said.
Guerra said, "You need a model that allows you to do some things with lots of schools. We'll see what happens in Chicago. I think they are working very hard to rearrange Catholic education in that archdiocese so that there are schools available to all who want them and so that those schools are sustainable over the long term.
"Keep an eye on the enrollment number," he said, noting that some 4,500 students are affected by the Chicago closings. "If the great majority of those 4,500 students find a place in one of the other Catholic schools in Chicago they will be making the point that they are still serving that community as they have always served it and keeping the doors open particularly for low-income families.
"If they lose most of those 4,500 students then the question comes back: Are we able to serve the poor and the working class? … So we'll see what happens. I am very hopeful that Chicago will be a way of re-imaging Catholic schools that remain open to everybody in the community that wants in."
O'Keefe said, "I have hopes that what will emerge from the closings will be a restructuring that will … make these schools more sustainable. But time will tell."
Dennis Coday is an NCR staff writer. His e-mail address is dcoday@ncronline.org.
Memphis schools model success
Seven years ago, it seemed that the Memphis, Tenn., diocese had given up on education in the inner city. Over the previous 30 years, seven schools had been closed.
But in 1997, Bishop J. Terry Steib sat down with his new superintendent, Mary McDonald. Stieb told her that the diocese needed to reclaim its heritage in Catholic education by educating children who are in poverty or in disenfranchised areas of the city.
"I took that as my marching orders," McDonald told NCR.
Since that meeting, the diocese has reopened the closed schools and built a model for serving low-income students living in distressed areas. It wasn't easy.
"When we set out to do this, we set out with just the vision and worked 18 to 20 hour days," McDonald said. "It's a lot of hard work and you just have to keep going."
The first year, McDonald shared Stieb's vision with as many people and church and civic groups as she could. Her message was that this was a vision not just for the church but for Memphis, because most of the children they would be educating would not be Catholic.
Eighteen months into her term, she was approached by a group of donors who have remained anonymous to this day. Their multimillion dollar donation was seed money to roll out the program.
The year was 1999, and to commemorate justice themes in the coming millennium celebrations, the school that opened was called the Jubilee School. The idea ignited interest in Catholic schools in urban areas. Donations continued to come in. "We started out just thinking of reopening one school," McDonald said. "But one day someone asked me, 'How many more schools do you have?' and I said, 'Six,' and he said, 'Well, let's open them all.' "
As of this school year, seven schools are open with about 820 students. Jubilee schools are always at a parish. McDonald explained: "We need the intergenerational, spiritual and affective part of the parish. Even though the pastor has no responsibility for the finances or the running of the school, he is still considered the spiritual leader of the school.
"Now these schools are supported by the entire community," McDonald said. They have become centers of learning for the neighborhoods surrounding the schools with adult literacy programs, health and wellness and job training programs.
-- Dennis Coday
National Catholic Reporter, March 25, 2005