Issue Date: March 25, 2005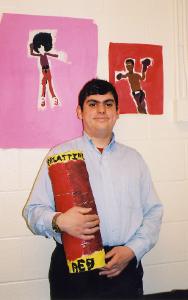 -- Photos by Patricia Lefevere
Matt Cresanta, an artist and a student at St. Anthony School Programs at Duquesne University
Program celebrates uniqueness
Inclusion, independence for special needs kids is goal of diocese's education model
By PATRICIA LEFEVERE
Pittsburgh
Gary Eiseman hardly looks the mother hen type. Tall, burly and not bashful, it's difficult to imagine him worrying about young adults getting to university safely.
But he does.
"I get a similar anxiety to what their family feels," he said, his eyes peering down the corridors of the Fisher Building off busy Forbes Avenue at Duquesne University here. "Until that student walks through the door, I'm uneasy."
His stress visibly subsides as student after student arrives, greeting him with a pat on the back, a handshake, a hug. One even asks: "Did your wife dress you today?"
"That's Matt Cresanta. He's an artist and he knows I'm colorblind," Eiseman said.
The 16 students Eiseman awaits all manifest some form of mental retardation. Some have Down syndrome; others are autistic; all have intellectual impediments. They come to Duquesne and work with job coaches and mentors -- some of them regular Duquesne students -- to hone vocational and daily living skills that will help them lead as independent a life as possible.
The students spend four hours each day working at mailroom, office, daycare and other jobs. "Independence is our goal," Eiseman said.
The majority of them have come from Catholic elementary and high schools across the city where they have been educated alongside those their age. They have learned to read, write and spell in the same classroom as their peers, received the sacraments together, eaten lunch side by side and interacted at recess and during afterschool events.
That experience has enhanced their social skills and self-confidence to a point where they're comfortable mixing with so-called "typical" students, said Eiseman, who is vocational director of St. Anthony School Programs, an inclusive educational and life skills curriculum for mentally disabled youngsters run by the Pittsburgh diocese.
"As far as we know there's no other Catholic program in the country that takes these children from kindergarten to college in an inclusive educational environment," said chief operating officer Mark Sieg. It has become a nationally recognized model of education for those with learning disabilities.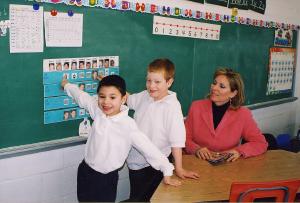 First-grade student Logan Aeillo and third-grader Tyler Petrusky with Lisa George, director of education for St. Anthony School Programs
The belief that God created all life and therefore all life is valuable grounds the program theologically. "Differences are recognized and uniqueness is celebrated," said Lisa George, St. Anthony School Programs' educational director.
The program dates to 1921 when the Missionary Zelatrices of the Sacred Heart began to staff St. Anthony Village, an orphanage for children of Italian heritage. By 1953 the Village altered its name and mission, becoming St. Anthony School for Exceptional Children, and focusing on retarded children.
In the early 1990s, under the direction of Bishop Donald Wuerl, the diocese expanded its program to include a wider range of mental disabilities. Since then it has graduated more than 900 students and placed 90 percent of them in the work force.
Today the program serves 111 students in seven primary schools, three high schools and at Duquesne. Last year some in the Duquesne program began to travel to nearby Carlow University -- another Catholic institution -- to advance their vocational training.
For Jessica Carpon, who is legally blind and has Down syndrome, graduation in May "will mean the end of an era," said Eiseman, who has been with the program 31 years. Carpon is the only student at Duquesne who began her studies at the old St. Anthony School for Exceptional Children.
By third grade she transferred to St. Colman's Elementary, where she spent half her day studying and playing with her peers and the other half in the resource room. Each school in the program employs licensed special education teachers and paraprofessionals who aid the pupils. Carpon completed four years at Serra Catholic High School before entering the college vocational and jobs training program.
Unique program
"This program is unique, because teachers are able to discover the special needs of each child," said Regina Govachinni, mother of 9-year-old Clara, who attends third grade at St. Simon and Jude Elementary, where 10 of the 202 students are in the St. Anthony School Programs.
Clara has a pervasive developmental disorder with a touch of autism, said her mother, a social worker in the Pittsburgh public schools system. Although Clara often finds it hard to get words out, she was able to tell in full clear sentences that she enjoys library books, studied for a test on bugs and liked the unit on robots in her science class. "Art is my favorite subject," she said.
Last year Clara received her first Communion and made her first confession along with her classmates. She also got invited to birthday parties, something that "never happened" when she was in first grade in a public school, her mother noted.
That school "kept her in the resource room all day, not recognizing any of her special gifts. They simply didn't grasp her needs." At the end of first grade, "they told me I had no options" but to keep her in special education classes.
Regina Govachinni and her husband were not satisfied with such a future for Clara. They wanted her to have an inclusive and faith-centered education, said her mother.
Having children like Clara in the regular classroom is an education not only for the child, but also for her peers, their teachers and their parents, said Mary Rita Kunash, third grade teacher at St. Simon and Jude. Kunash tells all her students that there are different kinds of people and different kinds of learners. "Even in the early grades, kids have a newfound appreciation of how the mind works," she said.
Though this is Kunash's 30th year of teaching, it is her first in the St. Anthony School Programs. She has not altered her basic lesson: Kindness toward all is the rule. "The worst thing you can do is to make another child cry, to hurt their feelings."
A trim, well-tailored teacher, Kunash recalled attending St. Simon and Jude shortly after it opened in the late 1950s when she was taunted by boys: "Fat girls are not allowed to ride the bus." Her cheeks redden with the recollection.
Today, rather than being made fun of, students compete to sit next to a special needs child in class or in the lunchroom. "We play inclusion games and ask children to bring a buddy," Kunash said. "It's a beautiful bonding thing."
Over many years as a first grade teacher and many more as a principal, Sister of St. Joseph Norma Zanieski has seen intellectually disabled children who were mainstreamed without having their special needs met. "When you see their needs being attended to in a program like this, it's so encouraging," said Zanieski, who is in her first year with the program and first as principal of St. Simon and Jude, the newest elementary in the program. Zanieski met with parents late last summer, informing them that the normal routine would be altered somewhat to accommodate the new students. She said parents have adapted well to the changes.
Faculty at St. Simon and Jude admit that special needs students are sometimes disruptive, but so too are other pupils, they're quick to add. Teachers in Pittsburgh Catholic schools are steeped in conflict resolution, Kunash said. "There are a dozen strategies to deal with behavior problems. You pull one out of the hat." The one she always picks first involves getting the students to talk about what's going on.
Govachini said her daughter has a problem with waiting and has tantrums. But her outbursts can be short-lived when teachers give her space to work it out. "These kids are so perceptive," Govachini said. "They respond if they're loved, cared for and paid attention to."
"We're constantly striving for socially acceptable behavior," said George, who noted that every resource room receives weekly or bimonthly visits from a behavioral health counselor who helps children manage stress and deal with issues of self-esteem, social skills and peer pressure.
Children also learn basic skills about dressing, grooming, hygiene and how to handle money. Many have trouble with motor skills and receive special coaching in these areas too.
The cafeteria or gymnasium may be as good a learning venue as the classroom or resource room, Eiseman said. Skills honed in primary schools are further refined in high school and used daily in the Duquesne program where students select their lunch in a food court-style cafeteria and pay for it with a swipe card.
What comes next
Developmentally delayed youngsters thrive on organization and structure, their teachers said. In primary school this may mean posting the day's schedule in signs and symbols under a student's photo.
Resource room teacher Kathy Gagetta has made hundreds of tiny, bright Velcro patches -- the kind that can be attached to a desk, the bulletin board or stuck onto a game. They are used to direct students to their next class or activity, or to reward, compliment, encourage or admonish them.
"Setting up the right environment is a way to prevent behavioral problems," she said, adding that each child needs his or her individualized schedule. "We do a lot of routine activities in the resource room. Knowing what comes next helps them feel secure."
It is Gagetta's ninth year with the St. Anthony School Programs. Before that she subbed for several years as a special education teacher. At St. Simon and Jude, she works with two paraprofessionals and a motor skills instructor. The ratio of teachers to students in the program is one to three at the primary level and one to four in the high school.
What Gagetta finds outstanding about the program is its "Christ-centered atmosphere. I marvel at the compassion other students show our children," she said.
The special needs students have enhanced her faith. "They bring such spirituality," she said. "They really live a sense of joy. It's inside, in their heart."
When parents come to Lisa George for their admissions interview, "they're focused on their rights and on federal mandates. They're so used to fighting for services for their child, for appropriate placement."
George said she tells them, "Wait a minute; this is a Catholic school. All children are valued here and entitled to dignity, respect and appropriate education." Then George explains the Individualized Education Program, with annual goals and short-term objectives, customized for each child. Components include reading, language arts, math, social and organizational skills, handwriting/computer learning and inclusive classes.
In October teachers generate the Individualized Education Program based on input from the parents early in the school year and on the teachers' own assessment of the student. The program goes home for review a week before the parent-teacher conferences in early November.
"When parents learn what we do here, it's like a stone being rolled off their backs," George said. "They don't need to take us to court to get services for their child."
Only students with a diagnosis of autism or of mental retardation -- with an IQ below 75 -- are admitted. Currently 95 of the 111 students enrolled are Catholic. Catholic families pay $4,700 per year in tuition; non-Catholics are assessed $6,850 annually.
Tuition fees cover about one-quarter of the cost of educating a child in the program. While it has a $7 million endowment -- much of it from the diocese and generous gifts from the Knights of Columbus (see accompanying story on Page 9a) -- St. Anthony School Programs has endorsed a 10-year strategy to expand the program to 200 children and make it available in all six counties of the diocese. Currently all 11 sites are in Allegheny County.
The cost of opening a new site is $80,000. Sieg said the program has to fundraise $250,000 a year, and is looking for a development director.
Finding acceptance
Not every Catholic school wants special education students on the premises. "There are people who don't buy into it," said Sieg. "We're never going to put students into a classroom where they're not wanted. That's setting the child up for failure."
But in his 23 years with the program -- he began as a volunteer while in high school -- Sieg has found 80 to 90 percent of teachers and students very accepting of mentally disabled pupils. "With school administrators, it's close to 100 percent."
"There's still a lot of fear of the unknown and ignorance about mental retardation," George said. She said she hopes the program has helped to change that in Pittsburgh.
High school is another hurdle, "because high school is high school," said Eiseman. "I see kids sitting all by themselves in the cafeteria -- and they're not even special needs kids."
In recent years the program began a Circle of Friends club to encourage regular students to take a special needs pupil with them to a game or for a pizza. "Being with your peers at a school event is a lot cooler than sitting with your parents," Eiseman said.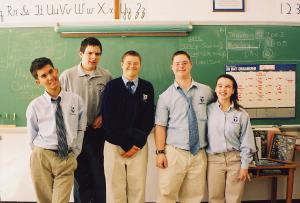 Special education students in the Resources Room of Canevin Catholic High School; from left, Todd, Mike, Joe, Eddie and Lauren
Each year the three high schools in the program select a winner of the Bonds of Friendship Award. "We try to motivate high school students to be more open," Sieg said. At Bishop Canevin High School -- special needs students have joined the band, the bowling and basketball teams and have become cheerleaders.
Special education teacher Chris Brown has a dozen students in Canevin's resource room, ranging from freshmen to seniors. At any given time up to five of the students are out of the room for two to three hours working with a job coach. Often they go to the nearby diocesan purchasing office where they learn how to label and file and other office skills.
Sieg's father, Fred Sieg, has volunteered as a job coach since his retirement, finding opportunities at the Radisson Hotel, Mercy Hospital and elsewhere. Students have also received training at the Marriott Hotel and the University of Pittsburgh Medical Center. They work at McDonald's and at a number of sites at Duquesne.
Job coaches help students in inclusive classes and in making the transition from eighth grade to high school and from high school into the college program.
Senior Mike Tedesco said he is glad he came to Canevin. He entered the program as a fifth grader at Cardinal Wright Regional. "I was always ashamed about my learning disability. I have a reading problem and find it hard to identify words and to spell, but being here has helped me a lot."
Tedesco is not certain if he'll apply for the vocational program at Duquesne. He would like to become a cook in the Air Force, and his uncle, a former Navy cook, thinks he might be able to do it. "Of course my mom doesn't want me to go. She thinks I'll get sent to Iraq and come home in a box," he said.
If students go on to Duquesne, they receive an attendance certificate from their high school and get a diploma when they finish the college portion. This allows them to continue using buses provided by their respective school districts up to age 21.
Eiseman introduces each student at Duquesne with a tag that comes out of each one's resume. "She's a brilliant pianist: She practices a lot and learns all her pieces. … He's an artist. He brings in one of his drawings each day and hangs it up. … She won a big award for more than 100 hours of volunteering with the blind. … He went with his mother to Guatemala and was a big hit. They hide the mentally disabled away down there."
In the St. Anthony School Programs no one is hidden away, said Eiseman, who spent seven years in the diocesan seminary before leaving and marrying. He has a son, a pediatric nurse.
"My apostolate in the seminary was working with the mentally and physically challenged," said Eiseman, who has a master's in special education. "I don't think I could work in a typical school anymore. My apostolate is still these kids."
Patricia Lefevere, a longtime contributor to NCR, lives in New Jersey.
Related Web site
St. Anthony School Programs
www.stanthonyschoolprograms.com
National Catholic Reporter, March 25, 2005