Issue Date: March 25, 2005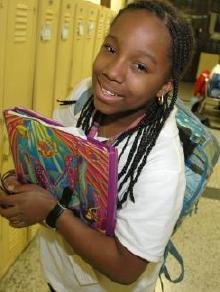 -- Photos by Jennifer Silverberg
Patricia Blake on her way to study hall at Marian Middle School in St. Louis
School days in the city
By GERI L. DREILING
Meet Patricia Blake. When introduced to a visitor, Blake extends her hand, grasps the visitor's hand and gives it a proper, firm shake. She smiles, says, "Hello" and supplies her name. In the world of adults, the ritual begins a relationship or cements a pact between two people who have just struck a deal.
But Blake isn't a professional with an expensive haircut nor is she garbed in a business suit and high heels -- but perhaps someday she will be. Instead, Blake, 12, wears her hair back in a rubber band, a uniform consisting of blue pants and white top and on her feet, sneakers. She's greeting a visitor to Marian Middle School located on the south side of St. Louis.
Like all of the students at Marian Middle School, Blake's family struggles to make ends meet. In fact, the school's mission is to cater to low-income families. They qualify for free or reduced fee lunches. Under federal guidelines that means the annual income for a family of three is less than $29,000 per year, but most make less than $20,000 a year.
Less than 10 percent of Marian's students are white. A greater number of students are recent immigrants from Bosnia, Vietnam, Laos, Mexico or Central America. African-Americans comprise more than three-fourths of the student body. Blake volunteered that her mother is black and her father is white. The brown color of her skin means that she'll face a lifelong battle against the two-headed demon of racism and sexism. A strong education could help her confront that future.
The school is sponsored by several Roman Catholic religious communities, including the Daughters of Charity, Benedictine Sisters, Franciscan Sisters of Our Lady of Perpetual Help, School Sisters of Notre Dame, Ursuline Provincialate, the Sisters of the Most Precious Blood, the Sisters of Loretto, and the Sisters of St. Joseph of Carondelet. But only six of the 39 current students are Roman Catholic. Southern Baptists are the majority, a few are Muslim. Blake said she's a "Christian."
Though they may not share the same faith, the school and its students have sacrificed much for education.
The students attend school for 10 months a year. The academic day begins at 8 a.m. but the doors open a half-hour earlier for breakfast. Students eat lunch together as well as an afternoon snack. Though academic classes end at 3, students stay until 5:45, attend enrichment classes like tai chi, modern dance and anger management as well as a mandatory study hall. There are academic Saturdays that include field trips to places like the St. Louis Science Center. The class sizes at Marian for sixth, seventh and eighth grade are limited to 15 students. Although it costs approximately $11,000 to educate each student, families typically pay, on average, $35 a month.
The model Marian uses was developed by the Jesuits in 1971 at the Nativity Mission School in New York. In 1993, the De La Salle Christian Brothers adopted the model and opened the San Miguel schools. There are currently 57 schools in the Nativity-Miguel network; they can be found in mostly inner-city areas in 26 states.
In St. Louis, there are three Nativity-Miguel schools. Marian, an all-girls school, is one of two Nativity schools in St. Louis, and was started in 1999. The Jesuit-sponsored Loyola Academy is the all-boys Nativity school. Coeducational De La Salle Middle School at St. Matthew's, a San Miguel school, started in 2001. All three limit enrollment to low-income students who have average to above average intelligence. They are children who have potential but often aren't often living up to it academically.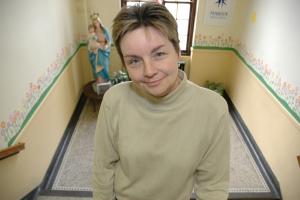 Maureen Hermann, director of Marian Middle School
Maureen Hermann, the director at Marian, said that it isn't unusual for a student to arrive at Marian two years behind grade level. They spend the next three years in an intensive program designed to catch them up in school and help them move on to a college prep high school. Herman says that out of the 11 girls who have graduated from the program, eight landed in college prep high schools such as Cardinal Ritter College Preparatory High School and St. Elizabeth Academy.
Despite the success, Hermann admitted that convincing families to enroll their girls can sometimes be a challenge. For some families trapped in a cycle of generational poverty, Hermann noted that education "is not a shared value." And for some of the recent immigrants, she says, "education is not a shared value for girls."
But Blake said she understands the value. Since enrolling at Marian, she said, "I've learned a lot of different kinds of math that not even my parents know how to do." She talked excitedly about the piano club she is trying to start and the music column she would like to write for a school newspaper. She shared her dreams of becoming a pianist or doctor. And she said she's learned that "schoolwork isn't all hard stuff -- you can actually have fun in school."
Getting home at night, however, is not fun. The students that attend both Marian and Loyola Academy come from all over the city and transportation can be one of the biggest hurdles they face. Blake is no exception. It is dark when school gets out at 5:45 p.m. in the winter. To get home, she must ride the public bus.
"When I first came here, my parents thought I was going to get lost" riding home on the bus, Blake said. And since she didn't get home until 6:30 at night, her father was worried about her safety. It isn't the concern of an overprotective parent. A St. Louis police detective who works with schools and juveniles summed up the dangers that Blake must avoid: sex offenders, bullies, gang members, and even the well-meaning adults who sit down next to a child to keep them safe but then distract them with conversation that results in a missed stop. When asked if he'd let his kids ride the bus alone, he doesn't hesitate to shake his head no.
But Blake was determined and her mother was supportive. "Let her try it," Blake recalled her mother saying to her father. Her father found some comfort in the fact that uniformed and undercover police sporadically ride the bus. The family scraped together money for an emergency cell phone. Her father reluctantly agreed and so far, things have gone fairly smoothly, Blake said. Even so, she said, her dad "still sits in the window and watches until I come home."
A neighborhood school
Because De La Salle Middle School at St. Matthew's is neighborhood-based, transportation isn't an issue. Instead of recruiting students from across the city, it concentrates on finding them within the borders of the community it calls home: the Ville neighborhood on St. Louis' north side. The Ville was once a haven for a black middle class locked out of white neighborhoods by restrictive covenants in property deeds.
The area has seen some recent development: The St. Louis Fire Department restored a small firehouse and Homer G. Phillips Hospital, which once served the community during the era of segregated hospitals, was recently restored and reopened as a senior living center. But it is still a neighborhood dotted with vacant lots and decaying houses; buildings with crumbling brick walls or gaping holes where windows once were. Students share the sidewalks with drug dealers, and the streets are sometimes the scenes of drive-by shootings.
De La Salle opened as a collaborative effort between the Jesuit-run St. Matthew the Apostle Parish and the Christian Brothers. The church offered the newly built community center as the main school building for the establishment of a school. The school needed more room so it opened an annex, converting a closed restaurant known as Big Mo's Barbecue into two stories of classrooms.
It isn't just the school that is neighborhood-centered. Bob Sweeny, the goateed and energetic director at De La Salle, lives with his wife and 22-month-old daughter on the block. Administrative offices occupy the first floor of another brick home a few doors down from the main school building. The second floor of the building serves as living space for some of the faculty members and volunteers.
Sweeny said that for the school to succeed, it had to establish relationships within the community. Buildingtrust has been a slow but important process. And recruiting low-income students can be a minefield. Sweeny said bluntly, "People find it offensive to be referred to as poor." Now in its fourth school year, De La Salle has a waiting list.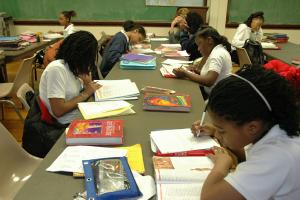 Study hall at Marian Middle School: Students spend three years in an intensive program designed to catch them up in school and help them move to a college prep high school
Not every child will get in. In order to be admitted to De La Salle as well as Marian Middle School and Loyola Academy, the students must have one responsible, caring adult in the family who supports the demanding educational approach. That person can be a parent, guardian, family member or mentor. Family members are expected not only to meet for frequent conferences but also to volunteer their time.
On a warm February day before noon, two of De La Salle's family volunteers concentrate on getting toasted ham and cheese sandwiches ready for lunch. One of the women, Linda Collins, is the aunt of two eighth grade students at the school, John and Jasmine Collins.
Collins beamed when she talked about them. Her nephew has been accepted to Christian Brothers College High School and her niece to St. Elizabeth Academy.
High school placement is important at De La Salle. Sweeny said, "Our goal is to help children continue on an educational path into the best schools in the city." It isn't to produce well-educated eighth graders with no place to go.
To make the goal a reality, Nativity-Miguel schools have a graduate support program. It assists middle school students with the high school application process and in finding financial aid. The program then shadows the students throughout their high school career.
Sweeny said that when looking for high schools, they have to ask "which high schools are serious about diversifying." He noted that many of the students in the private Catholic high schools in the St. Louis area are middle- and upper-middle-class. "They come from different worlds and have different rules."
Helen Friedel, the director of De La Salle's graduate services program, is part coach, part counselor and part mediator. She helps the students navigate the transition from a small, close-knit middle school with no more than 60 kids to a high school with a thousand students. She meets monthly with the graduates who return for Saturday study halls. Friedel says the interaction and study halls give the graduates a chance to "come back home and be reaffirmed."
The three St. Louis schools are still relatively new and none have graduates in college. But nationwide, nearly 90 percent of the Nativity-Miguel students graduate from high school. Eighty percent of those students go on to college.
Forever fundraising
"We're doing good work here but that doesn't mean we don't need help," said behavior coach Kurt Gerwitz. He paused then added: "Send money and prayers."
At 7:30 on a crisp February morning, a bank executive, a businessman, a public relations specialist, a printing shop owner and a volunteer with boxes of Krispy Kreme donuts walk through the front door of Loyola Academy. That means that the once-a-month fundraising breakfast at the boys' school has arrived.
Loyola opened its doors in 1999 and is located in St. Louis' midtown. Only a few blocks from Loyola is St. Louis University and across the street is the new campus for Cardinal Ritter College Preparatory High School, a coed archdiocesan school.
Once inside the school, each visitor is greeted by an escort, a student who, like Patricia Blake at Marian Middle School, shakes hands. One of the escorts is seventh grader Je'Von Adams-Walker. He points out the plaques on the walls reserved for outstanding learners, finest gentlemen and many other accolades. He shows off the administrative offices and the library. When asked which book is his favorite, without hesitation he named Holes, a Newbery Award winner by Louis Sachar. "First I read the book and then I watched the movie," Adams-Walker said.

Students participate in a hip hop dance class at Marian Middle School
The tour ends in a common space that contains a few tables for eating and couches for lounging. On the mornings when the fundraising breakfasts are held, all of the students, along with their backpacks and piles of books make their way into the common area.
It is Spirit Week and so students are allowed to wear athletic jerseys over their uniforms. Names like LeBron James and Carmello Anthony appear on the backs of some of the students. A faculty member quiets them, takes attendance then talks about transportation to the big basketball games at the end of the week. Two teams from Loyola will face off against two teams from St. Louis Priory School, an elite all-boys Benedictine school serving seventh graders to seniors. Like at Marian, transportation is a recurring headache, which explains why Loyola lists a 10-passenger van as an item on its donation wish list.
A faculty member recognizes birthdays and announces January's "Students of the Month." At the end of the gathering, the boys stand, recite a prayer in unison and head off to class. The visitors follow Tom Nolan, the director, to his office in the annex building, once an industrial space for an electronics company, for a fundraising pitch.
Tuition at a Nativity-Miguel school typically only covers about 5 percent of the school's cost. Donations make up much of the rest and each school is expected to support itself through fundraising. The schools have a director and a development director who work tirelessly to generate money, recruit students and raise their visibility. That leaves the principal free to concentrate on academics.
At Loyola, while a teacher nearby talks to his class about historical voting patterns in presidential elections, Nolan starts up a promotional DVD. When the short video ends, Nolan lists the high schools its students have attended or plan to attend, places such as Cardinal Ritter, Christian Brothers College High School, and even St. Louis University High School, a selective Jesuit institution. In addition, some are now high school honor roll students or recognized as outstanding student athletes, and one was recently elected president of his freshman class in a private suburban high school.
Nolan said, "The school is the single most important institution in a child's life. It is an institution that can make or break them."
Though it would be fine if one of the Loyola students attended Harvard and became a physicist, it isn't the primary goal. "We're not going to save the world but we are teaching values and academic skills," Nolan said. "These guys will be great leaven, good fathers, good bank members, good lawyers" and good citizens.
The administrators at Marian, De La Salle and Loyola offered up the yardstick by which they are measuring not their students' success, but their own. At each school, the standard was the same: "I will be a success when a student comes back to take my place."
Geri Dreiling is a St. Louis lawyer and freelance writer.
Related Web site
Foundation for Nativity & Miguel Schools
www.nativitymiguelschools.org
National Catholic Reporter, March 25, 2005