Issue Date: March 25, 2005
CATHOLIC EDUCATION BRIEFS
Citizenship training planned
WASHINGTON -- The Catholic Legal Immigration Network, known as CLINIC, will recruit and train members of the Knights of Columbus to help immigrants become U.S. citizens.
The program will include training in completing applications for citizenship, offering classes in English and on preparing for the citizenship test, and assisting at citizenship ceremonies.
An estimated 8 million people in the United States are eligible to apply for citizenship, but have not done so, according to CLINIC. "Although they are contributing members of their communities and U.S. society as a whole, they do not enjoy many of the rights afforded to U.S. citizens, including the right to vote," said a statement released by CLINIC, which is based in Washington.
The CLINIC project with the Knights of Columbus will begin in Dallas, Los Angeles and Long Island, N.Y.
-- CNS/Don Blake
---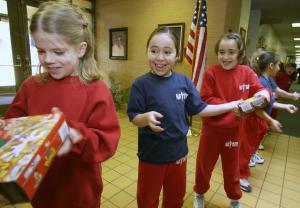 -- CNS/Karen Callaway
First-grade assembly line
Haley Ingram, Marisol Medrano, Adrien Hall and Hallie Vanover, first-grade students at Nativity of Our Savior School, Portage, Ind., join schoolmates March 8 in an assembly line to help move more than 500 nonperishable food items from the old food pantry located in the school to a new pantry on the corner of the parish grounds.
---
Christians oppose uniforms
PADANG, Indonesia -- A move to oblige all students in every high school in Padang, western Indonesia, to wear "Muslim attire" has drawn criticism from Christians.
Fr. Florianus Sarno said Feb. 21 that Padang's Prayoga Foundation, which runs the five Catholic junior and senior high schools in the city, opposes the local government's plan and would not comply with it. "Our conviction is that moral degradation cannot be checked by wearing uniforms, but rather by advancing morality and ethics among all people," said the priest, who is chairperson of the foundation.
In a Feb. 21 letter to all schools, Fauzi Bahar, district head of Padang, said that from the beginning of the new school year in July, the local government will require students of all junior and senior high schools to wear Muslim clothing every day. Currently, only students of public and Muslim-run junior and senior high schools need to wear such attire, and only on Fridays.
Albertus Hendra Lukman, a Catholic city legislator, also opposes the plan, which, he said, "shows a lack of respect for Catholic and Protestant schools."
---

-- CNS/Don Blake

Celebrating Seuss
At St. Anthony of Padua School in Wilmington, Del., kindergartner Lauren Bell tries the green eggs and ham during a March 4 celebration marking Dr. Seuss' March 2 birthday. The weeklong celebration of the popular children's author concluded with a hat parade through the halls of the school and sampling of green eggs and ham.
---
Number of catechists increases
HUNG HOA, Vietnam -- The number of catechists in a northern Vietnamese diocese short of priests has grown almost tenfold in the last 11 years, thanks to the work of a group of lay and religious catechist trainers.
Hung Hoa diocese now has 1,650 catechists, compared with only 182 in 1993, according to Marie Tran Thi Thuy, a member of a group that has been training catechists for children in 73 parishes and 500 subparishes.
The group has 78 members aged 25-60 comprising lay women and men, and Lovers of the Holy Cross nuns. Under the diocese's Committee for Catechism, they conduct monthlong courses in parishes across the diocese.
Each member is away from home an average of six months a year, Thuy said, although many -- among them dressmakers, drugstore owners and farmers -- depend on other jobs for their livelihood.
Thuy said it has not been easy to cover the whole diocese, especially remote parishes. Hung Hoa, Vietnam's largest diocese in terms of area, covers all or part of nine provinces. In addition, the government used to forbid the training courses, as evangelizing was once outlawed in Vietnam.
"We were teaching while watching for police. Sometimes we had to flee when local authorities arrived. Now the government does not prevent us from teaching," she said.
---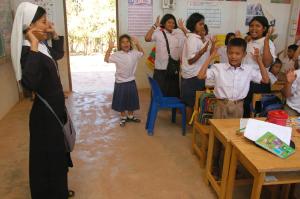 -- CNS/Stephen Steele
Tsunami recovery
Sacred Heart Sr. Uraiwan Mispi works with children at a school on Lanta Island, Thailand. The school is paying the school fees for about 50 children whose parents, mostly fishermen, lost their livelihoods following the Dec. 26 tsunamis.
---
National Catholic Reporter, March 25, 2005