Issue Date: March 25, 2005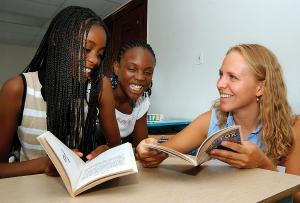 -- CNS/Owen Sweeney III
AmeriCorps volunteer Annalisa Snair reads with Tylia Towson, left, and Ikea Avery at Mother Seton Academy a Baltimore Catholic middle school for children from low-income families.
Court OKs AmeriCorps in Catholic Schools
By CAROL ZIMMERMANN
Catholic News Service
A federal appeals court ruled March 8 that the national service program AmeriCorps can subsidize its volunteers placed in Catholic schools without violating the constitutional separation of church and state, overturning a ruling last year by a lower court.
In a 3-0 decision, Judge A. Raymond Randolph of the U.S. Court of Appeals for the District of Columbia Circuit wrote that the U.S. government is neither promoting religion nor creating incentives for AmeriCorps volunteers to teach religion in some of the nation's neediest Catholic schools.
AmeriCorps, a federal agency run by the Corporation for National and Community Service, involves 50,000 people each year in service programs with nonprofit secular and faith-based groups in education, the environment and public safety as well as homeland security, an area recently added by President George W. Bush.
Participants in service programs in education earn college tuition vouchers of $4,725 through the AmeriCorps education awards program in exchange for 1,700 hours of service. When they apply for the tuition voucher, they must submit time sheets on hours served. However, they do not include any time they spend on religious education or activities such as going to Mass.
The American Jewish Congress, which brought the suit against AmeriCorps three years ago, charged that by placing volunteers in Catholic schools the program's funds were being used to teach Christian values.
The lawsuit filed against the Corporation for National and Community Service singled out three AmeriCorps grantees -- the Alliance for Catholic Education; the Catholic Network of Volunteer Service; and the Nebraska Volunteer Service Commission.
In a July 2, 2004, ruling, U.S. District Court Judge Gladys Kessler said the AmeriCorps program had "completely blurred" the line between secular and nonsecular activities by providing tuition vouchers to volunteers in religious schools. She also noted that "direct government involvement with religion crosses the vague but palpable line between permissible and impermissible government action under the First Amendment."
The March 8 ruling noted that if AmeriCorps participants taught religious subjects they did not count this work toward their service hour requirements and the volunteers were "prohibited from wearing the AmeriCorps logo" while teaching religion.
The appeals court also noted that the American Jewish Congress failed to substantiate its claim that AmeriCorps volunteers in religious schools were not properly policed in their timekeeping methods and thus could have counted time spent teaching religion toward their service-hour requirements.
The American Jewish Congress also objected to the fact that in addition to the tuition vouchers the service groups to which AmeriCorps teacher volunteers belong receive up to $400 a year for each full-time participant. The appeals court ruled that the $400 was much less than the actual administrative costs.
The appeals court noted the AmeriCorps program offered many options for participants who do not want to carry out their service in a religious school.
National Catholic Reporter, March 25, 2005