National Catholic Reporter
Subscribers only section
April 29, 2005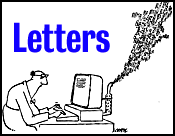 A new papacy
I turned the TV on just before noon, at the very moment Cardinal Joseph Ratzinger was announced as Pope Benedict XVI.
"NO!" I screamed from the depths of my soul.
I hit the speed dial to my wife's cell phone. "They not only shut the doors with this guy, they locked them!" I shouted.
She didn't know what I was saying. She doesn't know who he is. But she did know I was in shock.
"This can't be a surprise," she said, knowing how Vatican II Catholics fared under John Paul II.
"I don't know what to do now," I cried, feeling physically ill.
My next call was to Bernie and Linda White in Ames, Iowa. They lead our Central Iowa Call to Action group of progressive Catholics.
We held a regional conference in Ames recently. Our theme was "From Hurting to Healing to Action." We reached out specifically to those Cardinal Ratzinger will exclude: women, divorced and homosexuals.
"Remember, Benedict XV was a healer," Bernie intoned, trying to allay my deep horror at Ratzinger as pope. "Let's hope the Holy Spirit moves him."
Ratzinger as a healer will be the same as having George W. Bush as a "uniter." It won't happen. Pope Benedict XVI will further divide the Body of Christ because he prefers the tyranny of absolutism to the "dictatorship of relativism" that he rails against.
I will pray for him. And I will pray for all of us. Psalm 23 is my only comfort at the moment.
MIKE COVERDALE
Nevada, Iowa
* * *
Since Cardinal Ratzinger has been elected pope, I guess I won't be returning to the Catholic church too soon. This man is the most undesirable of all candidates, and a reinforcement of all I would have hoped could have been modified.
PIERRE LaPLANTE
Riyadh, Saudi Arabia
* * *
Regarding John Allen on Ratzinger: If our senior prelates are so worried about explaining Ratzinger back home maybe they should just get a bumper sticker saying, "Don't blame me, I didn't vote for Ratzinger!" Do they want a pope who doesn't stand up for church doctrine in a secular world? I guess so.
MARGARET McCARTHY
Libertyville, Ill.
* * *
Supposedly, the Holy Spirit directs the choice of a pope. History tells us that politics and power often speak more loudly. The claim of a direct heavenly line to the conclave may be no more than a part of the carefully fostered mystique of the Vatican's celibate patriarchal culture.
The choice of Joseph Ratzinger strongly suggests that a very largely undistinguished array of cardinals refused to leave their comfort zone to hear the Spirit or the cries of the poor. So the denial of women; denigration of gays and lesbians; neglect of the oppressed and exploited poor; a preoccupation with sex, which Rome has hardly begun to understand; and a culture long tolerant of priest abuse of children and of nuns in Africa will continue. In a church that acts as if the Spirit speaks to only one person, the hopes of Vatican II collegiality and openness will necessarily fade further.
WILLIAM H. SLAVICK
Portland, Maine
* * *
I wanted to comment on your April 15 editorial, "In the shadow of John Paul II." I found the following questions from the editorial very telling:
"Will the new pontiff teach and explain or will he assert? Will he allow discussion of forbidden topics? Will he continue to use the benchmark of enthusiastic fidelity to Humanae Vitae as a criterion for episcopal appointments? Will bishops continue to fear the wrath of Rome or will the collegiality envisioned by the Second Vatican Council finally be practiced? Will the expertise of the faithful laity be exploited or ignored?"
All of these questions are really not-so-subtle ways of asking, "Will the new pope embrace dissent?" The answer, of course, is no. The church has already declared that women cannot be priests, birth control and abortion are immoral, active homosexuality is unacceptable as a lifestyle, and so on. These teachings cannot change because they represent the will of God for humanity. If these teachings were changed based on the whims of society, of what use is the church?
As I write, Cardinal Ratzinger has just been elected as pope. I have no doubt that God has given us the right man at the right time to lead the church and to strongly defend her teaching.
SHAWN GRUBBS
Fort Wayne, Ind.
---
Sr. Rita Larivee's pictorial "What did they come to see?" on the NCR Web site, covering the pilgrims going to Rome upon Pope John Paul's death, was beautiful, commanding, explanatory and reverent. Her photography was magnificent in capturing moments in time. I thank you without reservation for posting this solemn and joyful tribute.
KATHY BLONSKY
San Mateo, Calif.
---
In NCR responds (Letters, NCR, Feb. 4), you wrote: "Susan B Anthony grew up as a Quaker, but her later religious identity may be a matter of opinion" and provided a lengthy quote from Elizabeth Cady Stanton.
Susan B. Anthony signed the membership book of the Rochester Unitarian Church on Jan. 1, 1893. She remained an active member until her death in 1906.
For details go to unitarian.ithaca.ny.us/sermons/RSG20040208.html.
JO'ANN DE QUATTRO
Pasadena, Calif.
Jo'Ann de Quattro is justice outreach director for the Neighborhood Unitarian Universalist Church in Pasadena.
---
Sr. Antonia Ryan's Easter piece (NCR, March 25) gives us insight on the Resurrection. To do so, she uses one stanza (minus one line) of the entire six of "Church Going" by Philip Larkin.
Although the truncated stanza she cites does show Larkin wondering if churches will fall out of use, he answers his own question at the end of his poem. If she had let him tell his own story in full, he would have shown her that he thinks a church is "a serious house on serious earth."
Larkin's poem needs to be seen in total to hear his whole story. Truncating can make poets or scripture say nearly anything.
LARRY DeBLOIS
Augusta, Maine
---
I am not a Catholic, but consider myself a spiritual person and occasional churchgoer along with my husband, who is a Catholic.
In watching the local and national broadcast of the pope's funeral, I was amazed to see the procession of mourners in Rome and Chicago. I have lived 26 years in a predominantly Catholic community in the suburbs, with the majority of my neighbors supporting the war with flags waving on their homes and magnetic stickers adorning their vehicles. I know that the pope was openly against the war, and yet when I saw all of the mourners on the street I wondered where they were when we needed them to oppose the war in Iraq.
I ask the mourners who have such a love for Pope John Paul and such a dedication to his reign to consider joining the peace movement and marching with us in the street. Show the world we are united in this effort that Pope John Paul and Jesus Christ would want.
My son is an Army reservist serving on Haifa Street -- one of the most dangerous areas of Baghdad. My daughter was an Army intelligence officer for six years. Her husband was a medical services officer for six years. My son says the place where he is stationed is a holy mess, and my daughter and her husband believe we should never have started this war. If we pursue acts of killing in our hearts and minds, then can we ever be true followers of Jesus Christ and of this beloved pope?
RANDI J. LAYNE SCHEURER
Lindenhurst, Ill.
---
I read about Cardinal Bernard Law acting as celebrant at the fourth of the memorial Masses for Pope John Paul II at St. Peter's Basilica. As angry as I have been about the handling of the crisis of the sex scandal in our church, I think this tops them all.
ANN ZOLL
Portland, Ore.
* * *
The choice of Cardinal Law to celebrate one of the Masses for the pope makes me question what this church is about. At this time when the whole world is watching, it appears to be more about power and politics than about reconciliation and understanding. Once again the powers that be are ignoring the scandal that has done so much damage to the church, especially here in America. The victims of the abuses by the clergy and those of us who are scandalized by Cardinal Law's role in the cover-up are again scandalized that he would be chosen for this honor. What does this say to the American Catholic in the pew looking for a sign that Rome does get it, hoping for much-needed reconciliation and understanding?
MADELEINE DUCEY FISTER
Chicago
* * *
SNAP leader Barbara Blaine claimed that the routine celebration of one of the novediem Masses for the late pope by Cardinal Law at St. Peter's only served to further wound the survivors she claims to represent. On the contrary, I believe it was the protests themselves that risked causing further pain. Pope John Paul forgave his would-be assassin and was almost never referred to as a victim or survivor from that time on. Is the crime of sexual abuse by clergy condoned, justified or minimized by such profound forgiveness, or is it the key that liberates victims and allows them, however painfully, to move on with their lives?
Although an attorney general's investigation exempted Law from any criminal prosecution, many people viewed Law's forced resignation as an admission of guilt that resulted in utter disgrace. The good Catholic people of Boston, themselves victims, have paid for all of this dearly, in every conceivable way. When will enough be enough? One wonders if it would satisfy Blaine and others if it could be arranged for the cardinal to be thrown to the lions in a refurbished coliseum? In case you were not aware, the position of archpriest at one of the major basilicas is not thought of as a promotion if you were once the archbishop of Boston. Neither Cardinal Law nor the victims of sexual abuse deserve to be forever characterized by these horrible events. In the memory of the one who pardoned his assassin, may we please move on?
JOHN W. FEEHILY
Moore, Okla.
* * *
For those who believe that the selection of Cardinal Law to preside at a memorial Mass for the Holy Father was no big deal, permit me to explain what I was doing in the early hours of Friday, April 8, the morning of the pope's funeral:
The news of the schedule of nine days of memorial Masses for His Holiness had reached the United States prior to the funeral. Those of us who work with survivors of clergy sexual abuse, especially in Boston, braced for horrific news. I have been working with a young Bostonian who endured 16 years of abuse at the hands of not one but several priests. He learned to drink, do drugs and perform every conceivable sex act primarily on the grounds of the Boston archdiocesan chancery.
When he heard the news about the honor accorded Cardinal Law, he "lost it." He phoned me on the eve of the pope's Mass and informed me that he was in the bowels of the Boston ghetto buying the booze and drugs and sex that he had begun to recover from only a few months earlier. He said there was no hope anymore; that the church didn't care about him or any survivors of abuse. I told him that I cared. Until then, my expression of care had been enough! Not so this time around.
From Friday to Monday, I tried to console, convince and cajole him not to let it get to him, not to let his abusers win, not to pick up the drink and the drugs and not to ignore the taking of prescribed medicines for posttraumatic stress disorder, adult attention deficit disorder and clinical depression, all diagnosed by competent psychiatrists as being the result of his sexual abuse. I was not successful. You might say he is, once again, solemn high. I just hope we can keep him alive.
I wonder if there will be a cardinal assigned to preside at a memorial Mass for him should he not make it!
(Rev.) ROBERT M. HOATSON
Midland Park, N.J.
The Rev. Hoatson is a pastoral care giver for survivors of clergy sexual abuse.
---
I am grateful for the article on Cardinal Claudio Hummes' plenary address outlining his vision of the church, ("A papal contender's optimistic vision," NCR, April 1). I feel hopeful because Cardinal Hummes says, "The church must constantly promote dialogue."
Women and supporters of liberation theology have certainly suffered from lack of dialogue under the papacy of John Paul II.
Many of us women in the church feel the sting of a pope who reached out to Jews, to Muslims and to the man who shot him but who closed the door on women who wanted to dialogue with him about women's ordination. We can still hear the words, "And there is to be no further discussion," which sound to us like a sin against the Spirit.
It is consoling to hope that there are cardinals who will dialogue with us: "a dialogue that knows how to listen, to debate, to discern and to assimilate whatever is good and true, just and consistent with human dignity …" (Cardinal Hummes).
RITA MOLONEY
Brooklyn, N.Y.
---
I will be the first to admit that I am legally challenged when it comes to understanding the nuances involved in the clergy sex-abuse scandal. There seem to be many ramifications in current legal proceedings that were not clear in Jason Berry's article on Cardinal Mahony (NCR, March 18). After having read the article, I could see a somewhat metaphorical "rolling of the dice" with some positive elements (Mahony's pastoral experience and his many attempts to deal with the sex abuse crisis) alternating with negative elements (Mahony's refusal to have all the files of the accused priests open to the prosecutors). The negative implications seem to dominate.
Quite frankly, there are a few things about Berry's article that I find bothersome. The first is the provocative use of language that tends to presuppose assent from the reader. For example, the use of the phrase "unseemly proximity," as in, "Cardinal Mahony's career is marked by unseemly proximity to several men like [alleged abuser Fr. Michael] Wempe." What does "unseemly proximity" mean?
The second bothersome item is that Berry, as well as the majority of the media, says nothing about the sex abuse perpetrated by acknowledged leaders in the Hollywood and public school arenas. Actresses have often spoken publicly about "couch casting," and many public school teachers have been accused of sexual abuse. Why is it that from the media we seem to get the impression that sex abusers are principally Catholic priests?
I would like to call attention to a document that could provide a wider perspective on the Los Angeles situation and help the reader decide the direction that the archdiocese is currently going. The document, dated Feb. 17, 2004, is called "Report to the People of God: Clergy Sexual Abuse: Archdiocese of Los Angeles 1930-2003." It is available on the archdiocesan Web site: www.la-archdiocese.org. In the document there is explanatory treatment not only of archdiocesan policies but also of ongoing legal matters and victim healing ministries, as well as an appendix listing the names and pertinent facts of the accused priests from 1930 to 2003. It would seem fair to hear the Los Angeles archdiocese's response to so-called "obstruction."
(Fr.) C. GILBERT ROMERO
Los Angeles
---
Letters to the editor should be limited to 250 words and preferably typed. If a letter refers to a previous issue of NCR, please give us that issue's date. We reserve the right to edit all letters. Letters, National Catholic Reporter, P.O. Box 419281, Kansas City, MO 64141. Fax: (816) 968-2280. E-mail: letters@natcath.org Please be sure to include your street address, city, state, zip and daytime telephone number.
National Catholic Reporter, April 29, 2005