National Catholic Reporter
Subscribers only section
May 6, 2005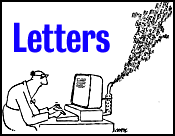 Reactions to Pope Benedict
I am deeply saddened and distressed by the election of Cardinal Joseph Ratzinger to the papacy, so much so that I sat outside the Portland Cathedral the afternoon of the "Mass of the Holy Spirit," holding a sign that said "The Spirit Was Asleep." I cannot, and will not, believe that the Holy Spirit was involved in the selection of a man with such a long history of rigid, repressive and divisive ideas and practices.
Many others are willing to give this man the benefit of the doubt and give him some time to prove otherwise. It is hard to imagine, however, that he will make any moves toward openness, inclusivity or other needed changes in the church.
At the bottom of my sign I wrote, "God Help Us All." That is the extent of the hope that I can muster at this point. We are likely headed for much darker times.
MARK SUMMIT
Portland, Ore.
* * *
I had only one qualifying factor for the choice of a new pope. It was that he had to be disliked by NCR and the likes of Fr. Richard McBrien, Sr. Joan Chittister, Sr. Jeannine Gramick and groups such as Call to Action, and so on. I am ecstatic about Pope Benedict XVI. So are the youth.
TONI HALSET
St. Paul, Minn.
* * *
RATS!
That is my recommendation for your headlines announcing the election of Benedict XVI.
JAMES E. MANNING
Tsaile, Ariz.
* * *
I am a practicing Catholic woman baptized more than 50 years ago. The news of Cardinal Ratzinger's election as pope feels like a direct body blow. On Monday we nervously joked that the worst-case scenario would be this cardinal's election; nobody actually believed that would happen.
The morning headlines may well have read instead: "Cardinals to Catholic women: Go to Hell." We Catholic women have been told for so many years, just hang in there, we are only one death away from change. Well, some of us have hung in there, but every day the handhold is slipping.
Last night in a phone conversation, I was expressing my angst to my mom. She said to me I had to write to him (she meant the new pope) and just straighten him out, tell him what I thought. She was dead serious. I felt just like I did one winter's night when my 2-year-old son asked me to pick him up so he could reach out and touch the moon.
Today I indulge in copious tears and entreaties to the Spirit, who seems to have abandoned us. Tomorrow I will remind myself that Jesus has a "preferential option for the poor and marginalized." Tomorrow I'll probably take up the work again and, in the words of a Dominican friend, "keep on keeping on."
MICHAELEEN SWANSON
Lakeville, Minn.
* * *
I understand that after the election of a new pope, it is customary to read one of two passages from scripture. The first is "You are Peter and upon this rock …" and the second is "Feed my lambs." I would suggest a third alternative: "You know how those who exercise authority among the Gentiles lord it over them; their great ones make their importance felt. It cannot be like that with you." The people of God do not need a pope who will lord it over them but one who will listen to them and respect the movement of the Holy Spirit among them. The apostolic mission is to proclaim God's unconditional love for sinful humankind and to exhort those who hear the message to love as they are loved. I challenge Benedict XVI to fulfill this mission.
BOB GLAVEY
Cooper City, Fla.
---
Catholic women have been an integral part of church history from the beginning. One would never know that from observing the funeral, conclave and plans for a new papacy following the death of Pope John Paul II. A visitor from Venus would have thought that men gesture, genuflect and guard, while women pray silently under their mantillas with candles and rosaries in hand. More important, men make all the decisions while women, who at best can be their spokespersons, are expected to abide by them.
With war raging, the environment in peril and people dying of HIV/AIDS, the hoopla was simply too much. Not even the deepest spiritual graces justify the expense of the travel, costumes and media surrounding this man's death. Women I know would have suggested a simple, dignified burial and continuing on with the work he loved.
What was transparent in this interregnum (the word alone speaks volumes) was the wide gap between clergy and laity, indeed between management and members, between the ordained and the rest of us. The days of clerical privilege are behind us. If sound theology were not enough to demonstrate that a "discipleship of equals" is the preferred model of church, the pedophilia and episcopal cover-up scandals are. Clerical secrecy is reserved for the most private of situations; accountability is a two-way flat street in Christian communities.
Catholic women want a church where love and justice translate into concrete social political action, beginning at home. We want to use the moral energy of our religion to stop war, eradicate greed, empower women and eliminate racism. But we want to do so as a modest community of believers, not as a transnational religious corporation whose CEO is elected by the board. We want to invite and include, especially those who have been kept at the margins by princes of power. We want to be part of the action, but only in a renewed church.
MARY E. HUNT
Silver Spring, Md.
Mary E. Hunt is codirector of WATER, the Women's Alliance for Theology, Ethics and Ritual.
---
NCR lost its credibility with me this week. I was following the pre-conclave activities with interest and looking forward to reading the papal candidates' profiles. I was shocked to discover that the front-running candidate, and ultimately the man who was elected, did not even get mentioned by NCR. I have been a fan of NCR and this omission disturbed me greatly. It looks like editorial decisions are being made that omit someone's profile simply because he is a conservative candidate. Or was this merely wishful thinking?
DIANE MAGUIRE
Flourtown, Pa.
NCR responds: Handicapping is always a tough business. See John Allen's column for April 26 on NCRonline.org.
* * *
John Allen's reporting on the recent papal events was, by far, better than all of the other commercial TV commentators put together. He is thoroughly knowledgeable and, unlike the usual suspects, he gave long, complete and fact-filled answers. Also unlike the usual TV reporters, John Allen actually knows history.
Don't let him leave for another paper! Give him a raise, a substantial raise.
DAVE ORINTAS
Waterbury, Conn.
* * *
Your lead editorial "Will he be a pope for everyone?" (NCR, April 29) was typically telling. Not a mention of Christ or his mother. Not a mention of the Eucharist or grace. Not a mention of holiness or prayer. Just your habitual litany of indigestion, chanted from the altar of modernity.
BRUCE SCHULZETENBERG
Eagan, Minn.
---
I was 17 when Pope John Paul II was elected. I was newly in Catholic school after 10 years of suffering persecution for my Catholicism at the hands of "liberal" teachers in public schools.
I also suffered through the tumultuous "renovation" of the Mass in the Catholic church in the early 1970s. We went, in a matter of months, from Latin hymns sung by a choir with an organ to "Blowing in the Wind" sung by a girl with a guitar. There were Vietnam protesters lighting up cigarettes during the consecration at Mass. My CCD teachers told me there was no heaven and hell. Nuns in my Catholic school taught us how to use birth control, in direct contradiction to Humanae Vitae, which they spurned. I was strife-torn and confused, yet still loved Jesus and his church. I was looking for a Catholic hero, a bastion of moral and intellectual clarity whom I could admire.
During the Holy Father's first visit to the United States, in 1979, I saw him in Madison Square Garden. It was there that I found my hero. John Paul electrified us teenagers, as we stood on our seats to cheer him. He told us to "look to Christ for the answers" to all our questions.
In my 20s, I visited Poland during the Solidarity movement's heyday, amazed at how John Paul II had energized Poland's faith.
Whenever I failed at living up to the church's high moral standards as a young woman, I always felt Christ, through his emissary, gently calling me home. I never lost faith in him or his church, even during the "me" generation.
I next was able to see the pope in 1995. I marveled at how far the church and Eastern Europe had come back to freedom and order during his watch.
Now I miss my dear papa, and can't wait to see him in heaven.
LETICIA C. VELASQUEZ
Moriches, N.Y.
---
Arthur Jones, as always, got it right and got it clear in the article on CAFTA (NCR, April 1). When will U.S. citizens wake up? If only all those now mourning Pope John Paul II would also recall his denunciation of "savage capitalism." Christians could take action against U.S. policies that disfavor our brothers and sisters in Latin America and we could reverse the growing inequities and social injustice in the world.
CLARE NOLAN
New York
Clare Nolan is the representative for the Congregation of the Sisters of the Good Shepherd, a nongovernmental organization in special consultative status with the U.N. Economic and Social Council.
---
This letter is in response to the article "A people adrift in San Diego" (NCR, April 8) about Bishop Robert Brom's announcement to 98 parishes prohibiting funeral services for John McCusker, owner of a gay nightclub.
It seemed to me a very unchristian demand.
Jesus frequently went against the demands of the leaders of his time.
This incident in the diocese of San Diego is a perfect example of our passiveness so many times in the face of ridiculous demands. "I would have handled things differently." This "safe comment" by some priests, which Rosemary Johnston mentioned, in fact never was realized because not one person dared to be "different."
(Sr.) CARLOTTA GILARDE, CSJ
Boston
* * *
I am saddened by the article in your April 8 edition written by Rosemary Johnston, "A people adrift in San Diego." I am writing this as a priest who currently is serving as a pastor in the San Diego diocese. I do not serve on any inner circle of the bishop's council nor do I write with the hope of gaining any favored position in the diocese because of my status as a member of a religious community or my relatively advanced age.
I preached on the issues involved in both my Palm and Easter Sunday homilies. I simply write in the interest of truth, as I see it, as well as in defense of the good name of many of the priests and people of our diocese who do not feel as though we are adrift under the leadership of our bishop, Robert H. Brom.
(Fr.) FRANK WAGNER, OMI
Chula Vista, Calif.
[Fr. Frank Wagner is pastor of Most Precious Blood Church in Chula Vista.]
* * *
I congratulate you on your eloquent editorial, "Who gives the bishop counsel?" (NCR, April 8). There are lessons to be drawn from the pathetic spectacle of San Diego Bishop Robert Brom's response to the death of John McCusker -- first denying a Catholic funeral, then apologizing and finally undermining his own apology.
Bishop Brom's kowtow to a non-Catholic, anti-homosexual activist in the midst of this affair is profoundly ironic, as you note. While discouraged and frustrated Catholics long for dialogue, here is evidence of the kind of voices that are being heard.
It would be easy to dismiss the episode as an embarrassing fiasco that exposes a bit of one bishop's hypocrisy. As you suggest, however, it raises profound issues regarding the quality of "pastoral" leadership in San Diego and beyond. How, indeed, is the regime of authoritarianism, suspension, silencing, interdicts and excommunications that has increasingly come to characterize the relationships of bishops with the laity, religious and clergy a representation of the ministry of Christ? What spirit, we may ask, informs the callous and self-serving behaviors that represent such "pastoring"? As Bishop Brom's pirouette illustrates, that spirit is fear.
As evidence continues to roll in of the moral bankruptcy and ineptitude seen in the actions of so many of the church's leaders, we can do no better than to remain firm in the conviction that what casts out fear is always love.
(Fr.) PAUL E. MURRAY
Annandale-on-Hudson, N.Y.
---
Rebecca Beyer's article regarding Chris Hedges (NCR, April 1) and his campaign exposing the religious right has struck a nerve. For the last several years, Americans have been asking, "Why has Islam allowed the extremists to hijack their religion?" It is time to look inward and recognize the insidious workings of the religious right and their assault on American democratic and religious values before it is too late. Creationism, the "rapture," lack of concern for the poor, destruction of the environment, a pro-war attitude -- among their other beliefs -- are a threat to the long-held values that used to make America the envy of the world.
PATRICIA L. MOORE
Los Angeles
---
"Apostrophe, where art thou?" by E. Leo McManus (NCR, April 15) brought to mind a recent issue of our local parish bulletin. The usual announcements included an exhortation to pray for an increase in priestly vocations and information about diocesan bankruptcy proceedings.
The Wednesday adult education talk was titled "The Catholic Church: It's History." Hmmm …
RUTH RUSSO
Walla Walla, Wash.
---
The commentary by Demetria Martinez was most enlightening (NCR, April 15).
What struck me most was the use of the religious left's elitist language whereby none can be harmed except those who disagree with you, when she boldly proclaimed:
"[President] Bush hasn't a pro-life bone in his body."
Said by one of us on the opposite political spectrum and the Inquisition would have begun all over again.
It is so nice to see that those who proclaim their belief in tolerance, non-judgmentalism and understanding are often the first to throw the stones.
(Fr.) JIM TORPEY
Summit Hill, Pa.
---
Letters to the editor should be limited to 250 words and preferably typed. If a letter refers to a previous issue of NCR, please give us that issue's date. We reserve the right to edit all letters. Letters, National Catholic Reporter, P.O. Box 419281, Kansas City, MO 64141. Fax: (816) 968-2280. E-mail: letters@natcath.org Please be sure to include your street address, city, state, zip and daytime telephone number.
National Catholic Reporter, May 6, 2005