Issue Date: May 20, 2005
A musical for grown-ups
A mother helps her mentally disabled daughter find love in 'The Light in the Piazza'
By RETTA BLANEY
A mother's desire for her daughter's happiness forces her to make an ambiguous moral decision in the entertaining but ultimately disturbing new musical "The Light in the Piazza" at Lincoln Center's Vivian Beaumont Theater.
At a time when so many Broadway musicals are forgettable as soon as one leaves the theater, "The Light in the Piazza" is an exception. Based on Elizabeth Spencer's novella, published in The New Yorker in 1960, the musical tells the story of Margaret Johnson (Victoria Clark), a conventional Southern lady, and her 26-year-old daughter, Clara (Kelli O'Hara), during their visit to Florence in the summer of 1953. Mentally, Clara is still the child she was at 10 when she was hit in the head by a pony at her birthday party, making her the archetypal eternal child and in many ways the perfect companion for her middle-aged mother. As Mrs. Johnson explains in the novella: "Every mother in some way wants a little girl who never grows up. Taken in that light, I do often feel fortunate. She is remarkably sweet, you see, and I find her a great satisfaction." As portrayed by Ms. O'Hara, Clara is remarkably sweet but not in a saccharine way. With her long blond hair and angelic face, Ms. O'Hara is an ethereal and extremely engaging presence.
For years Mrs. Johnson has had to enlighten the boys who have fallen for Clara about her daughter's mental capacity and has done her best to safeguard Clara from heartbreak. But all that changes after Clara meets Fabrizio Naccarelli (Matthew Morrison), a young Florentine, also rather innocent and sweet, who falls in love with Clara and she with him.
In an attempt to end the relationship, Mrs. Johnson takes Clara to Rome, but seeing how thoroughly miserable Clara is without Fabrizio, she takes her back to Florence and the inevitable engagement. Mrs. Johnson not only fails to tell the Naccerellis about Clara's mental disability, but she takes a bold step to make sure the marriage happens. In the moving song "The Beauty Is," she sings about Clara's accident, how the phone had rung and she ran to get it, then heard a commotion and turned back to see the pony kick Clara.
It is a song full of pain and regret, and I understood why Mrs. Johnson would want to ignore the facts and believe Clara could be happy with Fabrizio. But while Mrs. Johnson could put aside her rational self, I could not. All I could think about after I left the theater was what would happen to Clara when she wasn't so young and pretty and Fabrizio tired of having a child for a wife. In his infatuation with her and their limited knowledge of each other's language, he hadn't caught on to Clara's limitation, but he would in time. His brother's infidelity was an issue, and I wondered how long it would be before Fabrizio was unfaithful to Clara and how that would hurt her. If Ms. O'Hara hadn't been such a winning, vulnerable Clara, I wouldn't have cared so much. But I did care, and I had far more misgivings than I did when I read the novella.
This experience of getting involved with characters and thinking about the show long after the figurative curtain has come down has become a bit of a novelty, and it could be part of the reason "Light" received 10 Tony nominations, including the one for best musical. Mounting a musical on Broadway is expensive, so many producers play it safe. They stick with revivals of hit shows or they jump on the current bandwagon and stage what have come to be called jukebox musicals -- shows that feature golden oldies of pop artists strung together with the loosest of plots. The worst of these, "Good Vibrations," featuring music of the Beach Boys, just closed, but three others remain -- the long running "Mamma Mia!" based on the songs of the 1970s Swedish group ABBA; "Movin' Out," derived from Billy Joel's songs and possibly the loudest show in the history of Broadway; and "All Shook Up," the latest and best of the breed, which features Elvis' songs and is actually a lot of fun because it has a great sense of humor about itself. Coming this summer is "Lennon," based on the music of you know who.
So "The Light in the Piazza" succeeds in the sense it has a well-developed story and likable characters. It also has much to commend it as a Broadway musical, most notably Michael Yeargan's wonderful sets, which bring Italy to life as much as any of the characters. It also has some nice musical numbers, starting with the lively opening song "Statues and Stories" in which Clara and her mother discover the joys of Florence. I was drawn right into the fun and excitement of their vacation. If only Clara's hat hadn't gotten swept away in the wind and caught and retrieved by Fabrizio!
And if only I could have closed my eyes to future difficulties, I could have accepted the marriage as Mrs. Johnson does. As she rationalizes in the novella: "I will not be needed anymore, thought Margaret Johnson with something like a sigh. ... I have stepped out of the picture forever, she thought, and as if to bear her out, as the ceremony ended and everyone started moving toward the church door, no one noticed Margaret Johnson at all. ... She did not mind not being noticed. She had done her job, and she knew it. She had played, single-handed and unadvised, a tricky game in a foreign country, and she had managed to realize from it the dearest wish of her heart."
Maybe she was right. Maybe Fabrizio will be patient and loving and Clara will be able to handle the demands of marriage. Maybe this fairy tale story will have a happy ending. Maybe.
Retta Blaney is the author of Working on the Inside: The Spiritual Life through the Eyes of Actors.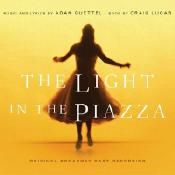 Songwriter earns accolades
For those who can't make it to Lincoln Center, the original Broadway cast recording for "The Light in the Piazza" will be released via Nonesuch Records May 24. Adam Guettel, composer and lyricist, has been called by TIME magazine "a startlingly original songwriter." He has collected awards and nominations for his 1996 folk musical "Floyd Collins," including an Obie award. Mr. Guettel graduated from Yale University in 1987; that same year, he had a random thought about Icarus, wrote a song about the myth, and thus began work on "Myths and Hymns," a collection of songs adapted from Greek mythology and an early hymnbook. When, six years later, he came upon a 19th-century Presbyterian hymnal in a used bookshop, he told Stagebill magazine that the discovery brought about "an actual physical response, an uncharacteristic outpouring of creativity." "Myths and Hymns" and "Floyd Collins" are available on the Nonesuch label.
-- NCR staff
National Catholic Reporter, May 20, 2005