National Catholic Reporter
Subscribers only section
May 27, 2005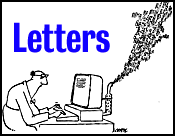 Hang up and try again
Thirty years ago human beings answered phones when they rang, and communication was immediate. Connections were superb. This past week I estimate making 40 calls and reaching only three persons on first call. Thirty-seven calls produced an assortment of messages: "Due to a heavy volume of calls, we ask that you try your call again later." "For English, press 1; for Spanish, press 2." "Your call is important to us; please stay on the line for the next available representative." And so on.
Today the phone is often used as a shield for the person who is being called or even to discourage you from calling at all. High tech is certainly here to stay. What on earth has happened to Alexander Graham Bell's wonderful invention along the way?
MARTIN DEPPE
Chicago
---
I just read the Editor's Note (NCR, May 6) regarding the cramped working conditions and sleeping quarters for your team in Rome, including the ancient rotary phone and the $59 printer you used while spinning out nonstop, accurate, erudite coverage of the papal transition. Your reporting was superb, the analysis excellent -- a combination of hard work, old-fashioned shoe leather and good contacts.
Though John Allen was late to peg Ratzinger as most likely pick, he rallied fast and his grasp of church history is encyclopedic. Gotta admit though, the Ratzinger team -- including the Opus Dei prelates -- did a masterful job of orchestrating the surprising outcome. I never dreamed the cardinals would go for the fellow with the most polarizing record.
REA HOWARTH
Brentwood, Md.
---
Mark S. Massa (NCR, May 6) refers to "the great Protestant tradition of separation of church and state," grossly distorting both European and American history.
The expression "separation of church and state," if I am not mistaken, originated with Thomas Jefferson, who is more accurately described as a deist than as a Protestant. Its subsequent popularity is based on a dubious interpretation of the First Amendment, which prohibits the federal government from making a law respecting an establishment of religion, probably aimed against the establishment of the very Protestant Anglican church whose establishment in some of the colonies was part of the founders' experience.
Rather than church and state being separated in Protestant Europe, the churches were dominated by the state. The head of the Anglican church was (and is) the English monarch. Such, also, was the pattern in most of Protestant Europe. This was in accordance with the principle established in 1648 of "whatever the religion of the prince, that will be the religion of the people." That tradition of national churches survived in several Lutheran denominations in America, differentiated by their national origin.
Prior to Protestantism there was a long medieval tradition of distinction between the spiritual and temporal powers, the roots of which are probably to be found in the struggle of the Western church to maintain its independence and in the Hebrew prophets' criticism of their kings.
ROGER SCHMEECKLE
Seattle
---
In the editorial "When the pageantry wears thin" (NCR, May 13), it says of media coverage of the papal events that "it will take considerable evidence for anyone to credibly accuse 'the media' of anti-Catholic bias. We know that some of those who have set themselves up as monitors of anti-Catholic activity have little regard for credible argument …"
Just in case this was directed at the Catholic League, please be advised that in the May edition of Catalyst, our monthly journal, I wrote a piece called "The media treated the pope fairly." We only hope that all Catholics treat our new pope just as fairly, including those who have set themselves up as monitors of the magisterium.
WILLIAM A. DONOHUE
New York
William A. Donohue is president of the Catholic League for Religious and Civil Rights.
* * *
While watching all the coverage of the papal conclave and reading the NCR coverage, I could not help but think: There must be a better way to elect a pope in our day and age.
The pageantry and "tradition" is all nice and good, but it was devised to solve problems that existed hundreds of years ago.
Today, having a mere 115 electors and 115 candidates and the ancient ritual process with the black and white smoke and all just seems so inadequate and antiquated.
There must be a better way to go about it than this!
(Fr.) LEO SPRIETSMA, OFM
Santa Barbara, Calif.
* * *
The reportage of John Allen, your Rome correspondent, during these past two hectic months has convinced me that by now he is probably the most knowledgeable and respected Vaticanologist in Rome. I have read everything he has written for NCR on the death of Pope John Paul II and the election of Pope Benedict XVI and found his reports from Rome mesmerizing. Allen is NCR's gift to the Catholic world. Having lived in Rome 11 years, I find that he is as good as any of the lifelong Italian Vaticanologi. I know he has the respect and trust of his colleagues and of the Vatican bureaucracy because he is fair and balanced.
(Fr.) GINO DALPIAZ, CS
Stone Park, Ill.
Fr. Gino Dalpiaz is the director of the Italian Cultural Center for the greater Chicago area.
---
Much of the world stood still recently, at least for a few moments, to observe the passing of Pope John Paul II. Television coverage of the crowds of pilgrims making their way to view the body was extraordinary. In a world often deemed indifferent to religion, who would have guessed a humble Polish priest would become a pope the whole world would mourn?
I decided to search for an answer by immersing myself in John Paul's writings. He is perhaps the papacy's most prolific writer -- author of 14 encyclicals, 42 apostolic letters, 15 apostolic exhortations, 10 apostolic constitutions, hundreds of public addresses, numerous poems, five books and a number of plays -- all this in addition to being the most traveled and most influential pope of the modern age.
What really amazed me though was that the magnitude of John Paul II's accomplishments had perhaps obscured his greatest role: that of a humble pastor. He knew something about how men and women can find God. His supreme desire was that we come to embrace a faith that transforms the way we work, the way we relate to other people and the way we live in the world.
Though the papacy of John Paul II has ended, his legacy lies tangibly before us in his writings. We can touch his books, hold his pages in our hands, take his words into our hearts. We should do this. He wanted us to. In so doing we may discover that the secret to John Paul II's immense popularity was that he really believed in a faith that could change the world for the better. His words will bear eloquent witness to this hope for many years to come.
JOSEPH DUREPOS
Chicago
Joseph Durepos is editor of Go In Peace: A Gift of Enduring Love and Lessons for Living, both by John Paul II, and is senior acquisitions editor for Loyola Press.
---
As I read your editorial (NCR, April 29), I had to chuckle to myself. You wrote: "[Cardinal Joseph Ratzinger] was an aggressive and severe head of the Congregation for the Doctrine of the Faith. It is reasonable to wonder if even his own writings as a young priest, when he was a liberal peritus, or expert, at the Second Vatican Council … would survive that office's scrutiny today."
I have a theological tract written in 1961 by Karl Rahner and Joseph Ratzinger for the Herder & Herder Quaestiones Disputatae series. It's titled "The Episcopate and the Primacy" and it is dedicated to Cardinal Julius Doepfner of Munich, Germany, one of the cardinals of Vatican II. I purchased this book in Rome in 1962 during the first session of Vatican II while studying for my degree in theology there. I went to many sessions sponsored by Concilium, an open forum for those participating in the council. It was there I first saw and heard Rahner and Ratzinger. What a breath of fresh air it was back then. Groundbreaking theology on the primacy and the episcopacy! I showed this tract to my wife, and in discussing it, we said that had this tract been published today by Rahner, Hans Küng, Edward Schillebeeckx or Yves Congar, they would again be censured and called before the Congregation for the Doctrine of the Faith to explain their stand.
Both Rahner and Ratzinger certainly helped to lay the groundwork for the theology of the episcopacy so well defined in Chapter III of Vatican II's Dogmatic Constitution on the Church. May Pope Benedict cling to his words of promise and implement fully the collegiality of the episcopacy.
GREGORY CARNEVALE
Ada, Mich.
* * *
I can't help but smile at the supposed distress of many Catholics at the election of Cardinal Ratzinger as Pope Benedict XVI. I wonder how many people know of the new pontiff solely from media sound bites rather than from studied reflection of his discussions and writings.
For many years, the new pope has had the reputation as God's Rottweiler for his strict enforcement of Catholic dogma and doctrine. Would one prefer a pope who does not fervently believe in the teachings of the church? Perhaps a cafeteria Catholic in the worst sense?
I have had the opportunity to read several of his books and listen to him in several interviews over the years. I was greatly impressed by his thoughtful, reflective nature and his reasoned approach to matters of faith. What he is not is someone who changes his deeply held beliefs to conform with the whims of the latest public opinion poll. For this, as a Catholic, I am most grateful. While there are many areas in the Catholic church that have fallen prey to human weaknesses and frailties, the underlying foundation must remain strong. I pray that Pope Benedict XVI continues to remain steadfast in matters of faith, unrelenting in his pursuit of the truth yet wholly pastoral in his leadership of our faith communities.
STEVEN K. SZMUTKO
Ewing, N.J.
---
I have recently finished the three books Professor Roger Haight suggests as a "trilogy": Dynamics of Theology, Jesus Symbol of God and the two-volume Christian Community in History. Haight was my dissertation adviser. Like others, I am troubled and saddened by his censure.
In Christian Community, Haight offers a Spirit-centered ecclesiology characterized by inclusivity rather than exclusivity, an ecclesiology in which Christ's normativity for Christians does not preclude the mediation of truth and salvation through other faith communities but recognizes it.
If, as John Allen points out in his article "Taking stock of the church's challenges" (NCR, April 15), one of the significant tasks faced by the new pope and the church in this century is the relationship with Islam as well as all faith communities beyond Christianity, then as Christians and non-Christians alike who work to build a world of peace in which all flourish, are we not fortunate to have a model such as Haight offers? His Spirit-centered ecclesiology is not only faithful to the New Testament but also to the universality of a truly catholic church because it offers the possibility of a non-alienating model for dialogue with people of all faiths, especially non-Christians. In a new age, characterized by the call to dialogue with faith communities beyond Christianity, it would seem that the model of Haight's Christology and ecclesiology would be sought out rather than his creative and visionary work censured.
D. PEITZ-HILLENBRAND
Elk Grove, Calif.
---
Regarding "Students protest cancellation of McCarthy peace class" (NCR, May 6): "Blessed are the peacemakers, for they shall be called the children of God" -- except at Georgetown.
AL MANGAN
Spokane, Wash.
---
After reading about the firing of Jesuit Fr. Tom Reese (NCR, May 20), I am as distraught as I was on the day of Ratzinger's election.
When I came to my senses again after the election and listened to respectable people in the reform movement, I said I would wait vigilantly 100 days, observing his ensuing actions, before making a judgment. Well, we have the first of these actions here. It shows clearly the pope's power mentality -- rather than his conciliatory one that he tried to portray in his first speeches -- is still in the foreground of his concerns. Consequently, one now is distrusting him again, back to square one, to where we were when JPII was at the helm.
The article "A papal watch list" by Paul Wilkes (NCR, May 6) is an excellent guide for watchdogs of Ratzinger's actions now as pope. I will refer to it on a regular basis. There are 16 questions in this quasi-litmus test. With the Tom Reese issue, he has already failed three of them, barely getting a "B" grade in his first days in his new position.
EVI QUINN
Carlsbad, Calif.
* * *
We have heard Fr. Thomas J. Reese and have been quite uncomfortable with his positions on married priests, female priests and same-sex marriage. We hope that his removal marks the Vatican's return to pre-Vatican II sanity in the Holy Roman Catholic church and trust that the Jesuits will help fight the moves to modernize our beloved religion into something acceptable to anyone and everyone.
If NCR cannot accept this, then we suggest you drop "Catholic" from your title. We do not need Protestants posing as Catholics speaking against our faith or our pope. Traditional Catholicism is not for everyone, and it has not been for centuries. Do we want our religion to resemble every other religion? Absolutely not!
The facts clearly show that the excesses of Vatican II, abandoning everything that loyal Catholics held dear, has been the primary cause of the drop in church attendance and in vocations.
JOSEPH N. FRANCIS
Boston
* * *
We are sick at heart to learn of the resignation of America magazine's inspired and inspiring editor, Fr. Thomas Reese. Most disheartening of all are the purported reasons for his departure -- that he allowed discussions about both sides of critical issues facing the church! Why is that grounds for resignation, we ask? Why has our church invested millions of dollars in property and manpower to fund and staff Catholic education only to condemn those who would apply critical analysis to major issues facing our church?
In addition to his outstanding work as editor, Fr. Reese presented an articulate face and voice for our church on broadcast news and commentary, especially in the aftermath of John Paul II's last illness, his death and the selection of the new pope. Fr. Reese is a scholar who cares deeply about our church. He does not deserve to be treated this way.
WALTER and ROSEMARY JOHNSTON
San Diego
* * *
Regarding the forced resignation of Thomas Reese: Theological fascism is not the work of the Holy Spirit.
THOMAS SAVIGNANO
Lafayette, Calif.
---
Many are disappointed with the election of this new pope, Pope John Paul II's "enforcer." Some have asked what the Holy Spirit was thinking of. The Holy Spirit was certainly there in ways that perhaps we were not expecting. I believe that a message that comes across loud and clear is that we must not look to our leaders, either the pope or the bishops, to solve all the problems of the church. The Holy Spirit speaks to all of us, as has been true through the centuries of the church. After all, it is we who are the church, not just the hierarchy.
History shows us that frequently the Spirit enlightens persons who may be ignored or even condemned by church leaders but whose ideas and inspirations are eventually understood and accepted. So it will be today. It seems to me that what we must all do is listen intently to the Spirit and follow where we are led. Let the Vatican catch up with us someday -- maybe in about a century!
LUCY FUCHS
Salyersville, Ky.
---
In describing the current dire situation on the ground in Haiti in "Violence, repression endanger prospects for fair elections in Haiti" (NCR, April 29), your reporter says, "Although the United Nations Stabilization Mission in Haiti, initiated last summer to assist the country during this transitional period, has stepped up its efforts to restore security in the country, some critics say the international organization has not done enough."
But one of the tragic realities in Haiti today is that, as with U.S. troops in Iraq, U.N. peacekeepers have already done too much. A recent Harvard Law School Report on U.N. forces in Haiti concluded, "In effect, [the stabilization mission] has provided cover for abuses committed by the [Haitian police] during operations in poor, historically tense Port-au-Prince neighborhoods such as Bel-Air, La Saline and lower Delmas. Rather than advising and instructing the police in best practices, and monitoring their missteps, [the stabilization mission] has been the midwife of their abuses. In essence, [the stabilization mission] has provided to the [Haitian police] the implements of repression."
BEN TERRALL
San Francisco
---
While reading Fr Robert Drinan's column about our government neglecting the poor (NCR, April 15), I couldn't help but think about how many U.S. bishops and parish priests helped put our current administration in office, telling Catholics they could not receive Communion if they voted the wrong way. It is confusing as to how the so-called religious right can be so selfish and even cruel with social cuts. When Bush continues to want to make tax cuts permanent for the rich at the expense of the poor, it should make one ashamed of the current administration and determined to make changes as soon as possible.
BARBARA BRENNAMAN
Grain Valley, Mo.
---
Please bear with me when I ask: In the court system of our country, would you find a Christian being tried as a Jew? Or a woman being tried as a man? Or a white person being tried as a black person?
All this sounds rather silly, doesn't it? Totally absurd! In fact these questions border on insults to the intelligence.
Then why are children being tried as adults?
FRANCIS EDMANDS
Norfolk, Mass.
Francis Edmands is an inmate in a Massachusetts state prison.
---
I found it almost humorous that Fr. Jim Torpey would belittle Demetria Martinez for criticizing President Bush on life issues (Letters, NCR, May 6). Not that Ms. Martinez needs any defense from me (she doesn't), but it isn't Demetria who is attacking the environment, ignoring the poor and sending young men and women to die in a completely unnecessary war based on lies. It's Bush and his morally challenged administration.
BRUCE LATHER
White River Junction, Vt.
---
Letters to the editor should be limited to 250 words and preferably typed. If a letter refers to a previous issue of NCR, please give us that issue's date. We reserve the right to edit all letters. Letters, National Catholic Reporter, P.O. Box 419281, Kansas City, MO 64141. Fax: (816) 968-2280. E-mail: letters@natcath.org Please be sure to include your street address, city, state, zip and daytime telephone number.
National Catholic Reporter, May 27, 2005