Issue Date: July 1, 2005

U.S. rhetoric about Hezbollah blurs reality
By STEPHEN ZUNES
One of the more interesting developments in the Middle East in recent years has been the evolution of the Lebanese Shiite movement Hezbollah ("Party of God") from a terrorist group to a legal political party. Like many radical Islamist parties elsewhere, it combines populist rhetoric, important social service networks for the needy and a decidedly reactionary and chauvinistic interpretation of Islam in its application to contemporary social and political issues.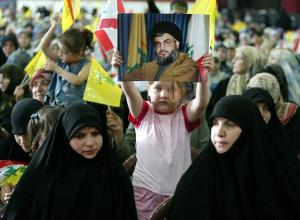 -- EPA/Nabil Mounzer
A Lebanese child holds a picture of Hezbollah leader Sheik Hassan Nasarallah during an election campaign in Beirut June 8.
In Lebanese parliamentary elections in early June, a slate led by Hezbollah won 80 percent of the vote in southern Lebanon and will take 35 seats in the 128-member national assembly.
Hezbollah emerged following the 1982 Israeli invasion of Lebanon and the subsequent U.S. military intervention, engaging in a series of kidnappings and assassinations of Americans as well as the deadly truck bombings of the U.S. embassy and a Marine barracks.
For more than a decade, however, the Hezbollah militia has restricted its armed activities to fighting Israeli occupation forces, initially in southern Lebanon and then -- following Israel's withdrawal in 2000 -- in a disputed border region with Syria still under Israeli control. Attacks against foreign occupation forces have traditionally been recognized as legitimate acts of self-defense and not as acts of terrorism, a term usually restricted to deliberate attacks against civilian targets.
Despite some unconfirmed reports linking individual Hezbollah operatives with Palestinian terrorist groups, it appears that the movement as a whole has become another one of the scores of former terrorist groups and political movements with terrorist components that have evolved into legitimate political parties in recent decades. These include the current ruling parties or ruling coalition partners of the governments of Israel, Algeria, Uruguay, Palestine, Zimbabwe and Afghanistan. Indeed, some prominent leaders of the U.S.-backed Islamic coalition in Iraq elected this January were once part of terrorist organizations and a few have maintained longstanding ties with Hezbollah.
Rather than welcoming Hezbollah's important shift away from the use of terrorism to advance its political agenda, the Bush administration and Congress have instead become increasingly alarmist about the supposed threat posed by this Lebanese political party.
In March, the U.S. House of Representatives passed a resolution by an overwhelming 380-3 margin condemning "the continuous terrorist attacks perpetrated by Hezbollah." The Senate passed a virtually identical resolution the following month in a unanimous vote.
Despite contacting scores of congressional offices asking them to cite any examples of terrorist attacks by Hezbollah at any time during the past decade, no one on Capitol Hill with whom I have communicated has been able to cite any.
Not every country has failed to recognize Hezbollah's evolution from its notorious earlier years. The European Union does not include Hezbollah among its list of terrorist groups. As a result, in yet another effort to push the U.S. foreign policy agenda on other nations, the resolution also "urges the European Union to classify Hezbollah as a terrorist organization."
The Europeans have had far more experience with terrorism, are much closer geographically to the Middle East and have historically had stronger commercial, political and other ties to Lebanon than the United States and are therefore at least as capable of assessing the current orientation of Hezbollah as the U.S. Congress. Furthermore, the European Union has had no problem labeling groups like al-Qaeda, Islamic Jihad or Hamas as terrorist organizations. It is reasonable, therefore, to assume that the European Union would have no problems designating Hezbollah as a terrorist group if it believed the label was accurate and appropriate.
Both Republican and Democratic members of Congress, however, most of whom have little knowledge of the complexities of contemporary Lebanese politics, arrogantly insist they know better and have the right to tell the European Union what to do.
Given the number of dangerous movements in the Middle East and elsewhere that really are involved in ongoing terrorist activities, why this obsession over a minority Lebanese party that has apparently put terrorism behind it?
The most likely explanation has to do with the Bush doctrine, which asserts that states that support groups the U.S. government designates as "terrorist" are as guilty as the terrorists themselves and are therefore legitimate targets for the United States to attack in the name of self-defense.
Though outside support for Hezbollah has declined dramatically from previous years, Syria and Iran -- the two countries that the neoconservative architects of the U.S. invasion of Iraq have marked as the next targets for attack -- have traditionally been Hezbollah's primary backers. Formally designating Hezbollah as a "terrorist organization" helps pave the way for U.S. military action against one or both countries some time in the future.
That virtually the entire United States Congress, including erstwhile liberal Democrats, would collude with such an agenda is yet another frightening example of how far to the right political discourse in this country has evolved.
Stephen Zunes is a professor of politics at the University of San Francisco and the author of Tinderbox: U.S. Middle East Policy and the Roots of Terrorism (Common Courage Press, 2003).
National Catholic Reporter, July 1, 2005