National Catholic Reporter
Subscribers only section
July 15, 2005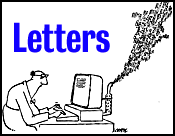 Responses to Royal
I was really hopeful when I read the Editor's Note on the Robert Royal column (NCR, June 17). After all, if our small Christian community of 15 years, which ranges from quite conservative to very liberal on all issues, could share our faith and political views in an open, nonjudgmental forum, maybe Royal's The Lion's Den column could show a way for Catholics at large to do so. I was wrong. As far as I'm concerned, the way to disagree fruitfully does not include nametags like "the weak-as-water ways of the old Christian Democrats or many of our newer American Democrats." You'd never make it in our group, Robert!
JOANNE P. BLAIR
Hamden, Conn.
* * *
Yes, Robert Royal, I agree with you, "we need vigorous lay men and women in the public square," but I ask you, in what Catholic church do you ever hear a sermon on the lay person going into the workplace or into politics to bring Christ's message of justice, equality, honesty, integrity and truth to that arena? All I hear from the church is come, sign up "to be involved" by being a lay eucharistic minister or usher or church club member. The real work of the lay person is not in the church building but in the world, in the building where he or she works and lives.
The church needs to give more encouragement to people in the pews to carry out their mission in the real world as workers, professionals, mothers, fathers, students, etc. I long for the days of the Young Christian Worker movement when young single adults were trained to accept their role in the temporal order, studying the Gospel and applying it to everyday problems at work and in the world community.
PEGGY RIPP
San Jose, Calif.
* * *
As a new subscriber who heard your call and responded, I received my first two issues and was well pleased with the progressiveness and insightfulness of your paper. I then received the next issue and wished I had never subscribed. Seems that to be "balanced" in providing "alternate views," you have decided to include a conservative column in future issues.
Either I have lost my impression of what NCR is all about, (a progressive view of church issues), or else you have lost your perspective of what a progressive newspaper should be about.
If I want to read more conservative views, I will subscribe to the hundreds of publications available or even watch the "balanced and fair" network, FOX.
JAMES NAZZAL
Phoenix
* * *
I welcome the opinions of Robert Royal, though I wonder at the wisdom of reinforcing the polarities implied in the labels "conservative" and "liberal." I suspect most NCR readers are, like Mr. Royal, in favor of faith, reason and truth. In the interest of dialogue, I hope that we can exchange reasoning rather than just state opposing positions. I think Mr. Royal mistakenly equates the objection to using faith language as justification for political positions with "militant secularism." No doubt militant secularists exist, and no doubt the militant religionists now arising are in reaction to them. But isn't there a non-militant position that most of us take?
First, we accept religious pluralism. Every faith group is free to try to persuade others to their way of thinking. However, in making law binding on all, we don't force people to actions or prevent people from actions without justification that the majority of people can see as reasonable. U.S. citizens in political discourse have generally used the common language of belief in the dignity, freedom and equality of every human person. As Mr. Royal quotes George Washington, these values about the human person have a religious basis and they inform our notion of justice.
PAULA CAHILL RUDDY
Brooklyn Center, Minn.
---
To the high school dropouts who expressed themselves so well in the May 20 issue, I offer this: I worked in human resources for many years. We do not hire people without a high school diploma unless they are a full-time student. In today's world, even a bachelor's degree is the equivalent of a high school diploma of 30 years ago. You are not going to get very far. I feel bad about your school situation. Please at least get a GED and go on to college. You speak very well, but many dropouts (and non-dropouts) don't, and poor grammar turns employers off immediately.
MARY F. HAZLETT
Akron, Ohio
---
The two columns in the June 3 edition of NCR, one by Rosemary Ruether and one by Richard McBrien, together made your Page 20-21 spread a veritable homage to "a leadership adrift." Nevertheless, both writers offered some suggestions for improving the situation. And because of this hopefulness, I was somewhat encouraged by the two articles.
But then I turned the page and found two heartbreaking letters to the editor from Mr. Robert Heidrich in San Diego and Mr. Kevin O'Brien in Ohio. I was nearly brought to tears as I read their "resignation" from the church and the fight. They described what the church has become for so many good and faithful Catholics: a panicked institution that does not understand, care about or reflect the lived values, struggles and goodwill of its people -- only of its bishops.
Pews are empty, collections down, and now people are publishing their despair and their leave-taking. I wish these men would stay and fight. They sound like good Catholics to me.
Hang in there, Messrs. Heidrich and O'Brien. It doesn't take a village -- just one person, and I believe there is a leader of importance out there who didn't hand in his testosterone along with his brain.
(Fr.) EDWARD G. LAMBRO
Paterson, N.J.
---
Permit me to add one last thought to Rich Heffern's insightful article on hybrid cars (Ecology section, NCR, June 17): Despite what you may have read in the managed news, a hybrid car costs less to own and operate than the alternative.
When I purchased my first Prius hybrid in 2001, I received a $2,000 tax credit. When I recently purchased a 2005 hybrid, several friends and relatives offered to buy the old car, which was in mint condition, for up to 80 percent of what I originally paid for the 2001. In other words, the depreciation was negligible compared to most other vehicles. Usually I fill up my hybrid's gas tank every 400-500 miles, and this has averaged about $15.
But even if there were no tax credit and if there were minimal resale value, I still would have purchased hybrids in 2001 and 2005. Like Mr. Heffern, I discovered an elevated experience when driving such a car. Also, when I own and drive a hybrid, I have the distinct feeling that I am doing something patriotic for my country.
Shame on the Big 3 decision makers for not having being first to market hybrids in this country or at least to license the technology and offer this option on their vehicles by 2000. The Prius has been sold in Japan since 1997.
If there is a Nobel Prize for revolutionary innovation, I would nominate the team that produced the first Prius.
RICHARD ROSENBAUM
Bloomfield Hills, Mich.
---
I had a good laugh as I read your lengthy report on the Austin diocese's new financial center in the tiny village of Creedmoor, Texas (NCR, June 17). Many years ago as I was growing up in Queens Village, N.Y., Creedmoor was the name of the State Asylum for the Mentally Insane. A word of caution to the investors, financiers and bishop: Beware of crazy decisions coming out of Creedmoor.
AMBROSE CLEGG
Sagamore Hills, Ohio
---
---
Thanks for sharing Michael Scott Moore's Viewpoint, "Germany's Unspeakable Collective Grief" (NCR, June 3). The topic of German suffering during and after the war is so complex, so mined with sensibilities, it's a wonder that anyone on either side of the pond ever writes about it. I found the piece well explored and highly relevant.
I do take issue with Moore's statement, "The problem is for Germany to outline its loss without pretending to be victimized." Surely many Germans -- young, elderly, infirm or handicapped -- were innocent of both genocide and the waging of aggressive war, yet all were victimized without distinction in the carpet bombing of Hamburg, Dresden, Cologne, Essen, Wurzburg, Pforzheim and many other cities.
I lived in Wurzburg for three years in the early '70s as military wife, mother of a young son and member of a local charismatic Catholic-Lutheran Gebetskreis (prayer community). Wurzburg, a medieval city of no strategic importance, was destroyed by RAF incendiary bombs on the night of March 16, 1945. Five thousand German civilians died as well as 10 Allied POWs. Nine thousand were made homeless.
Twenty-five years later, the bombing (and the starvation after the war) was still widely discussed by local citizens. There was no taboo about the topic. Some elders simply volunteered the observation that bombing a city full of schools and hospitals made no sense. I didn't disagree with them. Others asked why the Allies did this. I had no answer. Younger Germans, while conscious of their parents' suffering, were in a very different place. Still these stories were passed on in families. In my opinion, some Germans still want to hear British and American leaders say that the gratuitous targeting of civilians was a moral mistake.
LOUISE BARNES VERA
Cincinnati
---
I was disappointed to read in your interesting article by Chuck Colbert, "Gay marriage moves forward in Spain" (NCR, June 17), that the birth of the Italian Republic took place more than 150 years ago. King Victor Emmanuel II was proclaimed King of Italy in 1861 and Italy remained a monarchy until June 2, 1946 when the kingdom voted by referendum to become a republic.
FRANCIS BOSTROM
Edinburgh, Scotland
---
In his column of June 3, Fr. McBrien touches upon an issue that is generating much discussion among the diocesan clergy with whom I have some association: namely, the rash of religious who have been appointed bishops throughout the world, as well as some selected to head diocesan seminaries. While there are religious who have the skills and experience to administer a diocese or a seminary, especially those who are missionaries in countries without a native clergy, the general rule should be that diocesan priests, trained and experienced as leaders of parishes and presumably gifted by the Holy Spirit with the special charism of their diocesan priesthood, should be preferred candidates. It is hardly conceivable that a diocesan priest would be selected as provincial or general of a religious community.
The vocation of a religious is first and foremost to his community, not to the priesthood, which is secondary to the charism of the community he wishes to adopt and make his own. It is for that purpose he undergoes specialized preparation in a novitiate and lives in community. Additionally, many of the more traditional communities strive to provide a mode of life that enhances the integration of action and contemplation. No religious community with which I am familiar would even entertain the idea of a diocesan priest as rector of one of its seminaries because his vocation is substantially different from those he would be expected to form as future Franciscans, Dominicans, Augustinians, whatever. What logic, then, justifies a religious to head a diocesan seminary or a diocese, for that matter?
(Fr.) VINCENT POIRIER
Boston
---
Fr. Thomas M. King, in his essay on Jean-Paul Sartre (NCR, June 17), might perhaps have mentioned that for Stalin, Sartre was one of the most distinguished examples of what Lenin termed "useful fools" -- as exemplified in the 1952 statement Sartre made after visiting the Soviet Union that "Soviet citizens criticize their government much more effectively than we do. There is total freedom of criticism in the USSR."
MAURICE A. O'SULLIVAN
Bray, Ireland
---
Amie I. Tatem's poem "The Power of One" speaks volumes to me (NCR, June 3). Amie asks, in her poem, as she quotes news reports: "Thirty have been killed in an attack on their convoy ... Thirty what? Thirty men ... Who is the mother? The father? The sisters? The brothers? Does he have a name?"
The loss of one life -- just one -- can devastate a family, a community, and the pain reverberates like a ripple from a pebble cast into the water. A family's world collapses, at least temporarily, when a loved one dies. I have been there, and my husband and family have been there. Our hearts broke 27 years ago when our son died. Then, just weeks ago, his 20-month-old grandson, our great-grandchild, died.
In my opinion, we in America are in a war of choice. We didn't kick and scream when our government announced that we were going to war; for the most part, we acquiesced to our leaders' wishes. My family, having experienced the horror of death up close and personal, screamed "War is not the answer!" Now more than 1,600 American soldiers are dead, many maimed, and many Iraqi families whose numbers aren't even known continue to pay the price of their loved ones dying. It all seems endless.
Thank you, Amie, for your words. I wish your poem could be printed in every newspaper and be announced on every TV and radio station around the world.
BETTY BAZUR
Sturgis, Mich.
---
I want to thank Maryknoll Fr. Roy Bourgeois for his wonderful open letter to Pope Benedict XVI and the U.S. Catholic bishops (NCR, June 17) asking them to reinstate Fr. Thomas Reese as editor of America and to ordain women. If all Catholics in agreement with him would write such letters to the hierarchy, perhaps, just maybe, there might occur the initial movement in the direction of justice.
(Sr.) Josephine Niemann, SSND
St. Louis
* * *
I have long been impressed by Fr. Bourgeois' dedication to bringing justice into this troubled world we live in. His thoughts about ordaining women stirred some of my own feelings about the subject.
Even though Rome has spoken and women's ordination is now a dead issue, it is something I am unable to let go of. Maybe because in a way the church is telling me to choose between it and my three daughters. Though none of my daughters has ever expressed an interest in becoming a priest, they are unable to agree with the church's ban. It's difficult for me to defend the church when my own words ring hollow and seem like weak rationalizations.
I've been told that the male priest represents Christ's nuptial relationship with the church and therefore the church must be seen as feminine. While I value the deep spiritual significance of symbols, when carried to an extreme they can do more harm than good. Overly emphasizing the sexual component of the symbol by insisting that priests be physical males also symbolically emasculates the male laity, as all followers, including men, are the feminine "church."
I've read that some of the early Christian mystics described their transformation in Christ as a continual birthing process, Christ being born in them by the way they lived their lives. And I've read of the soul being described as one's spiritual womb. With this in mind, we are all called to be Mary, to bear forth Christ by choosing to love. We bring flesh to Christ through our choices.
My hope is that a renewed understanding of the feminine in all of us can help lead to reconciliation.
BOB PACER
Delta, Ohio
---
Regarding the editorial "A bishop's response to budget slashing" (NCR, May 27): This is exactly the kind of article that should be on Page One! It is good to see a bishop stepping up this way, speaking out on issues that are really important. The fact that Bishop Raymond Boland had relatives who died of poverty and that he is willing to talk about it is the kind of thing that all of our hierarchy need to take note of.
(Fr.) GEORGE STAMM
Chippewa Falls, Wis.
---
Since I retired, I have enjoyed reading NCR cover to cover. It is a mixed blessing considering the church news of late. Your letters often speak of the decisions of those who are disillusioned and have chosen a journey separated from the Roman Catholic church.
I wonder how they define church. I have identified with Vatican II's definition -- the people of God. I continue to work with the catechumenate and baptismal preparation and can invite people to be a part of the church. My own journey has been tested to its limits. I was an Immaculate Heart sister from 1950 to 1970. We were crucified and disbanded by the "official" church. I have continued to work for the church in catechetical ministry. I have been fired by church officials because of my strong opinions.
Why have I stayed in the church? My primary reason is my boss is a Jewish carpenter. I still feel nurtured by the sacramental life of the church. I have been graced by God to be open to possibilities and change. I truly believe the blessing of our church is that it welcomes people from many different views. I also feel we are called to share Jesus in a loving way. Being a part of church allows me to have a community. Are there problems? Oh yes, but that is part of life. I chose to live my life and I thank God for all.
CAMILLA EDWARDS
Petaluma, Calif.
---
Gary Macy approvingly embraces Julian of Norwich's image of heaven, one that is "affective, not intellectual," not "endless contemplation" (NCR, June 17). I have to ask: why this either-or? Why not both-and?
For our intellects we can image the first instant of heaven as a stunning eureka moment, an explosion of insight into our three-person God. And all subsequent moments are further explosions of contemplative insight multiplying exponentially forever.
For our will and affectivity we can image heaven's first instant as a plunging into ecstasy, the ecstasy of face-to-face intimacy with God. And heaven's second instant is twice as ecstatic and so on exponentially for the rest of eternity.
Thus in both intellect and will we can never grow jaded, never grow bored, never grow weary.
(Fr.) JOHN FARNIK, CSSR
San Antonio
---
Letters to the editor should be limited to 250 words and preferably typed. If a letter refers to a previous issue of NCR, please give us that issue's date. We reserve the right to edit all letters. Letters, National Catholic Reporter, P.O. Box 419281, Kansas City, MO 64141. Fax: (816) 968-2280. E-mail: letters@natcath.org Please be sure to include your street address, city, state, zip and daytime telephone number.
National Catholic Reporter, July 15, 2005