National Catholic Reporter
Subscribers only section
September 23, 2005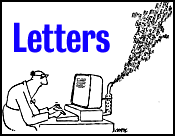 Who owns the church
In "Diocesan bankruptcies raise church ownership issues" (NCR, Sept. 9), Joe Feuerherd did an excellent job reporting on the tricky subject of "who owns the church." It is one of the most cogent pieces to date on this subject, and it should be read by Catholics independent of their red-blue state affiliations.
WILLIAM DONOHUE
New York
William Donohue is president of the Catholic League for Religious and Civil Rights.
---
Television has been showing our country and the world the devastating effects of Hurricane Katrina on the poor. There will be political repercussions in the coming days as a result of what we are seeing, primarily in New Orleans.
Almost everything President George W. Bush has done policy-wise since he became president has overwhelmingly favored the rich. He has lived affluently his whole life and cannot begin to identify with society's most vulnerable. It is incredible he wants to make his tax cuts for the rich permanent. Bush's immoral trickle-down economy is an abysmal failure.
Hurricane Katrina is bringing to light the wide economic gulf that separates America's haves and have-nots. The Good Book says, "Be generous to the poor, and you'll never go hungry; shut your eyes to their needs, and run a gauntlet of curses." No matter how many times we glibly say, "God bless America," will God really bless a nation that abandons God's chosen people -- the poor?
PAUL L. WHITELEY SR.
Louisville, Ky.
* * *
David Brooks of The New York Times suggested after the Katrina failure that "liberals who think this disaster is going to set off a progressive revival need to explain how a comprehensive governmental failure is going to restore America's faith in big government." Simple! Hire as managers of the agencies people who have experience in those areas!
FRANK P. BELCASTRO
Dubuque, Iowa
---
Obviously, Robert Royal (NCR, Sept. 9) is unaware of the book Wake Up Little Susie by Rickie Solinger. According to her, approximately 6 million adoptions of babies conceived by unwed white middle-class women occurred between 1943 and 1973. He should check the statistics. Catholic Charities was the largest adoption agency in the United States at that time.
The "illegitimate" babies, removed from their unwed mothers, were then placed with married adopters and provided with revised birth and baptismal certificates naming the adoptive parents as if these babies were born to them and thus the stigma of illegitimacy was erased. How does Mr. Royal believe these babies came to be, except through sexual union "out of wedlock"?
Moreover, he ignores the huge numbers of "hasty marriages" sanctioned by the church in which the pregnant bride marched down the aisle in white and gave birth seven months later to a very well developed "preemie." The abstinence-only programs of the past that he lauds led only to ignorance, deceit and a significant rise in divorce rates later on.
FRANCES G. SCALISE
Hudson, Ohio
---
James P. Ward, an admitted NCR subscriber, in his letter published Sept. 2 takes NCR to task for improperly characterizing his "media stalwarts" Rush Limbaugh and Bill O'Reilly. He then requests that you "retract some of your left-wing blarney" and give equal time to conservative ideology. Certainly he must know that there are legions of conservative publications where he will find what I (and many others) would charitably refer to as "right-wing blarney." We pray that you will file Mr. Ward's advice and, in the words of another of his likely stalwarts, "stay the course."
DON KILLIPS
Blanchardville, Wis.
* * *
Bravo to James P. Ward for his letter. As a conservative Republican who started out as a John F. Kennedy Democrat but changed when the party so strongly came to support abortion, I'm about ready to cancel my subscription because of the ultra-leftist views. As a Catholic, I abhor war too, but I also cannot condone the murder of innocent babies in the womb.
DORIS S. CHIAPPETTA
Norwalk, Conn.
---
NCR's Sept. 2 cover story about Rick Santorum and the closing editorial about Pat Robertson provided a weird kind of balance in that both were about extremists. The only good thing that can be hoped for from publicity obtained by these fraternal throwbacks to our Know-Nothing period is that such exposure will cause reasonable people to recognize them for what they are and make moves to reduce and eliminate any influence they might have. What is really scary is that extremists like Santorum and Robertson could have obtained much following to start with. That says a lot about the people who make up this country, both those who vote and those who refrain. A disgraceful percentage of our electors do not investigate, do not know and do not care. That is the biggest threat to our democracy and freedom. People like Santorum and Robertson are homegrown insurgents. "All that is necessary for evil to succeed is for good [people] to do nothing."
Santorum, Robertson and their ilk belong "back out in the dim lights of the sideshows."
GILBERT CANTLIN
Berea, Ohio
* * *
I have just thrown the Sept. 2 issue, featuring Revolting Rick Santorum, in the garbage. I can't believe NCR has wasted four pages and a front cover on this disgusting, manipulative, phony person and his baloney book. He belongs on the back page along with the Pat Robertson cartoon.
And I was going to give NCR subscriptions as Christmas gifts.
PATRICIA F. MATURE
Beaver, Pa.
---
When I read your article about Fr. Robert Cushing (NCR, Aug. 12), my heart sank. Here is a man following Jesus, and instead of giving him honor and support, his church fires him. The reason given, that Cushing was pushing an "agenda," was apparently a cover for the pastor's fear that some parishioners would withhold donations when there was a new church to be built. The sin of valuing the institution above following Jesus pervades the church in a number of ways. It is depressing to see it used so blatantly against a priest who is clearly and bravely following the Gospel preached from the pulpit of the very church that fired him.
SUZANNE HARABURD
River Forest, Ill.
---
Greatly appreciated was your Aug. 12 coverage on the AFL-CIO split. Both your article and your editorial struck the right note -- the absolute necessity of organizing workers. However, the necessary balance of organization and politics within labor apparently has slipped away from labor leaders in both camps.
Kim Bobo of the National Interfaith Committee for Worker Justice rightly noted the frequent caution of the late Msgr. George G. Higgins in not meddling in intra- or inter-union controversies. His abundant correspondence of more than 50 years reveals private concerns and suggestions to leaders about many serious squabbles -- efforts to pressure CIO President Philip Murray to expel a few communist-dominated international and local unions, warnings to refrain from mixing union issues in religious issues, and so on. He was effective because of his tact and diplomacy.
Your coverage rightly noted the tragic absence of Msgr. Higgins in the midst of the present union crisis. I am sure he privately would have worked to bring both sides together after the example of his doctoral dissertation director, the late Bishop Francis Haas, so highly respected by most labor leaders at the time of the CIO split from the AFL in the 1930s. Neither Haas nor Higgins would take refuge in public remarks about a "power grab."
There are ecclesiastics and lay folks in several religious traditions, as well as professional mediators and arbitrators, who privately could repair this present AFL-CIO split. The leaders on both sides of the split know who such folks are and how to approach them.
(Fr.) PATRICK J. SULLIVAN, CSC
Wilkes-Barre, Pa.
---
I was profoundly moved by your editorial "60 years later, apology for Hiroshima" (NCR, Aug. 12).
War is such a caveman, primitive behavior, especially horrific with 21st-century weaponry. It is so destructive and polluting and ignores the consequences of destroying the one planet we have to live on.
MARJORIE ATKINSON
Salinas, Calif.
* * *
I am 81. I served four years in World War II. I spent time from August '45 to July '46 in Kyushu, Japan.
I bless Harry Truman for his use of the atom bomb. As a medic with the 2nd Marine Division, I was with those slated for invasion of Sasebo in October 1945. As bad as Okinawa was, Sasebo would have been a killing field! I spent nearly a year in all parts of Kyushu. We would not have survived to a man.
Sixty years later all the people who have never served this country are mea culpa-ing over a terrible war. All war is hell. Any means to stop war is right.
Look at the devilish practices of the Japanese regarding prisoners, civilians, slave labor, forced prostitution and so on, for general malfeasance.
I write this for all my comrades killed or wounded. I know that my life would have been over on the beach at Sasebo!
JOSEPH KENNEDY
North Baldwin, N.Y.
---
I've been going to send for a dozen "New Subscriber Packets" but keep putting it off.
John Allen's excellent piece on Catholics and evolution (NCR, July 29) -- wow, how blessed NCR is, and all of us, to have John's incisive, well-honed, diverse, upbeat articles on the Vatican and church affairs. NCR, it seems to me, just keeps getting better. I'll bet I can get a dozen new subscribers. Please send packets.
(Fr.) JACK MORRIS, S.J.
Rockaway, Ore.
---
I must respond in support of two letters in the "evolution debate" (NCR, Aug. 26).
I heartily agree with Sidney B. Simpson Jr. in his forthright judgment of Cardinal Christoph Schönborn's July 7 New York Times op-ed piece as "an embarrassment to all thinking Catholics." For, as Sr. Patricia M. Bombard, BVM, so eloquently expressed it, "at the heart of evolution there remains ... the great Mystery." We all must join in this enterprise and have, as she says, the "spiritual maturity that overcomes the need for debate and enters with humility and openness into a dialogue." Then, in the Spirit of God, we can perhaps together gain more and more insight into the great Mystery.
RICHARD A. LOVELL
Lancaster, Pa.
* * *
There's nothing new about intelligent design. St. Thomas Aquinas, in the Summa Theologiae, argues that it is reasonable to infer that "some intelligent being exists by whom all natural things are directed to their end."
Writing as a theologian and not as a scientist, Aquinas was careful to offer this argument from design not as a scientific proof but as a theological argument.
That being said, it makes sense to question the wisdom of teaching intelligent design as an alternative to evolution in biology classes at public schools. The argument for the existence of God from intelligent design belongs to theology, not science. Thus opponents of the intelligent design movement are justifiably worried that it is trying to cloak religion in the language of science, thus failing to distinguish theological reasoning from scientific reasoning.
Theology is a form of knowing with its own conceptual scheme, logical structure and truth criteria. It benefits from developments in every field of knowledge, including the empirical sciences. It should not, however, be used to threaten the proper autonomy and method of the empirical sciences. That was a mistake that the church made when it condemned Galileo's theory of planetary motion in the 16th century.
(Fr.) HUGH DUFFY
Okeechobee, Fla.
Fr. Hugh Duffy is the author of a new book, Queen of the Sciences, which deals with the relationship between faith and reason.
---
I am puzzled that all too often your articles seem to be addressed to people who have lots of what it takes to get along. "The Morality of Retirement" -- which asked, "How many trips to China are enough?" -- was one (Wealth and Responsibility, NCR, Aug. 12). Are there no readers of your paper, other than vowed religious, perhaps, who can afford to ponder only how many trips to the local Chinese restaurant are enough?
CAROL TREVEY
Fuquay-Varina, N.C.
---
The letter from Anne R. Brusca, "Baltimore Programs" (NCR, Aug. 26), inaccurately described the rationale for moving Catholic Charities' Our Daily Bread soup kitchen to a new location.
To be sure, the new site is near the prisons in Baltimore. After nearly a five-year search for a site accessible to the people we serve as well as to the volunteers who make the program viable, this site for the new facility fulfills those requirements, but, more important, it allows us to expand the opportunities for those we serve. Not only will it have the space to provide nearly a quarter of a million meals a year to the hungry at Our Daily Bread, it will allow us to expand the residential Christopher Place Employment Academy, the St. Jude Employment Center, the Samaritan Center for emergency services and other programs. With the goal of ending chronic homelessness through employment, the new Our Daily Bread Employment Center will be the first one-stop resource center for poor and homeless people in the Baltimore region.
The new facility's location has nothing to do with merchant opinion: Rather, it has everything to do with opportunity for the poor. We break ground on Sept. 29, having raised the $14 million to construct the facility with the most broad-based community support in Catholic Charities' 82-year history.
Also, the current site of Our Daily Bread will become the new home of My Sister's Place, a program for troubled women and children operated by Catholic Charities. In this setting next to the basilica, America's first cathedral, more women can be served in a location that is clearly identified with the church.
SEAN T. CAINE
Baltimore
Sean T. Caine is the director of communications for the Baltimore archdiocese.
---
Jerry Ryan's article on Clotario Blest tells us that Blest "had absolutely no illusions about the forces of evil" (NCR, Sept. 9). In the same paragraph the article says Blest "fully admired Che Guevara."
Huh?
Guevara was the willing executioner of people as young as 12 years old.
It is now known that Guevara urged the Soviet Union to use nuclear weapons against the United States after, and possibly during, the Cuban Missile Crisis.
The poet Armando Valladares has documented Che Guevara's use of torture.
To "fully admire" such a madman would suggest one had some illusions about the forces of evil.
AUGUST TICAN
San Diego
---
Letters to the editor should be limited to 250 words and preferably typed. If a letter refers to a previous issue of NCR, please give us that issue's date. We reserve the right to edit all letters. Letters, National Catholic Reporter, P.O. Box 419281, Kansas City, MO 64141. Fax: (816) 968-2280. E-mail: letters@natcath.org Please be sure to include your street address, city, state, zip and daytime telephone number.
National Catholic Reporter, September 23, 2005