National Catholic Reporter
Subscribers only section
September 30, 2005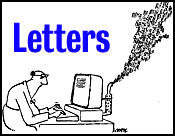 The ownership question
Regarding the title question "Who owns the church?" (NCR, Sept. 9) -- the answer is: Christ owns the church.
MARY ANN ROBERT
Front Royal, Va.
---
The remarks of Clare Pratt and Cardinal Francis Stafford, both sequestered in Rome and quite far removed from the harsh realities of the Gulf Coast, on the government's response to Hurricane Katrina are insulting and unrealistic (NCR, Sept. 16). Most incongruous were the statements by Francis Stafford, who is in no position to criticize the U.S. government for its response to Hurricane Katrina or to any other natural or manmade disaster. He is a top-level leader in an institution that has not only been unable but blatantly unwilling to deal with one of the most devastating and demoralizing crises in its history, the international clergy sexual abuse nightmare.
The local, state and national governments in the United States, unlike the bureaucracy served by Pratt and Stafford, may preach a bit, but they will get to the bottom of it all and heads will roll. Criticize as much as they will, these two representatives of the Vatican establishment will never reach the level of credibility where their words will be taken seriously. The church's own leadership, by continuing to try to convince the rest of the globe that retreating to the Middle Ages is the way to go, has guaranteed the non-reception of its irrelevance.
Hurricane Katrina has had a complex, multifaceted impact on American life. The country is still in shock as it continues to learn just how horrendous this event has been. The critics you cited have chosen to take the low road and join in the blame game. Would the NCR readership not be better served by some of the countless stories of the incredible generosity and leadership from throughout the country as Americans of every stripe have reached out to their fellow citizens? This is not the time for church leaders to preach, but to support.
(Fr.) THOMAS DOYLE, OP
Bethesda, Md.
---
Thank you for the columns by Arthur Jones, especially "The Roman imposition" (NCR, Sept. 9). His insight -- a term described by Webster as the "power … of seeing into a situation" -- is exceptional. I was torn between tears and rage, a condition I find myself experiencing almost daily.
I appreciate the risks he has taken for all of us silent ones in his craft "that makes few friends." We owe him.
GRETA KOPPIN
Newton, Iowa
* * *
I cannot tell you how much I appreciated Part 3 of Arthur Jones' farewell series. What a stellar career this man has enjoyed, including a stint as an early editor of NCR. His account is at once hilarious and tragic ... relief at leaving Kansas City (the climate, perhaps?) and an insightful summary of how Vatican II has been hijacked. Please, Arthur, when you enter the bliss of retirement, don't let it sever your contributions to NCR.
ED MANSFIELD
San Diego
* * *
You should print Arthur Jones' "The Roman imposition" in NCR every single week until either the second coming of Christ or the Vatican cries "uncle." Jones' exposé is purely brilliant.
(Fr.) EDWARD G. LAMBRO
Paterson, N.J.
* * *
My family and I have been loyal NCR subscribers since 1983. We will continue to get our subscription because we feel you publish much of interest to Catholics. However, I must say I was struck by the amount of anger that Arthur Jones feels toward the "Wojtyla-Ratzinger continuum." We are, after all, not talking about two ax murderers here. As an avid student of history, I shall always be grateful to Pope John Paul II for the immense part he had to play in the fall of communism in Eastern Europe. After reading Pope Benedict's books, I am grateful for his work as a theologian in trying to return us to seeing Christ as the center of our lives. We have all had issues with the church at one time or another, but such anger mystifies me. I think we could look at these two men as people who tried and are trying to do what they thought was right. We are all mortals who share the human condition and sometimes make mistakes, as I am sure Mr. Jones does.
SUSANNE RYAN
Manchester, Mo.
---
Thanks for your article on parish secretaries (Ministries, NCR, Sept. 16). My pastor forwarded it to me. Sometimes it seems that we are taken for granted, but then when someone in your parish does come up to you and say, "Don't know what we would do without you," it gives you a very warm and needed feeling.
Sometimes a parishioner comes into my office and spends time talking to me about his or her problems or worries and I'm sitting behind my desk thinking, "I really need to be working on the checks, bulletin, etc.," but I do listen and try to be a good sounding board. Then I mention to my pastor that I'm now behind, and he says to me, "Frannie, that is your pastoral work for the day." Then I realize that my other duties are second to helping out those individuals.
Thanks again for making us secretaries aware of our importance and giving us a pat on the shoulder when sometimes we really need it.
FRAN CAVANAUGH
Fairfield, Ill.
Fran Cavanaugh is the parish secretary at St. Edward Catholic Church in Fairfield.
---
Regarding Bill Boylan's letter on women religious (NCR, Sept. 16):
Religious women took seriously the direction given by the church in the Second Vatican Council to study the charism of our founders and to adapt our lives accordingly. This study of history, theology, culture and lifestyle required some change, so we could authentically express the spirit of our tradition. Benedictines, for example, have continued the tradition of praying the Liturgy of the Hours in community, living Benedict's Rule and so on. The revised constitutions of religious communities all have been approved by the church.
Communities are not competing for members. Women religious have not "resigned themselves to dissolution." Communities may be less able to staff institutions, but it is simplistic to state that fewer members means eventual dissolution. Families no longer include seven or eight children, yet no one is talking about the dissolution of families. Religious communities were never about numbers. It is a way of life, a radical commitment to simplicity, to caring for all God's people and creation, to celibacy, to prophetic witness to the Gospel, to listening to the Spirit of God.
Today's culture in North America does not support those values -- in fact, it ridicules and attacks them. The Continental Congress on Vocations called the whole church to promote a culture of discernment and a culture of vocation. Let every Catholic person and parish respond to that call in respect for religious communities on whose shoulders the church stands today.
(Sr.) JUDITH NERO, OSB
Pittsburgh
---
I am getting awfully tired of Colman McCarthy and his self-righteous diatribes. In fact I rarely read him anymore because I find him boring and predictable. His latest one, trashing Cindy Sheehan (NCR, Sept. 16), was disgusting and I'm surprised you printed it. He makes negative assumptions about her character, her motives, her childrearing, and then presents these as quasi-factual. He even mocked and trivialized her personal loss. Karl Rove couldn't have done better.
Colman McCarthy impresses me as a middle-aged, embittered man who never quite made the mark he hoped to in the public arena and is envious of others who do. How's that for motivational speculation?
PATRICIA MELESCO
Rockingham, Vt.
* * *
I was angered and dismayed at Colman McCarthy's judgmental remarks about Ms. Sheehan's integrity and sincerity. His comments are totally without merit, as when he says, "If she raised a son to be a soldier, and presumably took pride that he joined the Army when he had other options" and "[Was she] so delusional about warfare, that she thought her son would breeze in and out of Iraq with no more bother than a few bites from sand ants?" How in heaven's name can McCarthy know whether she encouraged, or even approved of her son's choice to join the Army? He apparently has no adult children and doesn't realize that they make their own decisions. It is the epitome of judgmental arrogance for McCarthy to assume that Ms. Sheehan was complicit in her son's death. He owes her an apology.
HUGH SKEES
Miamisburg, Ohio
* * *
I do not have the least idea of what Cindy Sheehan was like as a mother raising her son. However, I do have a friend whose son enlisted on his own in the National Guard, never expecting to go to any war. Blessedly, he is still alive and due to come home soon. However, his mother, my friend, has always been vehemently against the war. She loves her son and lets him make his own decisions, and tries to support his well-being and his family's well-being but finds herself biting her tongue constantly.
I believe there are many mothers like her -- perhaps Cindy Sheehan as well -- who are against the war and have been from the beginning, but did not control their children's decisions. I am a Pax Christi and Network member, firmly against the war, and thankful none of my four grown children made the same decision as Cindy's son.
There are often other sides to some stories. I find myself giving Cindy the benefit of the doubt.
SUE RING
Kelso, Wash
---
Letters to the editor should be limited to 250 words and preferably typed. If a letter refers to a previous issue of NCR, please give us that issue's date. We reserve the right to edit all letters. Letters, National Catholic Reporter, P.O. Box 419281, Kansas City, MO 64141. Fax: (816) 968-2280. E-mail: letters@natcath.org Please be sure to include your street address, city, state, zip and daytime telephone number.
National Catholic Reporter, September 30, 2005