National Catholic Reporter
Subscribers only section
October 28, 2005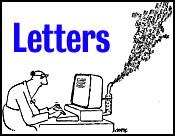 Baltimore soup kitchen
In Sean T. Caine's letter (NCR, Sept. 23) regarding the move of the Baltimore archdiocesan soup kitchen, Our Daily Bread, he does not mention that the Basilica of the Assumption, to which Our Daily Bread is currently adjacent, is being restored at enormous expense. Our Daily Bread has been at its current location since the early 1980s and is often called "state-of-the-art."
From the get-go, Our Daily Bread has been under fire. Local merchants and the Downtown Partnership have been opposed to this present location and the poor are constantly harassed. You know the litany: "The poor are a detriment to business. The poor commit all sorts of crime," and so on.
Years ago, when the cardinal announced that the soup kitchen was going to be moved, Viva House, Baltimore Catholic Worker and Jonah House urged Cardinal William Keeler to keep Our Daily Bread exactly where it is. We explained to him in several letters, leaflets and some vigils that theologically, morally and practically it was located exactly where it should be. The common table of Our Daily Bread, where people share a daily meal, and the eucharistic table at the basilica, where the Lord's body is consecrated, are one. What could be more fitting? In addition, Our Daily Bread is centrally located. Every means of mass transit will get you there.
The new site is adjacent to the Super Max, where death-row prisoners are on 24-hour lockdown and where they will be executed. It is next to the city jail and the Maryland Penitentiary.
The archdiocese is going to spend $14 million to build a facility on a site where human beings are executed and where women and men endure extreme suffering. It is the worst possible site. The poor will be hidden and will be given the worst seat in the house. Shouldn't they be at the first seat at the Lord's Table?
BRENDAN WALSH
Baltimore
Brendan Walsh is the cofounder of Viva House in Baltimore.
---
To celebrate Joseph Rotblat's legacy of peace (NCR, Sept. 16) is to celebrate another evolutionary leap in humanity. He joins the great men and women of the earth who break the social code of who we are and who we can become. Thank God that pacesetters like Rotblat break beyond our need for revenge, retaliation, resentment and recrimination. Imagine if the Catholic community actually lived a life of reconciliation for the world community. Now that would break the current social trend toward destruction.
The more we understand who God is for us, the more we appreciate that our salvation depends on each other.
JACK SCHIBIK
Naples, Fla.
---
Kris Berggren (NCR, Sept. 16) makes some useful points about the widening horizons of spiritual direction in the Ministries special section. I think her claim that "spiritual direction remains largely the purview of the privileged" has been less true in the United Kingdom. The idea of paying for spiritual direction is alien to the Anglican tradition, and most people, both directors and recipients, would be horrified at the idea. (I have never made one penny from spiritual direction, nor have I ever paid anyone for ministering to me in this way.)
Also, I suspect the history is different. I began to be involved in spiritual direction in the mid-1960s as a result of working with heroin addicts, homeless people and those who had, often through psychedelic drug use, become involved in the emerging area of "spirituality" (a word that was not in many dictionaries at this time). Most of them were outside the church and would be described as marginalized. Only later did I find that I was getting involved with church people and with the middle class.
(The Rev.) KENNETH LEECH
Mossley, Ashton-Under-Lyne, England
---
I appreciate the sentiment expressed by Patricia Powers regarding the mismanagement of Individual Indian Money Accounts (NCR, Sept. 30). I also appreciate the reasons that she articulates for support of the Indian Trust Reform Act of 2005.
But I nearly cringe toward the end of the article when I read that "the religious community must demand redress" for the mismanagement of the money accounts. It is this thought process that led to the Dawes Act of 1887 as well as a majority of U.S. government policies that have been detrimental to Native peoples for centuries. It is always under the guise of "helping Indians" that we suffer the most. And to state that "Native Americans are too small a group to obtain justice on their own" is ironic when my brother sat in the Supreme Court as treasurer of the Prairie Band Potawatomi Nation on Oct. 3 to hear oral arguments over our clash with the state of Kansas over a fuel tax issue. As tribal nations combined throughout the United States, we are the largest group of landowners besides the federal government.
If the religious community really wants to help Native peoples, please stand behind us in support of policies we create rather than supporting solutions concocted by non-Natives who believe they know "what is best for those Indians." Let us stand together for the decolonization of federal Indian law and a return to an era of true government-to-government relations.
WAB-NISH-KUM
Mayetta, Kan.
Wab-Nish-kum is a citizen of the Prairie Band Potawatomi Nation.
---
---
What has happened to our self-respect? When I was growing up, we always went to church dressed in our very best. Shoes shined, hair combed -- because we were going to visit our God. Now sometimes at Mass you wonder just where you are. At the beach, the swimming pool, a walkathon?
Why don't our priests say something? I asked one priest and he said he was afraid to say anything about a dress code. Afraid of what?
The readers and eucharistic ministers should bring respect and devotion to the Mass. Mass is no place for beach attire, hot pants, short pants, mini-dresses, etc.
I have been told to lighten up, but I do not want to see churchgoers offend God or his people.
JOHN S. MARQUETTE
Oakland, Calif.
---
As I read my daily paper, I found an article in which Archbishop William Levada describes the Eucharist as gift. To my understanding, a gift is something given without strings. I give gifts to my husband and family for Christmas, birthdays and anniversaries regardless of how we have behaved toward one another. It is a gift.
Now, if I require certain actions before the gift is given, it is not a gift but rather a reward for right behavior. If I place requirements or restrictions on that gift, it no longer is a gift but part of a bargain -- you do this; I do that.
Do the bishops have a different definition of gift since there appear to be restrictions and requirements to be met before one can receive the Eucharist? Is the Eucharist a gift, a reward or a bargain or some of all of this? It remains to be seen.
ANITA MORGAN
Avon, Ohio
---
I just finished reading the lengthy article on the Philadelphia archdiocese and Cardinal Anthony Bevilacqua's (mis)handling of abusers (NCR, Oct. 7). It is mind-boggling beyond words. And these are the same church officials who are calling gay and lesbian people "objectively disordered" and "intrinsically inclined toward evil." Give me a break!
MYRNA OHMANN
Clearwater, Minn.
* * *
Thank you so much for your coverage of the breathtaking report from the grand jury in Philadelphia. I am not a Catholic, but this disease of violence, abuse of power and corruption plagues the whole Christian church.
Reading the report was like getting kicked in the stomach. Nausea, shortness of breath, screaming rage all took over. I am also astonished at the archdiocese's response, especially the offense of Cardinal Bevilacqua at being treated "disrespectfully" by the district attorney and the supposed "anti-Catholic" bias exhibited in the report. That is the defense of cowards. And the response to the whole scandal in the American church by Rome, also breathtaking in its stupidity; instead of attempting to get rid of homosexuals, why doesn't Rome attempt to eliminate child molesters and the bishops who protect them? And follow that up with a movement toward real transparency and real servant leadership throughout the church. Get rid of "princes" in the church who think that their privilege and authority are more important than children's lives. "Pro-life" indeed!
(The Rev.) JOHN MAGISANO
Brooklyn, N.Y.
* * *
As I read the Philadelphia story, I thought: I've read it all before. Only the names and the locations have been changed. In a recent conversation with two assistants to New Jersey Attorney General Peter J. Harvey, I suggested that were a similar grand jury inquiry to be conducted in the state of New Jersey, I would not be surprised if the findings would be the same. Unfortunately, a similar grand jury initiative is not possible in New Jersey because the law does not permit a grand jury presentment against "corporations," including the church.
I have been helping victims of sexual abuse locally and nationally for more than 20 years. The stories are the same and they continue to unfold. I was the pastor of the parish in which one of my predecessors and classmates, James Hanley, abused at least 17 young boys -- 17 and counting. Some will never come forward. To Mark Serrano's credit, we were able to go public -- first in 1995 without identifying him as the victim and then again in 2001 when Mark ignored the gag order imposed by a legal settlement. There's more to come. We still need to unpack the stories of older teens who were sexually assaulted by priests who continue to function because, as the Philadelphia report pointed out, they were not minors and therefore the action against them is not considered criminal. How can a drunken 18-year-old be considered complicit in sexual assault by a priest?
(Msgr.) KENNETH E. LASCH
Morristown, N.J.
* * *
Ralph Cipriano reports that the grand jury, in its examination of the last 50 years, disclosed the offenses of 63 priests. What percentage of active clergy over a 50-year period in the very large Philadelphia archdiocese does this represent? I hope NCR will offer such "balancing" information in a follow-up article. The hundreds of good priests of Philadelphia deserve as much in a time of great personal pain to themselves.
(Fr.) JOSEPH M. O'MEARA
Baltimore
* * *
I was not sure how to feel after reading the article about the decades-long cover-up of priest abuse in Philadelphia -- mad, sad, ashamed, betrayed, frustrated or excited. I guess all these feelings apply.
As a father of two young boys age 9 and 6, I cannot imagine what the parents of these victims must feel. What I do know is that this confirms my desire to push my church to be more open to lay involvement and eliminate the centuries-long practice of secrecy. The calculated cover-up and lies by leaders in Philadelphia is a great example for us all that we should not follow our church with a blind eye. In no way am I putting blame on those abused. They have suffered long enough. I am blaming and will continue to blame the leaders of our church, lay and otherwise, who continue to accept the pattern of secrecy and one-sided power that still exists in our church today.
I truly love my church and want to see it grow and be prosperous in the future. The tragedy being revealed in Philadelphia makes my commitment to this even stronger.
Great reporting; keep the information coming. It will only help change our church for the better.
DAVID WEBER
Waxhaw, N.C.
* * *
I am writing to say that this piece of journalism is stunning, in both senses. I found myself absolutely transfixed by the writing, every word. It is great journalism in the service of terrible truth. Thank you very much, as always NCR, and in this case, Ralph Cipriano.
SUSAN SEYMOUR MURPHY
Pawtucket, R.I.
* * *
One good thing about getting old is the feeling that "there is nothing new under the sun." And then I read your report of the Philadelphia cover-up and the conclusion of the grand jury that issued the report saying that the bishops' cover-up is "as immoral as the abuse itself."
Imagine being 11 years old and helpless, caught between an abusive priest and a parent who beats you when you tell them about the abuse. I alternated between rage and despair while reading this powerful article. I thank you for printing it. What in the name of all that's holy went wrong?
Your editorial on the back page hit the nail on the head. Which bishop, in the upcoming meeting, will have the courage to "bellow at the top of his lungs: 'Enough!' "? Two scripture passages kept alternating in my mind as I painfully continued to read the report: Matthew 18:6, "But if anyone causes one of these little ones who believe in me to sin, it would be better for him to have a large millstone hung around his neck and to be drowned in the depths of the sea." And the beautiful John 11:35, "Jesus wept."
So should we.
JOAN KENNEKE
Bethesda, Md.
---
I read with great interest your publication of the survey report on "American Catholics: from John Paul II to Benedict XVI" (NCR, Sept. 30). I would have loved to see what the authors of the survey meant by "American Catholics."
I have been a priest for 40 years, and most of the time I have been ministering to American Hispanic Catholics, but they were not included in the survey. Yes, I realize that there was a disclaimer in the survey indicating that for the most part the attitudes of Hispanic American Catholics toward the Catholic church either have not changed in the last six years or "very much resemble other Catholics." I beg to disagree with your researchers, but our American brothers and sisters of Hispanic origin, just as any other American Catholics, represent a variety of attitudes and beliefs toward the Catholic church. There are language, culture, generational and religious differences.
It will be helpful to us who deal with Hispanic ministry issues in the United States to see in-depth research, based on language and cultural differences, on the attitudes of Hispanics toward the Catholic church. It will certainly clarify some preconceived ideas that many Catholics, including the church hierarchy, have toward Hispanic Catholics in this country.
(Fr.) PRUDENCIO RODRÍGUEZ De YURRE, C.M.
Denver
---
Your People column (NCR, Sept. 23) informed us that the Civil Justice Foundation of the Association of Trial Lawyers of America had presented Dominican Fr. Thomas P. Doyle its 2005 Community Champion Award for his advocacy for victims in the clergy abuse church scandal.
Lawyers do not often receive a pat on the back, but here is one for this foundation. Kudos to it.
(Sr.) MARY MARCOS, O.P.
Oakland, Calif.
---
Letters to the editor should be limited to 250 words and preferably typed. If a letter refers to a previous issue of NCR, please give us that issue's date. We reserve the right to edit all letters. Letters, National Catholic Reporter, P.O. Box 419281, Kansas City, MO 64141. Fax: (816) 968-2280. E-mail: letters@natcath.org Please be sure to include your street address, city, state, zip and daytime telephone number.
National Catholic Reporter, October 28, 2005