National Catholic Reporter
Subscribers only section
November 11, 2005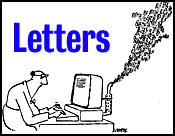 Grand jury report
Do we as a church have to endure a long series of wrenching "watershed moments" like the release of the Philadelphia grand jury report (NCR, Oct. 7)? Each time the awful truth about the abuse of power in the church is forced into the open by U.S. courts or by the media, the moral authority of the bishops and the credibility of the Gospel of Jesus Christ are eroded.
I agree that the faithful will forgive -- but the truth must first be told freely and fully. It will eventually be told fully. Whether or not it is told freely depends on the courage, integrity and humility of the U.S. bishops and their reverence for the people they were ordained to serve.
MARGARET SCHETTLER
Tarzana, Calif.
* * *
The report that was published by the Philadelphia district attorney's office on the archdiocese's handling of child sex abuse cases involving priests is scathing in its criticism of archdiocesan leaders in an attempt to put together a case for conspiracy to cover up crimes.
The report accomplishes its aim of bringing the information to public attention but also, to make its case, throws a net over every organization in some way connected to this serious matter. One of the strategies of the report is to claim that the archdiocese manipulated treatment centers, most specifically St. John Vianney Center, into changing diagnoses and providing inadequate assessment instruments with the aim of returning guilty priests to ministry. The grand jury report further suggests that staff of St. John Vianney Center were naive, or worse complicit, in believing a priest when he denied committing any act of abuse.
St. John Vianney Center was established in 1946 to provide mental health care for archdiocesan priests and expanded in 1961 to offer help to religious women. The historical records indicate that the archdiocese has treated the facility as an autonomous corporation. The staff is composed largely of lay men and women, both Catholic and those of other faiths. They are licensed, certified and degreed.
The staff values their personal and professional integrity. The inference that they would ignore their principles is unfair. It creates a bias that anyone associated with clergy or religious life must be blind to problems. Many of these same professionals are independent contractors chosen for their qualifications and have no reason for any specific allegiance to the Catholic church. The staff was not interviewed by the grand jury, nor was any document requested from them for information.
As far as the claim of inadequate instruments, St. John Vianney maintains standards for treatment centers and is accredited and licensed. The staff are not naive and do not believe statements when they suspect that they are not true. The center, however, is a treatment program and not a forensic institution. We help persons who are in need of healing and leave the investigating to those charged with such duties. The center has cooperated with federal, state and local authorities when our residents were involved in legal matters. If a person is willing to get help, we can offer treatment. In the past, I think many believed that psychological assessments were a way to test for guilt or innocence when the process is to determine the nature and intensity of the problem.
We at St. John Vianney Center know that the people are the church and that to allow harm to the people is harm to the church. The center has provided therapy for many more victims of child abuse than abusers over its history. We recognize the damage and hurt of child sexual abuse. The implication that the staff ignored it is a slap in the face to good and dedicated people.
THOMAS F. DUGAN
Downingtown, Pa.
Thomas F. Dugan is administrator of St. John Vianney Center.
* * *
As I read the article about the cover-up in the Philadelphia archdiocese my heart ached. It ached for all of the abused victims and their families. It also ached for the rest of us Catholics who for so many years put our trust in the leaders of our church. They were supposed to set an example for us. They were supposed to be the disciples for Christ. Don't they have consciences?
I am an active Catholic, involved in my parish, but I am finding it harder and harder to have any respect for the hierarchy of the church. I will always be a Catholic, but I will follow the heart of Jesus because I know that what he wants from us is not what the hierarchy want!
The "church" is too impressed by outside appearances. May God help all of us, especially our so-called leaders!
FRAN BROWN
Palm Coast, Fla.
---
I was shocked to find that NCR, a reputable and responsible magazine, would assign Neve Gordon to write a rant against Israel in the form of a review of Norman Finkelstein's latest book Beyond Chutzpah (NCR, Oct. 14).
Gordon is hardly an unbiased reviewer. Considered one of the world's most extreme anti-Israel academics, he belongs to the class of rabidly anti-Israel far-left professors whose trademark is the delight they take in comparing Israel to apartheid South Africa and Nazi Germany. He has even been arrested for serving as one of Yasir Arafat's "human shields," protecting from arrest terrorists who planned suicide bombings. Recently Haifa University Professor Steven Plaut took NCR to task for publishing Gordon, a writer whose "fanatical anti-Israel propaganda writing" is "so extreme that it is carried by neo-Nazi Web sites and by Islamic fundamentalist magazines endorsing al-Qaeda!" Gordon shares Norman Finkelstein's radically anti-Zionist agenda. Finkelstein "can't imagine why Israel's apologists would be offended by a comparison with the Gestapo." As The Washington Post wrote, Finkelstein is "a writer celebrated by neo-Nazi groups for his Holocaust revisionism and comparisons of Israel to Nazi Germany." No wonder Gordon found the book such an enjoyable read.
What's worse, as a contributor to Alexander Cockburn's anti-Semitic Counterpunch.org Web site, Gordon has a vested personal interest in praising Finkelstein, Cockburn's close friend and accomplice. That should have disqualified him from reviewing the book.
Gordon devoted the first two paragraphs of his book review to me rather than to the book, claiming that I "tried to stop the University of California Press from publishing" Beyond Chutzpah. But I did no such thing and have said so many times in print.
Among Finkelstein's defamations are his allegations that I "almost certainly didn't write" The Case for Israel "and perhaps [he] didn't even read it prior to publication." Finkelstein even suggests that all of my books are written for me by the Israeli Mossad: "[I]t's sort of like a Hallmark line for Nazis. … [T]hey churn them out so fast that he has now reached a point where he doesn't even read them." When I produced my handwritten manuscript to prove that I had written The Case for Israel, Finkelstein changed his story, claiming that I plagiarized the book, a claim Gordon accepts at face value. But several distinguished scholars have concluded that Finkelstein's plagiarism claim against me was absurd on its face. Harvard investigated and dismissed the charges, finding "that no plagiarism had occurred." Yet Finkelstein persists in making this charge -- part of his long pattern of leveling personal attacks against those who support Israel or justice for Holocaust survivors rather than engaging them on the merits of their views.
I invite all fair-minded readers to read my account in Chapter 16 of The Case For Peace, compare it with Finkelstein's and make up their minds based on the facts rather than on the misrepresentations of a politically biased and personally interested reviewer.
ALAN DERSHOWITZ
Cambridge, Mass.
Neve Gordon responds:
Instead of engaging with the issues at hand, Prof. Dershowitz decided to attack me personally, thinking that if he undermines my reputation he can save his own. Paradoxically, he manages to prove one thing in his letter to NCR -- that he is a consistent man. As in his book The Case for Israel, here too he relentlessly passes fiction for fact.
Despite Dershowitz's claims, I never served as a human shield for Arafat, and thus was never arrested for this action, and I certainly am not anti-Israeli. Like Dershowitz I am an American citizen, yet unlike him I have chosen to live in Israel and to spend a large portion of my time struggling for social justice. Incidentally, about a year ago Dershowitz invited me to contribute a chapter to a book he is currently editing called What Israel Means to Me, and I politely refused. At the time he thought I was invested in Israel. What, I wonder, led him to change his mind?
Dershowitz avers that he never tried to stop the University of California Press from publishing Beyond Chutzpah and seems to think that if he says so many times it will eventually become true. This is a well-known demagogic strategy. Unfortunately for him, the press has a file with numerous letters in which he and the prestigious law firm that he hired demand that it sever all contact with Finkelstein. A typical letter from Dershowitz's attorney, Rory Millson of Cravath, Swaine & Moore, describes "the press' decision to publish this book" as "wholly illegitimate" and concludes that: "The only way to extricate yourself is immediately to terminate all professional contact with this full-time malicious defamer."
Finally, Dershowitz asserts that he did not plagiarize, but as I mentioned in the review, according to Harvard's own definition, it appears that he did. I invite NCR readers to peruse Beyond Chutzpah and to judge for themselves. The evidence is overwhelming.
---
Recently you ran a story protesting my decision to accept an appointment to the Board of Visitors for the Western Hemisphere for Security and Cooperation (NCR, Oct. 21). I would like to take this opportunity to offer some clarification.
First, the Secretary of Defense and the Secretary of the Army made my appointment in dialogue with the Military archdiocese. As the name Board of Visitors suggests, I am in no way an appointee of the Western Hemisphere for Security and Cooperation [formerly known as School of the Americas] or any political party. The 13 members of the Board of Visitors are an external oversight committee to insure that so long as the school exists, it operates at the highest level of morality and justice.
Secondly, I will be serving with bipartisan congressional representatives, military experts and human rights advocates. I hope that my background in moral theology and philosophy will be helpful to the board, and I am counting on collaboration with other board members such as Rep. Loretta Sanchez and Sen. Carl Levin to insure an open, transparent and comprehensive process.
The School of the Americas has been tied to allegations regarding human rights abuses, including the torture and death of Catholic priests and religious sisters. Because of this, I feel a sense of personal responsibility in this matter. Know that I am committed to serious oversight of the mission and messages that come out of the school. I truly believe that had I not accepted this appointment, I would be saying to my diocese, the church and the world that human rights are someone else's responsibility. I believe they are mine and I believe that this will allow me to proclaim decisively the teachings of the Roman Catholic church. All human life is precious to God, from conception to natural death. All human life must be treated with the dignity won by the sacrifice of Christ on the cross.
Thank you for your kindness in allowing me to correct any misconceptions that have been formed.
(Bishop) ROBERT C. MORLINO
Madison, Wis.
---
For more than 78 years, I have tried to ignore church comments about homosexuals being "disordered." As a mother of one of these "disordered" persons and the aunt of two more, I thought the hierarchy was just misinformed. Now after reading the report of Oct. 14 and the private thoughts of one of our gay priests, I am horrified and disgusted that this church I have loved is now inquiring into seminaries and apparently blaming them for the scandal of pedophilia in the priesthood. Perhaps someone should remind these new pharisees that Jesus said, "The only thing that matters is to love God and your neighbor as yourself."
AGNES McAVINUE
Baltimore
* * *
Jeff Severns Guntzel quotes an anonymous gay priest as follows: "I think if a document comes out barring people who feel a real vocation and who have discerned it over the years with their spiritual advisers and their rectors, [barring them] from pursuing that vocation -- a document like that would be close to sinful."
There is such a document. And it is sinful. It was written by Pope John Paul II and Cardinal Ratzinger. It's called Ordinatio Sacerdotalis.
At least gay priests are able to talk about their vocations. Women, always the second-class citizens of the Catholic church, are forbidden even to discuss the possibility of having a vocation.
AMES DEE
Portland, Ore.
* * *
Who cares what the secret gay priest has to say? Tens of thousands of LGBT [Lesbian, Gay, Bisexual and Transgender] people have stepped up and created happy, fulfilling lives and families. People of color have done the same thing. People with disabilities and thousands of others with an undesirable different-ness are good neighbors. The church is not the enemy of the gay priest; the closet is the demon.
FRANK A. LOSTAUNAU
San Francisco
---
Being a couple of issues behind, I was just today reading the Oct. 14 article reporting the death of Monika Hellwig. I was more than a little irritated to read at the end of the article that she was the mother of three "adopted" children. Is that how Ms. Hellwig introduced her children to people, as her "adopted children"? Why is it necessary to distinguish in an obituary that the deceased's children did not share the same DNA as their parent? Wouldn't it be better to write that she had three children, period? I say this as the mother of a son born to me and a daughter born to another family but raised by me. I do not introduce them as "my son, Joshua, and my adopted daughter, Emily." Both of them are equally my children.
KAREN STIGERS
Kansas City, Kan.
---
I was fascinated by the surveys and results reported in the Sept. 30 issue, but I found quite a stretch in the level of interpretation ascribed to some questions. For example, if I had been a participant in the survey, I would be astounded to find that a belief in the importance of the Eucharist translates to a reliance on the church as mediator. Yes, the Eucharist is important to me, and yes, it happens in context of the Mass, but I would place much more importance on a sense of community, the prayer experience and the biblical mandate of Jesus to celebrate Eucharist than on the church's role as mediator.
I was also surprised that there was no reported survey of the participants' satisfaction with liturgy in their parishes as an influence on their answers. Perhaps those who do not attend regularly, claim any commitment to the church or register in a parish have found precious little to celebrate there. It is hard to keep enthusiasm if dismal music and poor preaching are the norm, no matter what values one might hold.
Finally, I found it disturbing that even among my fellow Catholic Democrats, teachings that oppose same-sex marriage are thought to be more important (41 percent) than teachings that oppose the death penalty (39 percent). I guess the evangelical right has done a better job than we thought at defining the issues of the day.
CAROLYN MATTHEWS
Venice, Fla.
---
On September 28, I participated in a press conference in Port-au-Prince, Haiti. The topic of the conference was the illegal imprisonment of Haiti's most popular priest, Fr. Gérard Jean-Juste. His two lawyers, Haitian attorney Mario Joseph and U.S. attorney Bill Quigley, organized the event, which was very well attended by Haiti's media.
As a physician who has practiced in Haiti for almost 25 years, I visited Jean-Juste in prison at the Haitian Penitentiary Annex the week before the press conference. Even though his physical health is fragile, Jean-Juste's spirit is strong.
At the press conference, Joseph and Quigley presented a document from 200 religious leaders in the United States demanding the immediate release of Fr. Jean-Juste. Embarrassingly, only one of the signers was a Catholic bishop. The Haitian bishops have responded to Jean-Juste's situation in a shameful fashion as well. They have suspended Jean-Juste from all priestly activities as he sits detained in his prison cell. Clearly, the silence of the U.S. hierarchy combined with the complicity of the Haitian bishops who serve the rich and Haiti's de facto government will make sure that Fr. Jean-Juste's voice is silenced as November 20, the date of the Haitian presidential elections, approaches. I plead with the U.S. bishops to study this situation very carefully and send a delegation of bishops to visit Jean-Juste in prison. Both U.S. and Haitian bishops' voices need to be heard so that justice can be served for Fr. Jean-Juste and the millions of Haitians imprisoned by poverty.
JOHN A. CARROLL
Peoria, Ill.
---
No doubt you will hear a good bit of negative feedback on the "Intelligent Design" opinion piece by Stafford Betty (NCR, Oct. 21). I have to admire Mr. Betty's chutzpah in taking on a subject far out of his area of expertise. If the cornerstone of evolutionary studies, natural selection, could be demolished in four paragraphs by a religion teacher, then a half-dozen generations of the world's greatest scholars in all fields of biology would indeed be a bunch of blithering idiots.
As an old retired biology teacher with a decent background in theology who has spent his life presenting material in science classrooms, I would like to address Mr. Betty's final two questions: 1) "Would anyone want to claim that Einstein's conclusions [about the existence of a superior intelligence] are unscientific or faith-based?" Yes, most logical people would since Einstein himself identifies the basis of this conclusion as "religious feeling" and "rapturous amazement," not as a scientific, empirical (quantitative) conclusion. As to this being "invalid reasoning," Einstein clearly states that such religious feeling is on a plane above the "systematic thinking and acting" that is the methodology of science.
As to question 2, "Would anyone want to claim that [Einstein's religious] views are inappropriate for a science classroom?" Absolutely yes, they are not appropriate for a science classroom any more than the anti-religious views of an atheistic science icon denying the existence of anything beyond the material world would be appropriate for a science classroom. Would anyone deny that?
FRANK LAWLOR
Royal Oak, Md.
---
When Peter Maurin was asked why he got involved with the Catholic Worker movement, he responded with this story: "If you saw a big green truck come down the road and knock over a pedestrian, you would go out and help the person. If you were in another part of the city the next day and saw the same kind of green truck strike a pedestrian, you would go out and help again. But, if this happened a third time, you would ask yourself, 'Where are these trucks coming from?' "
NCR never poses this question in regard to church teachings: What good does it do to attack one teaching at a time when they all stem from the same reliance on the philosophy of Aristotle? NCR is in a unique position to make this reliance on philosophy a part of its journalistic approach, and this topic deserves more attention than you have been willing to give it.
(Br.) FINBAR McMULLEN, FSC
Winona, Minn.
---
I couldn't agree more with John S. Marquette in his letter about church attire (NCR, Oct. 28). In fact, I am impressed by Mr. Marquette's courage in expressing his views on the sorry state of dressing for Mass (even the priest didn't want to touch this one!).
I haven't caved in. Rather, I "stick to my guns" in dressing as I have always thought one should dress for church. However, I find it dismaying to see people of my generation (50s, 60s and beyond) dressing in T-shirts, shorts and other super-casual attire at Mass.
Right on to Mr. Marquette for bringing this ticklish topic to the surface. Sometimes that's how change (albeit slowly) comes about -- and this would, in my book, be a change for the better. We can only hope.
AMIE ILVA TATEM
Staten Island, N.Y.
---
I commend NCR for speaking out about the plight of convicted criminals, now increasingly given life sentences without the possibility of parole (NCR, Oct. 21). Some may think I've lost my mind to care about these people, considering that I have had to survive the torment of losing a son and daughter-in-law, blown away by an 18-year-old wielding a 9mm semiautomatic gun.
But neither I nor my four living children chose to stay locked in anger. Years earlier I had read the words of Alan Paton, author of Cry the Beloved Country, exposing the sins against the South African people: "To punish and not restore -- that is the greatest of all offenses."
This belief brought me to work with prisoners and to talk to groups about the flawed prison industry and the abomination of the death penalty. Over and over, I found despair in prisoners who knew they would never get out from behind their bars. I also found people telling me they would be against the death penalty if we locked convicted criminals up for life, regardless of whether factors indicated this person would not be a danger to society.
As Christians, we have to ask why do retribution and punishment dominate our prison industry? As Catholics, I believe we must be against the death penalty, seeking proper punishment so that society is protected from homicide but also seeking to infuse mercy and honesty into our criminal justice system.
The killer of my kids is now 30. He is doing educational work and helping the younger inmates in his prison.
ANTOINETTE BOSCO
Brookfield, Conn.
Antoinette Bosco is the author of Choosing Mercy, A Mother of Murder Victims Pleads to End the Death Penalty.
---
The cartoons on the editorial page of the Sept. 23 issue of NCR were thought-provoking. As a reader of The Philadelphia Inquirer, I am familiar with Tony Auth, and his cartoons are usually on target. The two that were in NCR, one of inept bishops and the other touching on the Hurricane Katrina disaster, are particularly relevant.
ANN DOW
Thorofare, N.J.
* * *
A few months ago I sent a letter to The Philadelphia Inquirer in response to a Tony Auth cartoon they printed deriding intelligent design. I also saw a recent letter in the Inquirer from a writer of Jewish affiliation in which he expressed his dismay that the newspaper would feature Auth's cartoon depicting the Catholic clergy as amoral buffoons.
It might be appropriate if the editors of NCR would share this Jewish man's disgust with Auth's religion-bashing. NCR appears to be admiring Auth by printing his cartoons in your publication. I recently renewed my subscription to NCR because I decided that your paper is more good than bad and I do look forward to reading most of your issues. But if a supposedly Catholic publication regards the likes of Auth as one to be held up for admiration, I hope that you will at least draw the line at expressing admiration for the American Atheist society.
JAMES P. WARD
Claymont, Del.
---
I am quite surprised by the letters being published expressing disappointment over John Allen's work. Many resented someone being removed from a publication because of Vatican disapproval when it was judged to be fair and balanced but resent Allen's writing because it is fair and balanced. I value the insight Allen gives to NCR readers and do not expect him to write as bulldog nipping at the tail of a rottweiler.
JOHN WAXMONSKY
Knoxville, Tenn.
---
Letters to the editor should be limited to 250 words and preferably typed. If a letter refers to a previous issue of NCR, please give us that issue's date. We reserve the right to edit all letters. Letters, National Catholic Reporter, P.O. Box 419281, Kansas City, MO 64141. Fax: (816) 968-2280. E-mail: letters@natcath.org Please be sure to include your street address, city, state, zip and daytime telephone number.
National Catholic Reporter, November 11, 2005