Issue Date: December 16, 2005
David Pomeranz draws on his Jewish roots to create a Christmas CD
By RETTA BLANEY
As a teenager singing duets with his father in an Orthodox synagogue on New York' s Long Island, David Pomeranz had no way of knowing he was planting professional seeds that would one day blossom into his work as a hit concert and recording artist in the Philippines, one of the world's most Catholic countries, and that at 54 he would be releasing a Christmas CD of original music and popular standards.
But looking back he sees that what moved him in Jewish liturgical music is what has stirred him musically ever since.
"All of my composer heroes, from Richard Rodgers to George and Ira Gershwin, were Jewish and their music influenced me deeply," he said. "There's a 'cry' in their music, as well as in my own, and we all owe this to the Jewish music we grew up with. What's so yummy about Semitic music is how incredibly heartfelt it is. It's almost like the blues. There's an element of anguish that's deep and holy."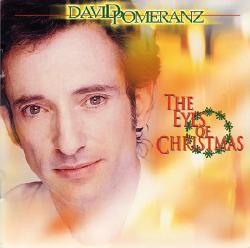 And he experiences the same feelings with Christmas music, especially with songs like "O Holy Night," which he included on The Eyes of Christmas, his new CD.
"I can't not cry and sing that song," he said during a telephone interview from his home in Clearwater, Fla. "It's so incredibly well written. I respond to it very deeply."
The CD, which was recorded for Universal/Asia in 2000 and released in the Philippines, is being sold now for the first time in this country through Mr. Pomeranz's Web site. It contains snappy original pieces he wrote, as well as seasonal favorites, which in two cases he has effectively arranged in ways that make them seem new. His "Joy to the World" is a drum-based gospel version that should get anyone dancing and singing around the room. In contrast, he has taken the normally lively gospel classic, "This Little Light of Mine" and slowed the tempo to wrap it around "Silent Night."
Those experiences with gospel were just the beginning. Five years later he got the chance to try it again as the composer to Kathie Lee Gifford's book and lyrics for the musical "Saving Aimee" (NCR, Oct. 14). The two also collaborated on the non-gospel musical "Under the Bridge" (NCR, Jan. 14).
While he had worked steadily in this country, Mr. Pomeranz said his popularity in the Philippines came as a surprise. In the United States, his songs have been sung by artists as diverse as Bette Midler, Grover Washington Jr. and Barry Manilow. The most popular, "It's in Every One of Us," written 25 years ago, has been sung each week for the last 20 years by thousands of worshipers around the world as part of services of the Church of Religious Science, Agape and Science of Mind churches. It was featured in the score for "Time," a musical that ran on London's West End for two years in the 1980s, in two American movies, "Big" and "Patty Hearst," and in an episode of the TV series "Fame."
What Mr. Pomeranz didn't know is that his movie songs and recordings he made with major American labels were popular in Southeast Asia. He found out in the mid-'80s from a promoter in the Philippines who called to book him for two concerts.
"I thought it was a joke," he said.
It was no joke. The concerts sold out 7,000-seat venues both nights. Mr. Pomeranz returned to his American career, retaining the Philippines as a nice memory until 1999 when another promoter invited him back. Now he considers himself an "adopted son" and returns regularly. Even in this country his concerts can attract as many as 5,000 Filipinos. He has a theory about this.
"Possibly the reason for my music being as popular as it is with Filipinos is because, despite our apparent differences, we're pretty much cut from the same cloth. We're each hopeless romantics. They have a history of gorgeous melody in their music dating back hundreds of years. As a composer and singer, I live for gorgeous melody, and in this way we are perfectly mated."
For Mr. Pomeranz, the Christmas music he was asked to record, despite its apparent difference, is cut from the same cloth as that he sang decades ago in his Long Island synagogue.
"It's the same cry," he said. "It comes from the deepest well. It's in 'O Holy Night.' The guy who wrote that was kissed. It's in a Van Gogh painting. It's still alive; it's in the canvas. It's the same thing with these songs. You can't miss how universal, true and beautiful these things are."
Retta Blaney's latest book, Working on the Inside: The Spiritual Life through the Eyes of Actors, features interviews with Kristin Chenoweth, Edward Herrmann, Liam Neeson, Phylicia Rashad, Vanessa Williams and others.
Related Web site
David Pomeranz
www.davidpomeranz.com
National Catholic Reporter, December 16, 2005