National Catholic Reporter
Subscribers only section
January 20, 2006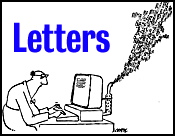 Don't cast stones
It is with sadness that I am responding to the article by Tom Carney, "Life Teen shaken by arrest of founder" (NCR, Dec. 23). My disappointment rests with the lack of balance in your reporting about the current situation with Msgr. Dale Fushek.
In December 2002, I returned to the Roman Catholic church for the first time since my departure in 1970. Despite a deep faith experience during my college years, I'd come to see the Catholic church as far more concerned about control than love and could have no part in it. When I stepped into St. Timothy Church for Sunday Mass during Advent at the prompting of a good friend who saw that I desperately needed to rebuild my relationship with God, I did not quite know what to expect. I was full of shame for having abandoned God for so long and now coming to him with hat in hand because I knew I couldn't make it in this world without him.
What I experienced at Mass was welcome and hospitality -- a community filled with joy in the worship of God, a community that filled the church to the rafters, actively participated in the liturgy, sang with full voices, held my hand during the Lord's Prayer and hugged me during the sharing of Christ's peace. I could not in good conscience participate in the Eucharist, but for the first time in 32 years I longed to do so with all my heart. This is the Catholic community that had grown under the nurturing care, leadership and guidance of Msgr. Dale Fushek over the 20 years of his pastorship. I didn't even know who Msgr. Dale was at the time and it didn't matter -- the imprint of his faith, love and leadership was evident in every aspect of ministry at St. Tim's.
The questions I have for those who have judged this man and are all too quick to cast stones are these: Where were you during my 32 years in the desert? How many lapsed Catholics and other people in need of a relationship with God have you reached out to and welcomed into your parish communities? I am but a small example of the many thousands of people Msgr. Dale has brought into the church or back to the church, either directly or indirectly.
You who can honestly say that you have reached out and brought thousands back to God, step forward and cast the next stone at Msgr. Dale. Perhaps you've earned the right to do so. As for the rest of us, let the stones in our hands fall to the ground. We should instead put our energy into building up the body of Christ.
ANGIE BOGGS
Sun Lakes, Ariz.
---
Regarding "How corporate, how Catholic?" by Joe Feuerherd (NCR, Dec. 23):
NCR is one of the rare Catholic voices speaking concerns about the U.S. health care system. I spent 50 years of service in it as a nurse, and many years of challenging abuses within it.
With the exception of the abortion issue, there is no significant difference between the Catholic, nonsectarian or for-profit systems. All are for profit and all that it implies. With the whole wealth of the Catholic social teachings behind it, the Catholic systems are indistinguishable from any of the others. How sad.
Where is the Catholic voice seriously questioning why 45 million Americans are without health insurance, or the fact that health insurance is being removed or reduced from workers' benefits? How is it that pharmaceutical companies are making 20 percent profit? Meanwhile, CEOs of health care corporations and hospitals receive salaries and benefits out of proportion to the value of their service, and legislators are cutting funds for health services for those who are poor.
Where are the voices of our Catholic bishops, leaders of religious congregations and leaders of Catholic health care systems? Ordinary Catholics with families are concerned about what they see looming in the near future as the dysfunctional health care system provides services only for the monied folks. We need our leaders to apply Catholic social teaching to this serious dilemma.
(Sr.) RITA BROCKE, RSM
Erie, Pa.
---
I have been a Catholic priest for the last 34 years. In my ministry both here in London and in New York, I have witnessed firsthand the good works of many of my fellow priests in schools, hospitals and the caring professions. Many of these men happen to be gay in their sexual orientation. Many are celibate. Some are not.
Over the centuries the church scapegoated the Jewish people in its misguided attempts to bring Christian Catholicism to the world. Thankfully this inhuman treatment of the Jews has ceased. In most recent times the church has found another scapegoat: lesbian, gay, bisexual and transgendered people. The Vatican document on the admission of homosexual men to priesthood must be seen in its historical context.
Every human and civil right gained by gay people over the past 20 years has been vehemently fought against by my church. In fact the church seems incapable of treating lesbian, gay, bisexual and transgendered people as coequals, a rather simple and straightforward Gospel injunction, one would think. The Vatican teaching that as lesbian, gay, bisexual and transgendered people, we are "disordered in our nature and evil in our love" cannot be separated from the suicide of so many gay teenagers, the queer-bashings and bullying in our schoolyards and the assault and sometimes murder of gay people on our streets.
This most recent document from the Vatican comes in the wake of the present sexual abuse crisis in the church. Why must lesbian, gay, bisexual and transgendered people be scapegoated in this way?
(Fr.) BERNARD J. LYNCH
London
* * *
In terms of persecution by the Vatican and bishops, it is clear that we Catholics who happen to be homosexual have become the new Jews. The hymn "All are Welcome" clearly does not apply to us.
JAMES BEDORE
Washington
---
Regarding "Reinterpreting Vatican II" by John Allen (NCR, Dec. 23):
Some places in the world want a return to Latin and polyphony. I can hardly believe we are still tampering with our meaningful liturgies and the beautiful documents of Vatican II. Imagine listening and waiting for the long singing (in Latin) of the Credo to be over. It has been so good to recite it thoughtfully in our vernacular. Continuity with Vatican II is the way to go!
MARY ANN HALLIDAY
Olivia, Minn.
---
Yes, slow down the Benedict XVI train that has put John Paul II's canonization process on a super-fast track. I wish to join the theologians from Europe and Latin America who are begging Rome to look at the possible sainthood of John Paul II from all sides of his personality (NCR, Dec. 16).
Allow me to add one critical mistake -- in my opinion -- in the decisions of our late pope that aggravated the surging number of more than 100,000 Catholic priests in the world who were forced to leave the clerical state because they in good conscience felt called to holy matrimony as a lifestyle, in addition to their priestly ministry.
To my knowledge, John Paul II refused to meet with any representatives of large groups of our married priests, such as Corpus in the United States or other large groups in other countries. I cannot recall that he ever publicly prayed for a holy resolution of this matter that has had such a bearing on the decline of confidence in our Catholic people.
Please, Benedict XVI, hear the cries of your 100,000 brothers and the millions of the lay faithful. We need these priests in full priestly ministry at once.
JAMES BELERSDORFER
Sun City Center, Fla.
---
There is an error in the Dec. 23 issue of NCR. The illustration on Page 13 is described as an eighth-century mosiac that "shows the Virgin Mary bathing the child Jesus." This, of course, is false. The bathing of Jesus was performed by a midwife. Two midwives are usually connected with the birth of Christ in the pseudo-gospels; one is called Salome and the other is called Zelami or Zebel. Salome is generally identified as the one bathing the Child Jesus.
(The Rev.) Lawrence Milby
Orchard Park, N.Y.
NCR responds:
We used the cutline given by Catholic News Service, the wire service that supplies many of the photos we use in NCR. CNS says it's the Virgin Mary, but now that you point it out, we see the female figure doesn't have a halo.
---
"He could have been a contender" author Robert Blair Kaiser (NCR, Jan. 6) is identified as having "spent most of the last five years in Rome working on his upcoming book, A Church in Search of Itself: Benedict XVI and the Battle for the Future." Since Benedict has been pope for less than a year, can we rightly assume that Kaiser was divinely inspired to come up with that title five years ago?
MARC KOECHIG
Stratford, Conn.
---
No doubt we will hear more howls of protest over Colman McCarthy's dead-on (no pun intended) piece about hunters and their excuses for the "tradition" and "heritage" and "family bonding" of hunting (NCR, Dec.16).
If Catholics are ever going to be taught to care about the value, worth and beauty of the animals in our world, instead of looking at them as "resources," we hope it will be NCR that has courage to begin some more discussions.
We admire Colman McCarthy and can't tell you how many times we have heard his listed justifications given by hunters and the Minnesota Department of Natural Resources for the necessity of hunting here in Minnesota. Of course there are too many deer in Minnesota, but hunting regulations are not structured to reduce deer populations. We have always been against hunting as we think it is not a fair sport, but more like snipers hiding from behind trees and camouflaged stands. We think, too, that an identity based on killing falls short of what it means to be fully human.
We don't know who these wild creatures really belong to or why they are here in our world, but for the price of a Department of Natural Resources permit, hunters get to claim them, wound them, cripple them, orphan them, kill them, butcher them and take or leave their remains. Some fun, especially for Catholics who believe that God made the world and all in it and then called everything good. Some people have been quick to appropriate from the Bible the part about ruling over the animals (dominion) and have twisted it considerably to justify their desire to kill wildlife. This way of thinking should not represent the values we want to pass on to future generations. All living beings on earth are part of the same breath of creation, and we owe these other magnificent fellow travelers the right of way in their own domains.
BARBARA and PETER STASZ
St. Paul, Minn.
---
Thanks be to God for the life of Pat and Patty Crowley. I first encountered them in the '50s at St. Joseph's archdiocesan seminary of New York. They were sneaked into the seminary by a side door and I was in the small group that met with them. In my eight years of seminary, Patty was the sole woman to address us.
The Crowleys and their Christian Family Movement opened my eyes to a laity-involved vision of the church.
(Fr.) EDWARD F. CANTWELL
Hudson, N.Y.
---
Sr. Joan Chittister's column "Spy story highlights presidential overreach" comments on the scandal of the U.S. government spying on its people (NCR, Jan. 13).
Typically, it's not until it happens to "our own" that people begin to complain. It was OK to be above the law about everything else since 9/11 -- going to war in spite of the United Nations, lying about the connection between Saddam and Osama bin Laden, torturing prisoners and so on. Now that it's becoming clear the above-the-law attitude of our government is being directed at its own citizens, suddenly it's become wrong.
Sr. Chittister writes: "It may behoove us to remember that so engrained were the notions of civil rights in English common law that tampering with them lit the spark of revolution here long before now."
I wish it would be the beginning of a revolution. Sadly, it seems far too many people are still immobilized by fear.
(The Rev.) BEVERLEY BURLOCK
Port Mouton, Nova Scotia
* * *
Joan Chittister should analyze her distinctions. Clinton not only committed "sins of the flesh," as she says, but he also lied about them under oath. According to her, "Deceit, spuriousness, pride and calculated dishonesty fall into the category of 'sins of the spirit.' "
GREGORY J. HARNYAK
Schaumburg, Ill.
---
This year, Jan. 23 is designated by the American bishops as a day of penance for violations to the dignity of the human person. It started as an observance in opposition to abortion, but when I saw the announcement of the coming event, I first thought of those sexually abused, then my thoughts went to those executed in our country and those suffering from war. I hope that parishes and individual Catholics around the nation will observe this day doing penance for all the violations to human persons. Some of such abuses are the responsibility of the clerical and hierarchical members of our church. I hope that some bishops will lead in undertaking more inclusive acts of penance for the sake of the Catholic community of the United States.
GERALD BETTICE
Memphis, Tenn.
---
I enjoyed your editorial "Extremists drive church agenda" (NCR, Dec. 23). It seems to me that to be considered to be a good Catholic nowadays all you have to do is to be against abortion and gay marriage. Somewhere care for the poor and the infirm got lost, and this is a sad loss for us all. Proverbs 19:17 says: "He who is gracious to a poor man lends to the Lord, and he will repay him for his good deed."
VAL FARMER
Everett, Wash.
---
The editorial "The latest Bush threat to democracy" (NCR, Jan. 6) was painfully correct, but here in Dallas, and maybe in more of the nation, you are a voice crying in the wilderness.
Where were the concerned Catholics when President G.W. Bush was the only presidential candidate asked to speak to the National Knights of Columbus Annual Convention in Dallas just before the last presidential election? Only a handful of Catholics were concerned about how President G.W. Bush had ignored our pope's entreaties about the Iraq war. How could this candidate be supported by a national Catholic organization?
How could Catholics ignore that transgression? Will they continue to ignore the truths that already include the loss of tens of thousands of lives, with more lives being lost every day?
BILL BETZEN
Dallas
---
Letters to the editor should be limited to 250 words and preferably typed. If a letter refers to a previous issue of NCR, please give us that issue's date. We reserve the right to edit all letters. Letters, National Catholic Reporter, P.O. Box 419281, Kansas City, MO 64141. Fax: (816) 968-2280. E-mail: letters@natcath.org Please be sure to include your street address, city, state, zip and daytime telephone number.
National Catholic Reporter, January 20, 2006