Issue Date: March 3, 2006
USA
Czech gift supplies pharmacy
BILOXI, Miss. -- A gift of $100,000 from the Czech Republic will enable the Catholic-run St. Vincent de Paul Free Pharmacy, which was destroyed by Hurricane Katrina, to resume its ministry of supplying medication to the uninsured of south Mississippi.
The donation will help refit the pharmacy as well as restock its medications and medical supplies.
For the past seven years, the pharmacy has provided free prescription medications to hundreds of low-income south Mississippians. The outreach ministry was staffed by volunteers, including seven licensed pharmacists.
The Czech Republic has also given $111,000 to the public library in Bayou La Batre, Ala., to purchase books; $100,000 to rebuild an elementary school in Deweyville, Texas; and announced a $120,000 gift to the University of New Orleans.
'Monologues' displeases bishop
FORT WAYNE, Ind. -- The bishop of Fort Wayne-South Bend said the University of Notre Dame should not have allowed the fifth annual production of "The Vagina Monologues" on its campus this year because he said the play "distorts the beautiful gift of human sexuality."
"I regret the sponsorship of this play by Notre Dame again this year, and pray it will be the last time," said Bishop John M. D'Arcy Feb 12.
The bishop said the play "reduces sexuality to a particular organ of a woman's body separate from the person of the woman, from her soul and her spirit. … It separates sexuality and the human body from love."
His statement was published in the Feb. 12 issue of Today's Catholic, the diocesan newspaper.
The play was staged on Notre Dame's campus Feb. 13-15 although the university's president, Holy Cross Fr. John Jenkins (NCR, Feb. 10), moved the performance from a theater to a lecture hall and didn't allow students to use the event as a fundraiser for local community agencies.
---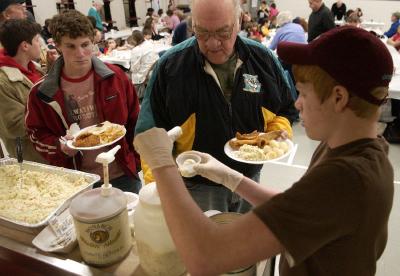 -- CNS/Karen Callaway
Meatless Fridays
Jake Grah pumps out tartar sauce for patrons at a benefit fish fry at St. Edward Parish in Lowell, Ind. During Lent, parishes and church groups sponsor Friday fish fries to observe the meatless obligation and raise funds. A traditional 40-day period of penance and prayer, Lent begins on Ash Wednesday, which this year is March 1.
---
WORLD
Evangelization on China agenda
SHANGHAI, China -- Shanghai diocese in eastern China has launched a Year of Evangelization to commemorate the 500th birth anniversary of St. Francis Xavier, patron of foreign missions, who died off the coast of mainland China. About 2,000 Catholics attended the opening ceremony and Mass marking the start of the special year at St. Ignatius Cathedral in Xujiahui, downtown Shanghai, Feb. 11.
Bishop Aloysius Jin Luxian of Shanghai, 89, told participants that some Catholics may regard evangelization as the task of priests and nuns, but in fact "all of us are disciples of Jesus, so we should be responsible for spreading the Gospel."
For the year, Auxiliary Bishop Joseph Xing Wenzhi asked parishes to set up reception teams to welcome non-Catholics curious about the faith and introduce the faith to them. He suggested laypeople might want to send Bibles as presents to non-Catholic friends and relatives.
Paper criticizes Dalai Lama
JERUSALEM -- An editorial in Israel's largest daily newspaper Feb. 21 criticized the Dalai Lama for not forcefully urging Hamas to renounce violence and recognize Israel.
During a recent visit to Israel, the Dalai Lama spent five packed days meeting with religious leaders of various faiths and delivering well-attended seminars.
The Yedioth Ahronoth editorial said it was "a bit surprising" that the Dalai Lama "called on Israel to reconcile itself to Hamas ... but failed to call on Hamas to abandon its holy war against Jews and to recognize Israel's right to exist."
During an interview with the newspaper, the Tibetan leader said Israel should "respect the fact that Hamas came to power as a result of democratic elections," and called on Hamas to renounce violence.
U.S. border fence denounced
CARTAGENA, Colombia -- The foreign ministers of 11 Latin American countries agreed Feb. 14 to launch a campaign to dissuade the United States from constructing a fence along its border with Mexico to deter the influx of migrants and to reject other provisions in a tough anti-immigration bill that was passed by the House of Representatives in December.
The countries meeting in Cartagena -- Mexico, Central American nations, Colombia, Ecuador and the Dominican Republic -- met in January in Mexico City to discuss U.S. immigration policy and demanded the United States implement guest-worker programs and legalize undocumented migrants.
They announced plans to send "a scouting party" to Washington to identify key lawmakers in the immigration debate.
Churches critique U.S. policy
PORTO ALEGRE, Brazil -- U.S. church leaders attending a World Council of Churches Assembly have issued a written lament for not preventing a U.S war in Iraq that has brought "terror" to the vulnerable while enlisting God in a way that is "nothing short of idolatrous."
The statement was issued Feb. 18 by the assembly's U.S. conference, representing 34 Protestant and Orthodox denominations.
It was not approved by each of the 34 denominations, but was drafted by a board made up of leaders from those denominations. The statement said U.S. churches had "failed to raise a prophetic voice loud enough and persistent enough" to deter war. The letter said the United States spurned invitations after the Sept. 11, 2001, terrorist attacks to come "into a deeper solidarity with those who suffer daily from violence around the world."
The conservative Washington-based Institute on Religion and Democracy said the statement is a "blatant political abuse of the Christian rite of confession" and lacks "the support of most active church members."
Judge orders sterilization quotas
ALLAHABAD, India -- A district judge in the northern Indian state of Uttar Pradesh has ordered government employees, including teachers, civil servants and village leaders, to help health officials meet government sterilization quotas by March 31 or face dismissal, suspension or transfer.
The order issued by Judge Amrit Abhijat requires all class-three government employees to bring 10 people to government clinics for sterilization to meet health department family planning targets. Speaking to the local press, Abhijat said the order was necessary to make family planning a success. Because the population explosion is the root cause of social evils, "we have to take up this challenge on a priority basis," he said.
The Catholic Bishops' Conference of India condemned the order as "barbarous."
John Dayal, president of the All India Catholic Union, a lay group, said that family planning must be voluntary.
National Catholic Reporter uses the following news services: AsiaNews, Catholic News Service, Religion News Service, Latinamerica Press, Pacific News Service, UCA News and New America Media.
National Catholic Reporter, March 3, 2006