Issue Date: March 3, 2006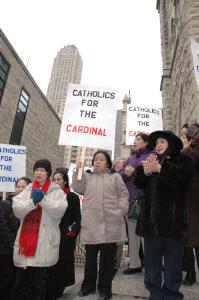 -- CNS/Sandy Bertog
Catholics hold signs showing support for Chicago Cardinal Francis E. George outside Holy Name Cathedral Feb. 11.
Abuse scandal erupts in Chicago
Monitoring of accused priest was inadequate, cardinal admits
By ROBERT McCLORY
When Cardinal Francis George returned home to Chicago in late January after a trip to Rome, New Zealand and Thailand, he was confronted with perhaps the biggest challenge since he arrived here in 1997. It was an almost perfect storm -- a conjunction of allegation, accusation and acrimony, the sort of thing every U.S. bishop has been dreading since 2002 and that George, vice president of the U.S. bishops' conference, had avoided until now.
First there was the arrest of Fr. Dan McCormack, 37, the popular pastor of St. Agatha Parish. He was accused Jan 21 of fondling two boys, now 11 and 13. This was not, like most accusations of the past, about something that happened 15 to 35 years ago. The alleged abuse had occurred between 2000 and 2005, even after the bishops' 2002 zero-tolerance charter in Dallas, a document of which George himself had been a chief architect.
McCormack had been under suspicion and was questioned by police last August. However, the archdiocese left him in place at his parish, telling him not to be alone with children and assigning another priest to monitor him. Evidence indicates that McCormack may have continued to abuse children between August and December. He was removed from St. Agatha Jan. 21 after he was criminally charged.
The archdiocese and George have been widely criticized for not removing McCormack sooner, and support groups for abuse survivors said the case showed deep flaws in the system. In early February, the cardinal admitted that the monitoring process "wasn't adequate." Meanwhile, another priest accused of abuse who had remained in a parish while being monitored was removed from ministry, and in mid-February, the archdiocese announced that it has hired consultants to review its procedures for dealing with abuse accusations.
Illinois Appellate Court Judge Anne Burke, who headed the U.S. bishops' National Review Board for 17 months, weighed in: "He [George] is the ultimate person in charge here. He's never had the intent, I think, to abide by [the zero-tolerance policy] other than in words. I'm hoping this is at least a wake-up call." The board was charged with overseeing reforms related to the clergy sexual abuse crisis.
In a Jan. 28 news conference, George had said a serious investigation into the case against McCormack had not been undertaken in August because the parents of the boys did not take the charges directly to the archdiocese. However, the mother of one boy has insisted she reported the abuse to the archdiocese in late August and made repeated efforts to open a church investigation. It was the archdiocese that did not cooperate, she said.
A nun had told the Chicago Sun-Times in January that in 2000 when she had worked at the now-closed Holy Name School, where McCormack occasionally said Mass, she had contacted archdiocesan officials verbally and by a hand-delivered letter concerning a student who had accused McCormack of telling him to pull his pants down. The nun, who asked not to be named, said she got no response.
When asked at the Jan. 28 news conference about the nun's story, George said the archdiocese had been unable to find the letter. He praised the nun for her actions, but noted this had occurred before the bishops' zero-tolerance policy had been drafted.
George went to St. Agatha Parish Jan. 30 and addressed a crowd of 200. "I am truly sorry you had as a pastor someone accused of molesting small children," he said. Many in attendance were angry, demanding to know why the cardinal had not acted sooner. The overseer of an afterschool program at St. Agatha said she saw children knocking on the rectory's back door last fall and going in. "I am hurting," she said. "I pray God will forgive me for not speaking out earlier."
In a news conference Feb. 2, George said that he should have removed McCormack sooner. "I thought we had the process to take care of these things," George said. "Now it turns out it wasn't adequate. I wasn't adequate. … I wasn't vigilant enough." He pledged to reform the monitoring system.
Prompted by the failure of monitoring in the McCormack case, the archdiocese announced that it had removed another priest, Fr. Joseph Bennett, from Holy Ghost Parish in early February on the basis of allegations that he abused two young girls some 35 years ago. Church officials acknowledged that George knew of the accusations two years ago, but the archdiocese had left Bennett in active ministry and appointed a monitor to check on him, though only during the past year. Bennett has not been criminally charged.
Meanwhile, other accusations against McCormack surfaced, and on Feb. 9 a county grand jury, on evidence supplied by police, indicted McCormack on three counts of aggravated criminal sexual abuse. Lawyers for the alleged victims also filed suits against the archdiocese.
In addition to the three cases involved in legal actions, the Illinois Department of Children and Family Services said it has received five more complaints against McCormack.
Fr. William Kenneally, pastor of St. Gertrude Parish, told reporters Feb. 6 that if it is proved that George countermanded any recommendation by the archdiocesan review board to remove an accused priest, "that doesn't need an apology, that needs a resignation." It has not been made clear if George did countermand his own review board, which Kenneally acknowledged.
David Clohessy, national director of the Survivors Network of those Abused by Priests (SNAP), said the recent Chicago events represent "the single most egregious and harmful failure" since the U.S. bishops' charter was agreed to in Dallas almost four years ago. "Here we have two priests staying in ministry for years despite multiple allegations," he told NCR. "The church says, 'We're sorry, we just didn't know.' Well yes, we do know and we know [abuse] is still happening"
George wrote a letter that was read from the pulpit at many parishes Feb. 12. "I must apologize to all of you for the great embarrassment every Catholic must now feel in the light of the media scrutiny of these events," he said.
The same day the letter was read, more than 100 Catholics rallied in support of the cardinal on the steps of Holy Name Cathedral. Connie McCartney, one of the rally's organizers, said that calling for George's resignation goes too far. "We certainly do not condone what has been happening," she told the Catholic New World, the archdiocesan newspaper. "It's a frightful thing. But Cardinal George is not entirely responsible. It does not fall on his shoulders alone."
A February letter from George to his priests was not made public, but it was widely reported that in it George asked priests who "have done anything against God" to come forth and acknowledge their sins. "We can't have anyone leading a double life," he wrote.
On Feb. 14, the archdiocese announced it has contracted with Defenbaugh & Associates Inc., a Texas-based consulting company, to investigate how the abuse claims against McCormack and Bennett were handled. It has also hired former federal agent Terry Childers to conduct a review of the process for monitoring priests suspected of abuse.
Henceforth, all abuse investigations will be coordinated and overseen by archdiocesan chancellor Jimmy Lago, a social worker with a background in child-protection work. "Buck stops here," Lago told the Chicago Tribune. "If we're not acting quickly enough, if we're not having the right kind of communication with the public authorities. … I'm expected to stamp my feet and scream and yell and make sure we get it."
Burke called the hiring of consultants "good news," but told the Sun-Times, "The problem I see is that there isn't an independent person overseeing all of this."
The archdiocese also announced that it will report all new abuse allegations to the Illinois Department of Children and Family Services for investigation, even when the victim is no longer a minor. However, Bryan Samuels, director of that agency, said the archdiocese should hand over all past allegations as well, even those dating back some 50 years, but church officials have refused to do so.
Colleen Dolan, director of communications for the archdiocese, told the Tribune that the older cases are closed for now, pending the results from the consultants' investigations and further talks with the Department of Children and Family Services.
Robert McClory, a longtime contributor to NCR, lives in Chicago.
National Catholic Reporter, March 3, 2006