Issue Date: March 3, 2006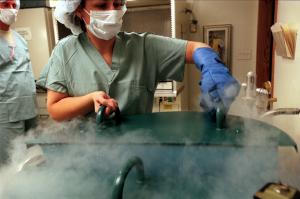 -- KRT/Debbi Morello
Frozen embryos are stored in liquid nitrogen in this unit, called a Dewar, at a Detroit-area hospital.
Status of frozen embryos sparks moral debate
By TOM CARNEY
The acrimony that has characterized abortion politics is increasingly engulfing couples who use reproductive technology to have babies and the agencies that serve them.
Pamela Madsen of New York City, founder and executive director of the American Fertility Association, said she believes her organization was denied renewal of a federal grant, worth about $190,000, because the organization's application declined to use the term "embryo adoption" instead of the usual "embryo donation."
Madsen, who recently wrote an article for The Boston Globe headlined, "Don't tell me what to do with my embryos," said couples who are struggling with the question of what to do with "leftover" frozen embryos are being sucked into the abortion debate.
"These issues are messy," she said, "and we have to be careful about telling people what to do, using language to color perception." Referring to a White House meeting last May in which President Bush praised the adoption of frozen embryos, sometimes called "snowflake" babies, Madsen said it's hard enough being a couple that has to make a decision on what to do with frozen embryos without outside noise.
"Bush holds up a snowflake baby and uses it as a symbol of right to life. That's really painful," she said.
The issue affects a substantial number of American couples. Of the approximately 62 million women of reproductive age in 2002 -- the latest year for which figures are available -- about 1.2 million, or 2 percent, had had an infertility-related medical appointment within the previous year, according to the federal Centers for Disease Control and Prevention. An additional 10 percent had received infertility services at some time in their lives.
Infertility services include medical tests to diagnose infertility, medical advice and treatments to help a woman become pregnant, and services other than routine prenatal care to prevent miscarriage.
The 122,872 ART cycles performed at the 399 fertility clinics that reported to the CDC in 2003 resulted in 35,785 live births (of one or more babies) and 48,756 infants. An ART cycle consists of several steps over a period of about two weeks, beginning when a woman starts taking drugs to stimulate egg production or starts ovarian monitoring.
The percentage of "fresh" embryo transfers to the mother that are her own and that result in live births vary greatly because of many factors. Among them is the age of the mother. Percentages range from 15 percent in mothers 41-42 years old to 43 percent in mothers under 35. For frozen embryos from non-donor eggs, the percentage that results in live births ranges from 17 percent in mothers 41-42 to 29 percent among mothers under 35.
The question of what to do with frozen embryos, and what to call it when one couple provides them to another couple, is at the heart of the current controversy.
Dr. Brad Van Voorhis, professor of obstetrics and gynecology and director of in vitro fertilization at the University of Iowa Hospitals and Clinics, said the university in the late 1990s polled 365 couples on what they wanted to do with embryos that had been frozen for at least two years. About 44 percent wanted to continue storage, 34 percent wanted to discard them, 10 percent wanted to donate them for research and 12 percent wanted to donate them to other couples.
Van Voorhis, who said embryos can be kept frozen indefinitely, added that upon the advice of the university's ethics advisory committee, which engaged in "prolonged deliberation," the clinic he runs has stuck with the term, "embryo donation." However, he acknowledges that some patients have moral qualms about the embryo freezing process, and sometimes "we can tailor treatment to their beliefs."
"Everyone is entitled to their opinion," he said.
But Madsen of the American Fertility Association believes people are too free with those opinions.
"There's a whole lot of noise out there from everyone -- and I mean everyone -- about what ought to be done with frozen embryos," she wrote in The Boston Globe article. "I'm impressed that so many pundits, politicians, religious leaders, scientists and celebrities can be so confident about making the right choice for others when they've never been up against reproductive difficulties themselves."
Madsen and her spouse have two nearly grown children resulting from in vitro fertilization. Four unused embryos were frozen. After their unused embryos had spent years in storage and the couple had engaged in many conversations on what should be done with them, they could not bring themselves to donate them to another couple, knowing that a biological child of theirs would be raised by people unknown to them if the procedure were successful. They decided to donate the embryos to research.
"What I do with my embryos doesn't affect my neighbor," she said.
Furthermore, "embryo adoption" is not a legally recognized term, she said, and it assumes that the embryos are human.
Eleanor Nicoll, spokeswoman for the American Society for Reproductive Medicine, agreed, saying that the embryos are not human beings.
"The embryo that has not been implanted in a womb hasn't instigated a pregnancy," she said. "It's not viable. Ultimately, it's the patients to whom the embryos belong who need to make the decisions."
Jesuit Fr. Kevin Fitzgerald, Dr. David P. Lauler chair in Catholic Health Care Ethics at Georgetown University's Center for Clinical Bioethics, does not agree, nor does Richard Doerflinger, deputy director of pro-life activities at the United States Conference of Catholic Bishops.
If having babies is only the business of a couple seeking such services, Fitzgerald asks, "why are we raising the possibility of helping them have babies?" Fitzgerald has PhDs in molecular genetics as well as bioethics.
As for the anguish couples go through in deciding what to do with frozen embryos, Fitzgerald asks, "How much of this struggle was anticipated when couples are getting into the whole process of in vitro fertilization? Weren't all these possibilities laid out when they first got into it? It's called informed consent."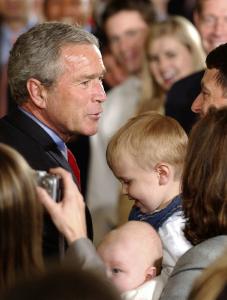 -- CNS/Reuters
President George W. Bush greets a family at the White House May 24, 2005. The 21 families who attended the event had either adopted or given up for adoption frozen embryos left over from fertilization treatments.
Fitzgerald said there are an estimated 400,000 frozen embryos in storage in the United States, and it's unknown how many of them are still alive and how many die in the process of thawing. If they survive that, some grow, some don't.
"We have some human beings," he said, and arguments that no human life is present are "arbitrary."
"There are all kinds of arguments and positions," he said, "and none are established with certainty even on a biological level. Since there is doubt, who gets the benefit? The benefit of the doubt should go to the human being, the embryo. If you can't prove to me otherwise, you have to treat it as such.
"If you're out in the woods hunting and see the bushes move, do you shoot? Of course you don't," he said.
Regarding "adoption" of embryos, Fitzgerald said, "It might make some people conclude the technologies aren't as troublesome as we consider them to be morally."
Doerflinger, of the bishops' conference, said the Catholic church opposes freezing embryos, as laid out in the papal instruction Donum Vitae.
"It's a way of procreating a human being that is not worthy of human beings," he says. "New life doesn't arise from the loving union of the couple. It's done by a third-party technician in a laboratory. And whether or not you call it 'embryo donation' or 'embryo adoption,' the church disapproves of the depersonalized nature of the techniques involved.
"The baby would be conceived immorally, frozen immorally, and now abandoned by its genetic parents," he said. He said he recognizes that many loving couples are unable to have children without such help, but asked, "Does the end justify the means? It doesn't. The means also have to be moral."
Leisa Brug Kline, who lives in Orange County, Calif., is spokeswoman for the National Embryo Adoption Awareness Campaign, which is affiliated with Nightlight Christian Adoptions agency and its Snowflakes Frozen Embryo Adoption program. They are the groups with whom President Bush met in May 2005, the meeting to which Madsen referred. Brug said the organizations with which she is affiliated agree that embryos shouldn't be destroyed or used for research, but promotes adoption of frozen embryos.
The legal framework for such adoptions is not in place in any state but Ohio, she said, but several other states are moving toward establishing one.
In California and other states, she said, embryo adoptions are legally handled as property transfers, but from the adoption agency's view, they are handled like other adoptions with screening of adoptive parents and other typical adoption procedures.
In April, Snowflakes will celebrate the planned adoption of its 100th embryo.
"They're twins," she said, "so they'll be numbers 100 and 101."
Christian adoption agency extends service to 'snowflakes'
They're called "snowflakes" because each one is unique and frozen.
The term refers to human embryos that may stay in frozen storage indefinitely while their "owners," couples who have used an assisted reproductive technology such as in vitro fertilization, try to decide what to do with them.
But "snowflakes" is not just an analogy. It's the trademark of Snowflakes Embryo Adoptions, a division of a Fullerton, Calif., adoption agency called Nightlight Christian Adoptions.
Nightlight, says its executive director, Ron Stoddart, believes life begins at conception, so it tries to help couples who have frozen embryos connect with couples who want to have one or more of the embryos implanted in an adoptive mother and raise the baby or babies as the adoptive couple's own. It sees its service as an extension of its regular adoption services.
Nightlight is a nonprofit organization allied with what Stoddart calls a "conservative, Bible-believing brand of Christianity."
"The board is entirely Christian," he says, "but clients can be of any religion." There are no Catholics on the board, he said, but there are some among the agency's staff and advisers.
Stoddart says the agency has received some criticism from Catholics, both lay people and clergy, who believe that offering adoption for frozen embryos encourages people to use assisted reproductive technology. That often results in freezing and storing embryos, a practice that the Catholic church disapproves.
"We disagree," he said. "It's no more so than placing an unmarried girl's baby up for adoption encourages her to have sex outside marriage."
"What do we do?" he asked. "We believe these are lives."
His organization has not taken a public stand on in vitro fertilization and the freezing of embryos, even though he personally, and many board members, would discourage it on ethical grounds.
"As an organization, if we became outspoken against premarital sex we wouldn't have many young women coming to discuss their adoption with us," he said. "It's the same with embryos. It would be counterproductive."
Jesuit Fr. Kevin Fitzgerald, associate professor at the Center for Clinical Bioethics at Georgetown University, agrees that once the embryos are frozen, "owners" are left with a dilemma. He described it as a "profound issue" that the Catholic church has not yet resolved.
As for procedures for adopting embryos, many of those used in regular adoptions are also used for embryos. Extensive family background checks are made and when families are matched and the agreement made, the embryos become the property of the adoptive parents. One or more embryos are then transferred to the adoptive mother and the pregnancy begins.
Stoddart says many embryos fail to survive the thawing process. Others don't survive the transfer or implantation.
Cost of embryo adoption is less than that of regular adoption, he says, with an average around $10,000. That includes the family background checks, any shipping costs and laboratory work, including the thawing and transfer to the adoptive mother. The costs of pregnancy and birthing care are on top of that.
Ethically, says Leisa Brug Kline, a spokeswoman for Snowflakes, adoption is a good alternative to the other choices, which are embryo destruction or indefinite storage. It's less expensive than long-term storage, which typically ranges up to $2,000 a year.
-- Tom Carney
National Catholic Reporter, March 3, 2006