Issue Date: March 3, 2006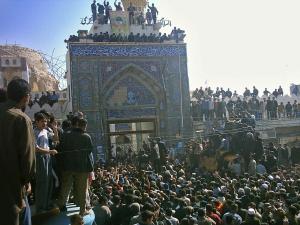 -- CNS/Reuters
Iraqis gather at the shattered Shiite shrine of the Golden Mosque in Samarra, north of Baghdad, Feb. 23. The bombing of the famous shrine led to widespread Shiite protests and retaliatory attacks against Sunni mosques. Dozens of people have been killed in the violence.
In volatile Iraq, Shiite mosques and minarets increasingly targeted
By JAMES PALMER
Religion News Service
Baghdad, Iraq
Razaq Jawad Kadhum dodged Saddam Hussein's security agents for more than two decades when he served as his mosque's muezzin, the announcer who chants the daily calls for prayer to gather the faithful.
Kadhum, 54, was detained three times, and his life threatened more than once under the Ba'ath Party's brutal rule. He thought the worst was over after the regime crumbled in April 2003, but then came the sectarian clashes that have torn the country and killed thousands.
Instead of repression directed by a Sunni-dominated government, Shiites such as Kadhum have been subjected to intimidating attacks by insurgents.
On Dec. 23, 2003, a group of gunmen broke into Kadhum's modest home in Baghdad and opened fire on his family with assault rifles. His wife, Majat, was killed. His son was severely wounded.
"They went to a neighboring mosque after they attacked my family and started chanting over the loudspeakers, 'We have won. We have won,' " Kadhum said. "I decided not to hold a funeral for my wife in order to avoid further bloodshed."
The Feb. 22 bombing of the golden dome of a renowned mosque and Shiite shrine illustrates how increasingly visible Shiite religious symbols -- including mosques and their minarets -- have become prime targets for insurgents. Despite the current danger, the mosque minarets and the muezzin that were viewed suspiciously by Saddam have been reclaiming their place in Baghdad's landscape and religious life.
Soaring spires surrounded with construction scaffolding dot the skyline -- a sign of liberation for the 15 million Shiite Muslims in Iraq, who were forbidden to raise minarets outside their mosques under Saddam's rule. The Ba'ath government believed the ban would stifle Shiite unity and prevent Saddam's enemies from using minarets as vantage points to spy on his palaces and his movements.
After the 2003 attack, Kadhum and his son, who is still disabled and cannot work, moved to a new neighborhood. Kadhum's mellifluous voice has earned him a position at the Ahelalbayate Mosque.
Another muezzin, Saed Salah al-Mousoui, said sectarian violence has killed at least four of his colleagues since 2003. Mousoui returned to Iraq after fleeing to Libya in 2000 because of threats.
"This work is more dangerous now than in Saddam's time," Mousoui said after completing a recent call for midday prayer at the historic Brotha Mosque.
Still, the spires rise.
Acer Salim Hashem, 30, the manager of the Zouia Mosque in central Baghdad, is overseeing construction of a 125-foot minaret costing $40,000, which he says is financed through private donations. "God willing, it will be completed by the end of the year," Hashem said.
Hashem, whose family founded the mosque, relied on his polite manner and his friends' awareness to circumvent Saddam's web of agents skulking about his neighborhood. Today he exercises a similar approach because of the insurgents. He has hired guards with automatic assault rifles.
In addition to managing the mosque, Hashem periodically intones the call to prayer. "For me, it's one way to feel closer to God," he said.
A mosque's muezzin is not paid, and a mosque official, usually the manager or imam, offers an invitation to the position when they hear a suitable voice. "You must have the capability to do it, and you must be requested to do it," Hashem said.
Minarets originally served as watchtowers, but were later used by announcers to recite the call for prayer from high above the neighborhood.
Today speakers are affixed to the minarets of most mosques, and announcers summon the faithful through a microphone inside the mosque, often toward the front of the prayer hall.
Mosques are not required to have minarets, but they have become a symbol of worship for Muslims worldwide. Now in Iraq they have taken on an added significance.
"This is a victory over the terrorism of the Ba'ath Party and the insurgents," said Mahmoud Abbas Al-Malkey, 59, a shop owner, who stood admiring the new minaret outside the Ahelalbayate Mosque after Friday prayers.
"The mosque is most important, because it's a place to form a community through prayer, but the minaret is a powerful psychological inspiration," said Ali Al-Khateeb, a 56-year-old Shiite cleric and religious scholar in Baghdad. "Similar to a church steeple with a cross, it lets everyone in the neighborhood and anyone passing by to distinguish the building from others as a place for prayer."
Mousoui, the Brotha Mosque announcer, says he will carry on serving as an announcer because the personal and spiritual satisfaction outweighs the risks.
"When I was the announcer in Baya, a man used to come and stand outside the mosque every day before midday prayers, but he would never enter," Mousoui said. "When someone asked him one day what he was doing he said, 'I'm a Christian, but I come to hear the singing.' "
National Catholic Reporter, March 3, 2006