Issue Date: March 3, 2006

Be careful with the martyr tag
The killing of an Italian priest was tragic; but not a cause for canonization
By JOAN CHITTISTER
The headline, a small one, came under the category of "more international headlines" that few people have the time or the interest to pursue.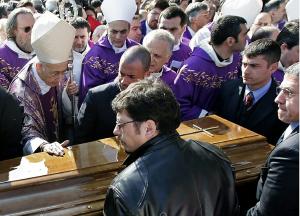 -- CNS/Tony Gentile/Reuters
Cardinal Camillo Ruini, papal vicar of Rome, touches the coffin of slain Italian Fr. Andrea Santoro during his funeral in Rome's Basilical of St. John Lateran Feb. 10.
At one level, it was at best a sad but simple story: A priest had been shot in his church by a 16-year-old boy. It happens every once in a while: A rectory gets robbed; a drug addict, high and raging, shoots at anything in sight and hits a priest. I almost skipped the story.
Then I noticed something different about it. This particular priest had been shot in retaliation, some said, for the publication of the now-infamous newspaper cartoons of the Prophet Muhammad that have been printed around the world. As a result, tensions are running high everywhere.
The priest, Fr. Andrea Santoro, an Italian recently transferred from the diocese of Rome to Turkey, was looking forward, his letters say, to beginning a new phase of his priesthood outside a big city, outside of his own country, outside the West. By all accounts, Andrea Santoro was a good man, a good priest, the kind who does the daily work of the priesthood with warm and gentle openness.
But Fr. Santoro got caught in the crossfire of global politics. He happened to be the one standing there when a Muslim boy, agitated by the growing anti-Christian, anti-Western climate around him, simply walked into the church where Fr. Santoro knelt in prayer and fired two shots, point-blank, into his chest.
The boy, his father said, has mental problems and has been seeing a psychiatrist.
So far, so plain. But then I noticed something in the article that set off an alarm in me that went all the way back to the Crusades.
Cardinal Camillo Ruini, newly confirmed president of the Italian episcopal conference and vicar of the diocese of Rome, presiding at the Santoro funeral, called for opening the cause for Santoro's beatification and canonization of the Italian missionary "as soon as possible."
In the face of the tragic death of so good a man, the sentiments are understandable.
But then Cardinal Ruini said something else. "I am persuaded," he added, "that all the elements of Christian martyrdom are present in the sacrifice of Fr. Andrea."
That's when I got concerned.
The essence of Christian martyrdom, defined between the persecutions of Nero (64 A.D.) and the reign of Decius, brooked no doubt. Martyrs were those who in the face of civil and official persecution and death refused to renounce the faith, to apostatize, to recant, to offer sacrifice to idols or worship to emperors. They were killed by the state because they refused to denounce the Christian religion in order to follow the state religion. They were not killed by someone who happened to be unduly anti-Christian that day.
Even so, what's wrong with a little wordsmithing in a eulogy? It's a little poetic to call for Fr. Santoro's canonization, but is it really a problem?
At this moment in history, it may be more dangerous than we think.
In the first place, Turkey, like any Muslim country faithful to the Quran, has not outlawed Christianity. There is no official persecution of Christians going on there. Local prejudices, probably. Fear, certainly. But official? No.
On the contrary, the Quran requires that Christians and Jews be treated with respect and allowed to practice their faith in peace. In fact, on Feb. 9, as a sign of the peaceful relations and serious dialogue between Muslims and Christians, Turkish President Ahmet Necdet Sezer invited Pope Benedict XVI to pay an official visit to that nation in November. Pope Benedict has already accepted the invitation.
In the second place, Fr. Santoro was not the victim of a government assassination because he was Christian. He was shot by an emotionally disturbed boy who is living in a climate of tense East-West and, therefore, Muslim-Christian relations.
In the third place, the world is already dealing with a passel of Islamic fundamentalist martyrs for the faith, called jihadists, and all of them are almost universally condemned by moderate Muslim communities and leaders everywhere. The world doesn't need Christian ones, too.
To his everlasting credit, Cardinal Jose Saraiva Martins, prefect of the Congregation for the Causes of Saints, when asked by reporters about plans for upcoming canonization procedures, said he would wait to "really see how things turn out."
From where I stand, this does not seem the time to elevate the present political situation to the level of religious warfare by incorrectly declaring our own dead, like those of Islamic fundamentalists, to be "martyrs." All we need is to trigger another century of Crusades.
Benedictine Sr. Joan Chittister, a well-known author and lecturer, lives in Erie, Pa.
On the Web
Chittister's Web column, From Where I Stand, appears weekly on NCRonline.org
National Catholic Reporter, March 3, 2006