National Catholic Reporter
Subscribers only section
March 24, 2006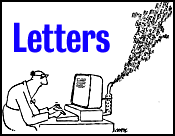 Israel's terrorism
Marc Grossman's "America's leaders must recommit to the two-state solution" (NCR, March 3) reflects the myopia of Israeli partisans in framing the Israeli-Palestinian conflict solely in terms of Israeli security as threatened by terrorism and suicide bombers, which Grossman mentions six times. No mention is made of Israeli ethnic cleansing and ongoing land confiscations, pervasive repression and state terrorism.
The two peoples who live in Palestine have the right to respect for their human dignity and to self-determination -- to security for all. The Palestinians and the Arab world have long since recognized Israel's sovereignty over 78 percent of the country, Hamas threats notwithstanding. But Israel has, for 59 years, pursued a policy of continuing expansion. Since 1967, it has occupied the West Bank, Gaza and East Jerusalem and has gradually taken more and more of the 22 percent left to the Palestinian majority through settlements and now through the wall, which is almost entirely within the West Bank rather than along the 1948 Green Line. The completed wall will leave Palestinians less than 15 percent of the land, in noncontiguous and unsustainable ghettoes. Israel will be free of millions of Palestinians but in control of virtually all of the region's precious water and best land.
Palestinian terror is a consequence of the occupation; the failure to allow the return of Palestinian refugees to their homes, as Israel promised it would in order to gain entry to the United Nations; Israeli state terrorism in the occupied territories that kills three times as many Palestinian noncombatants as suicide bombers kill; land confiscations; demolition of the homes of some 50,000 innocent Palestinians, and constant repression and humiliation of all Palestinians.
WILLIAM H. SLAVICK
Portland, Maine
William H. Slavick is coordinator of Pax Christi Maine.
---
Your editorial "When the vote goes the 'wrong' way" seems deeply troubled about everything surrounding Hamas' coming to power, particularly U.S. and Israeli policy, except what should be the true concern: the dangers of such a party in power (NCR, Feb. 24).
Hamas is a terrorist organization committed to the eradication of the state of Israel through violent means, with the ultimate goal of establishing an Islamic Palestinian state. The Hamas charter espouses classic anti-Semitic hate and cites the infamous anti-Semitic forgery, "The Protocols of the Learned Elders of Zion," as its justification for its terrorist attacks against innocent Israeli men, women and children. Hamas is not just a threat to Israel, but to the entire region, and has already shown signs of linking up with Iran and Hezbollah. Hamas is also a clear and present danger to the Christian minority in the region. Christians are already being pressured to adopt dress and educational standards of the Islamic community.
The issue is not that there were democratic elections. It is that the party in power -- Hamas -- must be held accountable for what it stands for, namely the destruction of Israel and the use of terrorism. These are positions and actions that are unacceptable in relations between peoples and nations and it must be made clear in a consistent way that the nations of the world, especially the United States, reject these views.
(Rabbi) GARY BRETTON-GRANATOOR
New York
Rabbi Gary Bretton-Granatoor is the director of interfaith affairs for the Anti-Defamation League.
---
Regarding the Perspectives article by Margot Patterson (NCR, Feb. 17): No amount of cultural insensitivity can justify riot, murder and arson. The lecture on how intolerance in Western society is somehow responsible for these things is misdirected.
How Muslims reacted to the cartoons is their responsibility as free agents. They were not forced to riot and destroy; they chose to do it. The condemnation "Muslim protests have clearly gone too far. Violence is unacceptable …" is itself inadequate and unacceptable. If a Protestant church printed cartoons of the pope and Catholics rioted, burned down their church and killed their bishop, who would be at fault?
GERALD HEPNAR
Caputa, S.D.
* * *
One questions the value system of the Muslims who engaged in demonstrations and embassy-burnings that were a response to a tasteless cartoon. Did the Danish imam who traveled round the Muslim world arousing the Muslim public show the same anger at Danish troops being sent to Iraq? After all, the occupation of Iraq has cost tens of thousands of Iraqi lives compared to a tasteless cartoon. Where is the Muslim response to that or the tortures in Abu Ghraib? Or the rapes of Iraqi women by occupying soldiers? Where is the response to the daily deaths of Palestinians? These are the issues that should occupy the Muslim leadership, but they are strangely silent on them.
FRANK P. BELCASTRO
Dubuque, Iowa
---
Having recently returned from a visit to the Pontifical Institute in Jerusalem, I am increasingly alarmed by the interference of evangelical Protestants in the political climate in this deeply troubled and most sacred part of the world. I fear that many Catholics are unaware of the growth of the Christian Zionist movement and its detrimental effect on peace in the Middle East, largely propelled by erroneous beliefs regarding the second coming of Christ, namely premillennialism. The movement is no longer a benign force.
CARLA PASSARELLO
Middleburg, Va.
* * *
As long as "an eye for an eye" dominates Middle East thought and behavior, there is little hope of peaceable solutions to Iraq's civil war. The eye-for-an-eye philosophy is devoid of love and is not a part of God's plan for the human family worldwide. If the world hopes to thrive and survive, holy war between Christian, Jewish and Islamic factions must be avoided. It is time to bury the sword and put on the mantle of transforming love that should be taught and preached in churches, synagogues and mosques everywhere.
PAUL L. WHITELEY SR.
Louisville, Ky.
---
I am thoroughly disgusted by the thought that religion cannot bring peace to our world. I had thought that Christianity, by following the teachings of the nonviolent Jesus -- there is not a word advocating violence, coercion or force in the whole New Testament -- would be a solution to violence, but I have found that Christians no more follow Jesus than any others. While I recognize the right of Christians to defend themselves against murderous Muslims in Nigeria, egged on by the episode of the cartoons, this does not excuse Christians falling away from the teachings of Jesus and engaging in as much violence and murder as their Muslim neighbors, self-defense or no self-defense.
I am therefore left in despair about any religion being able to restrain the passions of hate, vengeance and historical enmity. I do not know what the solution is, but I have discovered in my pain that it does not lie in religion.
PETER RIGA
Houston
---
When Enron's managers bankrupted their company for personal gain, would justice have been served by suing all former employees of Enron except for the corrupt managers? Would dispossessing these unemployed workers and victims of their homes, automobiles and other earthly goods have satisfied anyone's sense of justice? Certainly not! Yet it seems Bishop Gumbleton's call for more lawsuits against the church serves the very same logic (NCR, Jan. 20).
The people in the pews did not cover up the molestation by priests, but their pews are on the auction block just the same. The uncounted thousands who look to various Catholic charities for assistance did not cover up the molestation, but these too are going to pay dearly if more lawsuits come forward. The church's lay employees lacking any executive authority did not cover up the molestation -- but hundreds have been severed from church payrolls due to these lawsuits.
It is only too easy for Bishop Gumbleton to propose the disposal of hundreds of millions of dollars given to the church in trust by the faithful, just as it was too easy for the bishops to reassign abusive priests. Not one bishop has been fired. Not one imprisoned for the cover-up. Without question, the victims of sexual abuse have been wronged, including Bishop Gumbleton himself. But they were wronged by an arrogance of power fostered by claims of absolute spiritual authority. How is justice served by slaughtering the sheep to pay for the sins of wolfish shepherds?
DANIEL J. McGILL
Boise, Idaho
* * *
Another sad chapter of the bishops' handling of the sexual abuse crisis is the turmoil the people employed by the bishops must now endure. Diocesan spokespeople, attorneys and those who directly report to the bishop (individual priests, Catholic Charities, and so on) are now under significant pressure to compromise their ethical/moral values in order to "follow orders." The impact on the mental and moral conscience of these and many others in dioceses across this nation must be tremendous. Take orders or lose my job. I wonder what mental gyrations the people who publish the Los Angeles newspaper The Tidings had to go through to publish the Jan. 13 issue, and how they feel about doing it.
Then there are the communications in all their various forms coming from the hierarchy that are formulated by these people. These communications are constantly suspect. Spin is rampant, and credibility is sinking daily. Let's apply Bonhoeffer's "There is a way of speaking which is in this respect entirely correct and unexceptionable, but which is, nevertheless, a lie" to statements coming out of the Los Angeles, Boston, Philadelphia and many other dioceses.
NCR, you have a tremendous responsibility to continue to express "the real as it exists in God."
DENNIS KIRBY
Bloomington, Ill
---
I am a lifelong Catholic who has attended Sunday services at a local Episcopal church ever since a few Catholic bishops interfered with the 2004 presidential election campaign by declaring that John Kerry and Catholics who voted for him should not receive the Eucharist. I thought that I was beyond caring about the corruption in my church.
But the photo in the story "Abuse scandal erupts in Chicago" showing parishioners holding signs that said "Catholics for the cardinal" (NCR, March 3) made me almost physically ill. Cardinal Francis George's apology that he wasn't "adequate" or "vigilant enough" in removing a priest accused of molesting children between 2000 and 2005 doesn't go far enough -- and I applaud the courage of Fr. William Kennealy, pastor of St. Gertrude Parish in Chicago, who said that if George countermanded any recommendation by the archdiocesan review board to remove an accused priest, "that doesn't need an apology, that needs a resignation."
I also applaud the comments of Illinois Appellate Court Judge Anne Burke, head of the U.S. bishops' National Review Board for 17 months, that Cardinal George "never had the intent" to abide by the zero tolerance policy "other than in words," and I'm certain that he's not the only bishop more considerate of predator priests than abused children.
The arrogant hypocrisy of the hierarchy is only exceeded by the alarming apathy of parishioners, and I wonder what, if anything, would upset them enough to object to the corruption in the church. Certainly, the sexual abuse of other people's children doesn't seem to bother them.
EILEEN M. FORD
Rockport, Mass.
---
We are grateful to Demetria Martinez for featuring our religious education program in her recent column (NCR, Feb. 24). Kudos and many thanks to all involved with religious education ministry, not just here at St. Charles/Aquinas Newman Center, but across the country. NCR and Ms. Martinez proved that our faith continues to be shared and formed from one generation to the next. These wonderful features and news stories contribute to the Good News of Jesus Christ. We need to hear more of these experiences that remind us our children are watching and growing in this holy catholic church.
(By the way, to give credit where credit is due, the name of the "Music Man" in Ms. Martinez's column is Roke Muna. He and his family are present almost every Wednesday night for our elementary-age students.)
(Fr.) John Thomas J. Lane, SSS
Albuquerque, N.M.
Blessed Sacrament Fr. John Thomas J. Lane is pastor of St. Charles Borromeo Roman Catholic Church in Albuquerque.
---
I have looked forward to your special issue on Religious Life so that I could pass it on to a college woman interested in religious life (NCR, Feb, 24). I won't be doing that with this issue. Religious life usually refers to priests, sisters, brothers who are members of religious congregations. A number of the articles in this issue were about diocesan priests. The main article about sisters was a jumble of unrelated facts. It is too bad that you are unaware of the excellent programs sponsored by the Religious Formation Conference in many regions of the country that help new members of religious congregations (men and women) form important bonds, especially when their congregations may have fewer new members in formation at the same time. You need not go to other countries to learn that religious life is quite alive.
(Sr.) KATHERINE McKENNA, PBVM
New Windsor, N.Y.
---
Thank you for alerting me to the St. Louis Jesuits' new album, "Morning Light" (NCR, Feb. 3). I immediately ordered the CD from Oregon Catholic Press online. It lives up to all my expectations. Their new music touches me profoundly, just as their "old" music did many years ago. Alleluia for this wondrous sharing of music and spirit by these obviously deeply spiritual and gifted men -- just in time for my Lenten reflection and prayer.
JEAN GILL
Cupertino, Calif.
---
"If Iran gets nukes …" (NCR, Feb. 10) points out the hypocrisy of the U.S. position on development of nuclear weapons. While the United States is spending billions to advance our own nuclear capability, we are telling the rest of the world to stop such development for the good of the world.
This U.S. policy of "Do what I say, not what I do" is a pathetic attempt to try to convince nations such as Iran that nuclear development is not in their best interests.
LARRY BOUDREAU
San Antonio
---
I find it appalling that Cardinal George Pell of Sydney, Australia, finds it a "hoot" that critics have appealed to the Vatican over his statements about the primacy of conscience (NCR, March 3). Not only does he not listen to them, but he even engages in derision. He is so sure he is right (according to his conscience!).
Here again we have what is the greatest temptation of our Catholic hierarchy, the abuse of power. Cardinal Pell is surely aware of church history, which shows again and again how the hierarchy has been wrong and how good people have suffered because of its wrong-headedness. He is right when he says that the Word of God remains supreme, but the Word of God does not always coincide with the word of the hierarchy.
Conscience really is primary, dear cardinal; we were even taught that in pre-Vatican II days.
When will we ever have a humble and listening church, one that is aware of the spirit speaking to all of us?
LUCY FUCHS
Brandon, Fla.
---
The logic of Deus Caritas Est sets the conditions for the possibility of healthy heterosexual and homosexual relationships, namely, eros informed, formed and transformed by agape.
In Jesus, Pope Benedict reflects, the mystery of God is unfolded as the process of love, which is absolute surrender precisely so that the other may live. Jesus showed us that we can surrender anything that separates us from the love of God and each other -- our rituals, our rules, our preconceptions and our status. To be as God is for us, as demonstrated in Jesus, is to not grasp after another or demand another comply with one vision of human living. Precisely the opposite: Trinitarian love celebrates the absolute otherness of Father, Son and Spirit. Paradoxically, celebrating human diversity and plurality leads to abundance and solidarity for all.
The teaching church would be a better servant if it would focus on teaching heterosexual and homosexual couples how to live a life of passion formed, informed and transformed by agape. In Deus Caritas Est, the teaching church comes so close to following the logic of Trinitarian love as absolute surrender, sacrifice and service toward each person as they are, not as you want them to be. What will it take to cross the threshold of faith that requires us to let go of anything that separates us from each other? Benedict's logic could have led him to make the leap of faith in proclaiming that creation is God's and we have not yet begun to understand the wisdom of God for making us as we are … vulnerable, fallible, culpable and incomplete.
JACK SCHIBIK
Naples, Fla.
* * *
I am disappointed to see that Pope Benedict overlooked an opportunity to point to women as integral to the ancient church's diaconate ministry. As John Allen points out in his story (NCR, Feb. 3), Benedict says that "the church's charitable organizations must never 'leave Christ and God aside.' " What Benedict does leave aside is the role women play in charitable work. Once again, the pope and the magisterium refuse to highlight women's divine calling to ministry. In particular, in Section 23 of his encyclical, Benedict speaks of "diaconia" in service of charity in the church. Benedict limits his examples to males. However, 11 of the 30 people Paul names in his letter to the Romans are women. How painful these oversights are to us faithful women who are ignored in our church. Why does Benedict insist on continuing to keep women invisible? Jesus asks Simon, "Do you see this woman?" (Lk 7:44). A recent study by the National Pastoral Life Center shows that of over 30,000 paid lay ministers, 80 percent are women.
As these disappointments continue to pile up, Catholic women are quietly reimagining the church with the guidance of the Holy Spirit. There are now many alternative gatherings within the "catacombs." Like the early Christians, the joy of the living Lord is present where two or more gather in his name (Mt 18:20) -- even if they happen to be women! Rest assured the Holy Spirit is at work despite the invisibility of women to the magisterium.
DEE WARNER
Wilmington, Del.
---
Letters to the editor should be limited to 250 words and preferably typed. If a letter refers to a previous issue of NCR, please give us that issue's date. We reserve the right to edit all letters. Letters, National Catholic Reporter, PO Box 411009, Kansas City, MO 64141-1009. Fax: (816) 968-2280. E-mail: letters@natcath.org Please be sure to include your street address, city, state, zip and daytime telephone number.
National Catholic Reporter, March 24, 2006