National Catholic Reporter
Subscribers only section
March 31, 2006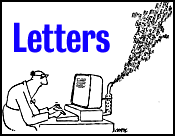 'Daniel,' Jesus and free will
Having to some degree overcome my disappointment at the cancellation of "The Book of Daniel," I need to comment on Fr. Schroth's comments (NCR, Feb. 24).
The show's representation of Jesus was totally right. He is omnipresent at our side -- we choose to recognize him, talk to him or argue with him. He does not judge; judgment comes after death -- which is correct, as God, Jesus, the Creator, cannot interfere in our lives at any level and not be guilty of taking away our free will.
We are responsible for how we live our lives. We can pray, ask, plead for guidance, be ready to listen, feel, discern the response, but we choose the way we go. Our free will is the most wonderful, most daunting gift we possess. "Daniel's" Jesus allowed the characters their freedom.
RUTH HOSEK
Addison, Ill.
---
The recent article about prisoners of conscience and the old School of the Americas (NCR, Feb. 17) brought back memories of an encounter I had a few years ago at the National Pax Christi conference in Miami. At lunchtime, I was finding a seat when I spotted my roommate sitting with Fr. Richard Rohr. How he had managed to whisk the famous priest off to a quiet corner, I will never know.
Now Fr. Rohr is one of my all-time favorite authors. The opportunity to share a quiet lunch with him was a once-in-a-lifetime chance. However, as I rose to change tables, a small voice inside of me said, "Stay here." Before I could make up my mind, I was joined by other conference participants at the table and decided to stay put. A woman sat down across from me. I remember her looking like a young grandmother.
During lunch we all chatted about the conference, about peace and justice issues. I blurted out to the woman, "So what do you do?"
"I get arrested for a living," she half-joked. She had been arrested at the School of the Americas multiple times. She traveled overseas as well, and protested human rights violations and injustice there.
"Federal prison is not so bad. What really scares me is being locked up overseas, especially in South America," she said simply. I listened to her stories of injustice, suffering, protests, arrests and more.
I missed Richard Rohr, but I got to meet a woman who has lived her faith, and by doing so has challenged me.
HOWARD MOON
Candler, Fla.
---
I recently taught at a Catholic university that did not teach courses that would prepare students who wished to teach in Catholic schools or who wanted to work in campus ministry. During those years, I found myself asking often, "Who is minding the store?" Your editorial on Catholic identity echoed that question (NCR, Feb. 10). Vatican II declared that the institutional church would need to look to people of competence in a variety of areas if it were to truly proclaim Christ's Gospel. Here is yet another area where we need to do what scholars like Aquinas and pastors like John XXIII did: Look to the wisdom of the day and translate it and use it to benefit the church.
SALLY VANCE-TREMBATH
San Francisco
---
One of the poems in the March 10 issue deeply touched me. As a retired hospice chaplain, I especially resonated with "Death, Two Images," by Dominican Sr. Emily Oszewski. It was a great grace to experience people moving from the "grim reaper" image to the "carrying a giant key" moment. Sr. Emily has obviously experienced this as well.
CONNIE MAY
Toddville, Iowa
---
In regard to "California diocese holds schism and heresy trial" (NCR, Jan. 6):
By this time everyone must be aware that Fr. Ned Reidy was found guilty of heresy because of his seven-year association with the Ecumenical Catholic Communion, which denies the dogma of papal infallibility and primacy of jurisdiction that was promulgated at Vatican Council I by Pius IX in 1869-70.
I have read the communications issued by the Roman Catholic bishop of San Bernardino with interest, as they argue their case from the finer points of the Code of Canon Law. I am saddened that our Roman brothers in the San Bernardino diocese perceive us as a threat to their ministry to the people of God rather than seeing the experience of the Ecumenical Catholic Communion as another way that people are encountering Jesus in the context of the Catholic faith tradition. Some have even said that we are leading people into eternal damnation. This is very sad indeed.
In the statement issued by Bishop Gerald Barnes in the 30-page verdict condemning our friend, Fr. Ned Reidy, nowhere is there any mention of the teachings of Jesus, nor is there any mention of the word "love."
So many in the world are looking for some kind of hope that love always prevails, that the Gospel message of Jesus really breaks down the walls that separate us: walls that we all have built over the centuries with the bricks and mortar of fear and hatred. Ultimately there is no life to be found in the works of the Law, and I think that that would include the Code of Canon Law.
I will continue to pray for these brothers of ours that their hearts will soften and that someday they will be willing to sit at table with us and share in the joy of the mystery of Christ among us and the great love God has for all of humankind.
(Most Rev.) PETER E. HICKMAN
Orange, Calif.
Peter E. Hickman is the presiding bishop of the Ecumenical Catholic Communion.
---
Letters to the editor should be limited to 250 words and preferably typed. If a letter refers to a previous issue of NCR, please give us that issue's date. We reserve the right to edit all letters. Letters, National Catholic Reporter, PO Box 411009, Kansas City, MO 64141-1009. Fax: (816) 968-2280. E-mail: letters@natcath.org Please be sure to include your street address, city, state, zip and daytime telephone number.
National Catholic Reporter, March 31, 2006