National Catholic Reporter
Subscribers only section
May 26, 2006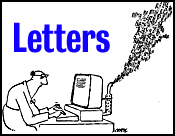 As Fr. Raymond Schroth rightly pointed out in "Deanna Durbin, where are you now?" ( NCR, March 24), the '60s generation "turned in on itself." The same period of social and cultural upheaval affected the church's liturgies during and after Vatican II. I am no traditionalist but find that the church (at least at most parish levels) discarded its heritage of Gregorian chant, Latin motets and some of the great Mass settings that were used until the '60s. When I asked my Catholic niece (age 31), who is regularly involved in her parish, if she knew any "traditional hymns," her response was, "Oh yeah, sometimes they sing 'Sons of God, Hear His Holy Word' along with guitars."
She has never heard "Holy God, We Praise Thy Name."
STEVEN GIOVANGELO
Indianapolis
---
The recent editorial "Iran, nukes and creating new options" sounded good, but there's an underlying assumption that we cannot eliminate nuclear power (NCR, April 21). I am convinced that any attempts to control nuclear arms are impossible without eliminating nuclear energy. I was much impressed with the March 24 article by David Krieger, "India, Iran and U.S. nuclear hypocrisy." He calls for "an International Sustainable Energy Agency that develops and promotes sustainable energy sources that can replace both fossil fuels and nuclear energy." Unless we aim our efforts in this direction, there is no way to eradicate nuclear arms. And eventually it has to be eradicated if we want to have a world without war.
JOSEPHINE NIEMANN
St. Louis
---
Thank you for the superb "The Damascus diary" (NCR , April 7)! Theresa Kubasak and Gabe Huck did a magnificent job of reminding me of how similar people are everywhere. How can any decent human being accept the idea of going to war against any people anywhere?
BILL HAY
Capitola, Calif.
---
In the same issue with the long, scandalous story of the church in Philadelphia ( NCR, April 28) came a story of a black man's heartening struggle to be faithful to the Catholic church. I was deeply touched by the wisdom, the sincerity, the humility of author Daryl Grigsby and his black brothers as they met regularly to face head-on all the scandal in the church and stressed the good that is still in evidence today, especially among his black brothers and sisters. (There was one notable exception in his list of saintly people -- Franciscan Sr. Thea Bowman.)
Why do Mr. Grigsby and his companions stay? Because "they met God in the sacraments, prayers, and teachings of the church, and nothing could turn them away." In some future list of black Catholic stalwarts, I would suggest that the name Daryl Grigsby should be added. We need more like him.
(Fr.) KIERAN KAY, OFM Conv
Carey, Ohio
* * *
I just finished my day at work. As usual, I put on a nice jazz side by Dexter Gordon, opened up the Internet to NCR and found an article by Daryl Grigsby. Mr. Grigsby voiced his concern about the lack of attention the church pays to blacks. I wondered whether my day of work shouldn't have been his day at work. Among other things, I had just finished pushing several young inner-city men to work much harder than they normally would because I was by their side and had their best direction in mind. They were part of a 25-year effort of work in the ghetto that, even at 65, I still have the energy to take on.
Yes, the church, like the rest of America, has paid minimal attention to some terrible problems. Last year in the cities in which I spend my time, Trenton and Asbury Park, 30 young people were gunned down in the streets. Yet although I have heard black preachers say a lot of things, I have found few, if any, standing in the breach. We have a tremendous work to get done, and I think if Mr. Grigsby and his friends would leave breakfast and head for the hood to engage these men, they just might begin to rescue some of them. They also might have a more satisfying eucharistic experience, and, just by chance, might encounter a contemporary black saint or two. I have.
(Fr.) BILL McLAUGHLIN
Asbury Park, N.J.
Fr. Bill McLaughlin is the pastor of St. Peter Claver and Holy Spirit Parishes and the director of Young Adult Minority Men of NJ Initiative.
---
The recent article "Shining light on a cover-up" ( NCR, April 28) seemed to paint Msgr. James Molloy's actions in a sympathetic light. I wonder, however, if the line of reasoning that he used to "excuse" his inaction isn't comparable to that of the guards at Nazi death camps -- the rationale that "I was just following orders!" This seems to negate the entire notion of personal responsibility. Centuries of moral and legal thinkers have laughed at that type of rationalization. Why shouldn't we?
FRANK LAWLOR
Somers, Conn.
* * *
Even after reading five books on the clergy sexual abuse, I still found "Shining light on a cover-up" quite disturbing in its details. But there is a glimmer of hope toward the end of the report. Will Spade, the former Philadelphia assistant district attorney, says that after learning about canon law and the rituals and history and tenets of the Catholic faith, he was "drawn to it." He began attending Mass and began sending his children to a Catholic grade school run by the Sisters of Mercy.
LORENZO A. GURRERI
Colorado Springs, Colo.
---
Since watching Fr. Richard John Neuhaus interrupt Sr. Joan Chittister twice on "Meet the Press" by leaning over and saying, "Abortion, Sister?" I have been thinking that the very word has become a cherry bomb that men of the church throw at women of the church -- a sad state of affairs. Thank you for the powerful and poignant column by Mary Ellen Neill ( NCR, April 21), which presents the issue from the point of view of women. The author was especially astute to point out the general failure of men of the church to mention the men who impregnate and often pressure women to have abortions.
In publishing the perspective of a public health nurse who has adopted a child marred by a failed abortion, you have done the whole church a service. It is good to remember that Gaudium et Spes encourages members of the church to enter into dialogue even with atheists so that we can understand their reasons for denying the existence of God. May the efforts of Mary Ellen Neill open up a more compassionate dialogue with women in the church.
I will save this column for a long time. Brava.
(Sr.) MARY AQUIN O'NEILL, RSM
Baltimore
---
After reading the cover story and editorial regarding Bishop Robert Finn ( NCR, May 12), I am convinced the good Catholics of Kansas City have a strong, holy priest as their shepherd. This bishop clearly understands his purpose, his responsibilities and his job. That this is taking place in NCR 's own backyard makes it even more enjoyable to see. God bless and protect this fine young bishop.
MARK E. MEDVETZ
Henniker, N.H.
* * *
How disheartening to read the spread on Bishop Finn. It is even more discouraging to live it! The article voiced all my fears about the church -- at least in the Kansas City-St. Joseph diocese -- becoming more like big business or politics than a way of life that Jesus preached and modeled.
There has to be something wrong when a bishop comes in and indiscriminately shuts down programs that work and gets rid of faithful, qualified people who have built up the body of Christ in this area. Then to hire in their place people with no background in what they are doing. Is the only qualification being of like mind to the bishop?
Dennis Coday's article was comprehensive and factual. I hurt for those who are now without a job because of the changes. I think those people still working in the diocese are very brave to say what they know and feel, regardless of the repercussions. My prayer is that no retaliation is taken against them for their honesty and candor.
The May 12 editorial that states, "People can't be made to become a faithful community by controlling them," rings so true. People only have power if we give it to them. Knowing we have a choice keeps many of us faithful to the Catholic church. Being treated like children is driving many of us out. Here's hoping only good will come out of this issue of NCR for all concerned.
LIZ DONNELLY
Kansas City, Mo.
* * *
Oh, come on. Get over yourselves. Dry those tears. Orthodox Catholics have been persecuted and trampled on in this diocese for decades. Now the shoe is on the other foot. Pinches, doesn't it? You guys are just sore losers. Sour grapes. Busy yourselves with other things and give us our moment in the sun and hopefully we will be able to repair the total disaster you all made of the diocese.
CONNIE CARRILLO
Kansas City, Mo.
---
The April 21 article on the Gospel of Judas was a great exercise in dancing on the head of a pin. How can there be so much controversy over that redundant rat and his pieces of silver? Even Jesus asks why his enemies sent Judas when they could have nabbed him at any time. Jesus had faced all his enemies and argued with them in broad daylight on many occasions. The chief priests and scribes knew exactly what he looked like and who he associated with. Jesus wasn't a "Zorro," wearing a mask and sneaking around at night, doing and saying the things that would have gotten him executed anywhere in the Roman Empire.
Since Jesus' enemies could have arrested him at any point, what exactly was the role of Judas? The Gospel writers must have decided that the whole drama of Jesus being betrayed and abandoned had to be heightened to the utmost. How better to accomplish this than to have his "most trusted" follower portrayed as betraying him? Are all those experts quoted in the article expecting us to believe that if there hadn't been a Judas there would never have been the crucifixion and the resurrection? Do the ultimate meaning of Jesus' life and the foundation of Christianity really hinge on this pointless Judas in this one brief incident in Jesus' life?
Perhaps if there had been no Judas, Jesus would be alive and well, living in Rio under the pseudonym of Dan Brown and writing his autobiography!
ERNEST RATTERMAN
Powell, Ohio
---
Your article "Bishops united on immigration" (NCR , April 21) made me proud for a moment, and then angry. Where have these same bishops been while President Bush was leading us to aggression against Iraq? What would the bishops have done had Bush supported the Republican line to imprison or expel all illegals? I suspect they would have remained silent since they are evidently terrified that any criticism of Bush policies would label them as followers of Christ -- but un-American!
JAMES SCHWEITZER
Fairfield, Conn.
* * *
Cardinal Roger Mahony, knowingly or not, has provided us all with an example of how we might react to laws of state and church that we in conscience perceive to be unjust, against the greater common good, biased in favor of a particular faction, tradition, race, sexual orientation or gender, and blatantly contrary to our Christian mandate to love one another. He vigorously protests and condemns such laws, as should we.
We can only hope that the good cardinal's vision is not so narrow as to limit his scope of protest to such laws outside our own church.
ROBERT SCHUTZIUS
Florissant, Mo.
Robert Schutzius is the secretary of the Association for the Rights of Catholics in the Church.
---
A sanctimonious stance on 'orthodoxy' seems a heavy price to pay for being right! However, your editorial piece "Unity, yes, but not at any cost" ( NCR, April 7) appears to take that position against the Lefebvrites and their leaders. The tone of the piece seemed out of character for NCR and sounded like something that might emanate from people in the extreme right wing of the church who always pride themselves on defending theological purity! Your readers, I believe, have grown to expect a greater degree of openness and inclusiveness from you, the same attitude you afford other protesting groups and churches especially in the defense of "religious liberty."
Attempts to heal the divisions in the church are hardly accomplished with an in-your-face confrontation. Are we not rather challenged to love those who persecute us? Besides, who knows the whole of God's truth? Even our best theology fails us in this regard.
(Fr.) JOSEPH A. SANCHES
Nashville, Tenn.
---
I am responding to Daniel Hebert's letter (NCR , April 28), which suggests that Cardinal Francis George should have resigned as archbishop of Chicago as a result of his handling of recent sexual abuse cases.
I've known Cardinal George for a long time. This man is one of those rare church leaders who make a difference in the moral tone of our country. He is intellectually brilliant, pastorally sensitive and personally a man of deep prayer and holiness. In urging his resignation, people like Mr. Hebert seem to have that Watergate syndrome that still infects the political life of this country: Destroy our leaders! They tried it on Nixon and succeeded. They tried it on Clinton but failed. They're now trying it on President Bush. This taste of blood in the water is now infecting even religious life in this country. Get rid of a good man like Cardinal George, who has done only good since coming to Chicago nine years ago and has strongly condemned and fought against clergy sexual abuse? Mr. Hebert wants to exact a pound of flesh from this poor man and destroy him. One does not oppose one evil with another evil.
(Fr.) GINO DALPIAZ, CS
Chicago
---
Letters to the editor should be limited to 250 words and preferably typed. If a letter refers to a previous issue of NCR, please give us that issue's date. We reserve the right to edit all letters. Letters, National Catholic Reporter, PO Box 411009, Kansas City, MO 64141-1009. Fax: (816) 968-2280. E-mail: letters@natcath.org Please be sure to include your street address, city, state, zip and daytime telephone number.
National Catholic Reporter, May 26, 2006