National Catholic Reporter
Subscribers only section
August 11, 2006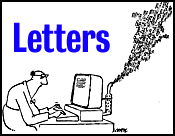 The killing of more than 600 innocent civilians in Lebanon, the displacement of at least 700,000 Lebanese, and the destruction of Lebanon's infrastructure should be considered crimes against humanity. There is no sense of proportion between the taking of two Israeli soldiers and the firing of some missiles by Hezbollah, and the destruction of Lebanon. U.N. Secretary General Kofi Annan condemned Israel for using excessive force.
These acts of terror remind me of Pablo Picasso's mural of the annihilation of Guernica, where, in 1937, unprecedented atrocities were perpetrated against the civilian population of that Basque village in northern Spain by Hitler's war machine. Guernica is remembered as the first time air power was used against a civilian population with the intent of causing complete destruction. Guernica shocked the world. Today, Lebanon is being sacrificed without much protest.
If Israel's intent was to destroy Hezbollah, then why then did it first bomb power, water plants, bridges and roads and Beirut's airport? Why were humanitarian vehicles targeted by their missiles? Why were fleeing refugees killed as they fled? Not reported widely in the media was that two Palestinians civilians were abducted by the Israeli Defense Forces the day before an Israeli soldier was abducted by Hamas fighters and, the two Israeli soldiers captured by Hezbollah were well inside Lebanon as reported by a Lebanese army official.
The Bush administration rushed a delivery of precision-guided bombs to Israel. This decision was quickly made with relatively little debate. The United States is complicit in these acts of terror by providing the weapons made by the Lockheed-Martin and Boeing Corps. U.S. tax dollars are subsiding Israel's war machinery. U.S. aid to Israel has run $3 billion to $4 billion annually with a supplement request for $1.2 billion more. When the United States speaks about its "war on terror" we must confess that in the eyes of the world community we are becoming more like those we abhor.
(Fr.) RICHARD BRODERICK
Cambridge, N.Y.
---
Thank you for publishing Joseph McHugh's article, "Making sounds for silence" (NCR, July 14). For nearly 20 years I have made retreats with the Benedictine sisters at St. Mary Monastery in Rock Island (formerly Nauvoo, Ill.). They are happy to have visitors join them in their praying of the hours. They, too, pray the psalms slowly, much as described in the article, occasionally chanted but generally recited and with a goodly pause between psalms. I have felt the rhythm of this praying settle my mind and open my heart and soul to being with God. It was both heartening and affirming to read about Mr. McHugh's experience with praying the psalms, so like my own!
MARY LOU MENCHES
Urbana, Ill.
---
In his opposition to the "violent" nature of the national anthem, Colman McCarthy stated that "at public events when 'The Star-Spangled Banner' is played, I choose neither to sing it nor stand while others do" ( NCR, May 26). I just wanted to say that I hope I am never present when he does this. Observing this person disrespect our country would be a real test of self-control for me. I am sure there are thousands of veterans and other patriotic Americans who feel the same way. When we stand with our heads uncovered as the anthem is played, we show our respect for our country and for our unparalleled freedom. If Mr. McCarthy has the time to analyze the words of songs and to present the contents as some sort of issue, then he probably has need for a real issue. How about sex abuse of minors by the clergy, or abortion?
DAN GROHN
Houston
---
Thanks for revealing in the article "Unpublished work by John Paul II sparks debate" (NCR, July 14) that John Paul II once wrote sympathetically of the "ethical goals" of communism insofar as these were focused on fighting the evils of individualistic, free-market capitalism. This fits nicely with the fact that our present pope wrote recently, in his book Values in a Time of Upheaval, of the favorable impact of democratic socialism on European politics, saying, "Democratic socialism has proved to be a healthy counterweight to radical liberal positions. … On many points, democratic socialism has been and remains close to Catholic social doctrine, and it has at any rate made a considerable contribution to the creation of a social consciousness."
The same article reports that George Weigel, biographer of John Paul II, tries to cover up the fact that this pope wrote as he did about communism. Will the efforts of neoconservatives like Mr. Weigel to enlist Catholic social teaching in the cause of free enterprise ideology lead them to try also to cover up these friendly words for socialism from Benedict XVI?
JOSEPH F. BRINLEY
St. Louis
* * *
As a commentary on NCR's revelation of a different perspective in Pope John Paul II's early writings and lectures on capitalism and communism, I would mention an interview that we had here on Catholic TV in San Antonio several years ago in our program, "Mending a Broken World." The interview was with a Polish priest who had come to this archdiocese to serve a Polish community. In the interview, he mentioned that he has lived under two devils. In Poland, he had lived under a devil called communism, and here in the United States he lives under a devil called capitalism. In his view, both systems are incomplete in themselves, and when either becomes absolute, it becomes a substitute for God. That would seem to reflect some of John Paul II's thinking.
LARRY BOUDREAU
San Antonio
* * *
It should come as no surprise that John Paul II expressed critical views on capitalism in this unpublished work. He consistently expressed critical views of capitalism in his published works as well. The claim made by neoconservatives such as Michael Novak and George Weigel that John Paul II was a supporter of capitalism (in any sense that the term is commonly used) has never held up to scrutiny. In his 1991 encyclical Centesimus Annus, for example, which the neoconservatives cite as their main evidence that the pope was favorably disposed to capitalism, John Paul clearly states that "it is unacceptable to say that the defeat of so-called 'real socialism' leaves capitalism as the only model of economic organization." He stresses that "the human inadequacies of capitalism and the resulting domination of things over people are far from disappearing" and warns about the dangers of a "radical capitalistic ideology" that blindly trusts market forces. Two years later, in a speech in Latvia, John Paul II responded to those who interpreted his encyclical as an affirmation of capitalism by stating: "The church, since Leo XIII's Rerum Novarum [in 1891], has always distanced herself from capitalist ideology, holding it responsible for grave social injustices."
JOHN SNIEGOCKI
Cincinnati
John Sniegocki is a professor in the department of theology at Xavier University.
---
Regarding the article, "Can the Democrats get religion?" (NCR, June 16): You have touched a chord that troubles many Catholics. It is the similarity of two power centers, the church hierarchy and Congress. By showing the sad faces of Cardinals Roger Mahoney and Theodore McCarrick with Sens. Harry Reid, Ted Kennedy and Richard Durbin, you have provoked thoughts about how well the church is meeting the challenges of the modern world. Vatican II told us that the Spirit empowers the "little people," the anawim, and encourages them despite difficulties. Many of these people are tiring of political operatives who try to tap into religious beliefs by hiring "Catholic outreach coordinators." Let us continue to hope and pray that the power that lies within the people of God will be used to make changes in all institutions that do not reflect the best needs of their constituents. Your article and the picture reinforce the belief that we have a hierarchy who operate in a realm totally unfamiliar to the average Catholic.
JOHN BLOOMER
Madison, Conn.
---
The Catholic church in America faces enormous challenges. Revision of liturgical language is the least important. The exodus of Catholics who leave for other spiritual homes is exceeded by the number who defect to their own eclectic theology but continue to participate within the Catholic community. The causes are many, not simply the institutional explanation: secularism. For example, the provisions of the encyclical on birth control, Humanae Vitae, and the authority of the magisterium are widely rejected by thoughtful men and women. The institutional church has never come to grips with these issues.
The modern church's greatest need is to recapture the minds of the faithful through a serious return to teaching, in scholarly homilies, seminars and adult education. But don't look for a move in that direction. I predict the next issue for the hierarchy will be an index of music barring any composition of modern style.
JOHN J. WELSH
Huntingdon Valley, Pa.
---
Reports that the terror suspects arrested recently in the New York tunnel scheme had no explosives or financing, had not been to New York to see the tunnels, and had not even met each other is absolutely mind-blowing. Any rational person would be immediately suspicious. Sounds like Scare Tactics 101. Lock up these bad guys if you have evidence, but spare us the scary prime time news. Trumped up fear may be a slick campaign trick but the American people have had just enough 101 to see through it all.
(Rev.) MARTIN DEPPE
Chicago
---
Letters to the editor should be limited to 250 words and preferably typed. If a letter refers to a previous issue of NCR, please give us that issue's date. We reserve the right to edit all letters. Letters, National Catholic Reporter, PO Box 411009, Kansas City, MO 64141-1009. Fax: (816) 968-2280. E-mail: letters@natcath.org (When sending a letter via e-mail, please indicate "NCR Letters" in the subject line. We've installed a new spam filter on our letters e-mail account. If it's not clear to us that yours is a letter, we might delete it.) Please be sure to include your street address, city, state, zip and daytime telephone number
National Catholic Reporter, August 11, 2006