National Catholic Reporter
Subscribers only section
September 8, 2006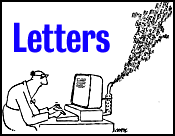 Congratulations to Diane Pawlowski for telling another painful truth about the clergy abuse scandal in "The scandal of silence" (NCR, Aug. 25), namely that we laypeople also failed. We failed to keep our eyes open, to follow up on our suspicions; we failed to protect the victims. For this we must ask forgiveness and atone. But let not our sin be used to say, "See, it was everyone's fault." Those who had almost all the power in this situation (you know who you are, and so do we) also had most of the responsibility. We laypeople need to learn that we cannot grant that much unaccountable power to any person or group in the church ever again. That would be an even greater sin on our part.
GREGORY F. AUGUSTINE PIERCE
Chicago
* * *
I would like to congratulate you for dealing with the sex abuse issue. I am too familiar with the problem. I was brought up Catholic. I was only 14 when I was abused. I was the little tough guy; I blamed myself for not being street smart. Only now do I learn of the slick ways that predators gain access to their prey.
I am an emergency medical technician. Recently, I shared an article from The New York Times regarding pedophiles and cyberspace with a coworker. He asked me never to do that again. My friend is Catholic. He goes to church with his family. He will never read NCR; it's too liberal for him. He will be satisfied to drink his Budweiser, watch the stock car races and pretend that God takes care of everything. Maybe a few good, courageous folks can and will make a difference. We have the hands and minds to make a difference; God's justice comes through us. Turn off the TV, put down the beer. And act!
STEPHEN ARMIGER
Dillon, Mont.
* * *
The article "The scandal of silence" was subtitled: "Ordinary Catholics looked the other way when priests abused children." This article makes me angry. Yes, there should be shared responsibility. Yes, something should have been done. But what was the reality? The church refused to believe the victims themselves. The victims and the families of the victims were punished for trying to find justice. So just how receptive was the church to any report of an inappropriate remark or a questionable action? Ordinary Catholics did not move priests from parish to parish, sometimes out of state. Ordinary Catholics did not put a suspected or known pedophile back into position to hurt more children.
I was in Lafayette, La., in the 1980s when a priest, Gilbert Gauthier, was the center of a scandal just like in Boston. I know those victims and families were punished. The diocese pretended innocence and used the power of the pulpit to lie and, among other things, painted the victims as money hungry, manipulative and so on. Today if I knew of someone in the church that was hurting children, I would not go to the church because I have no trust. I would, however, go to the police. Remembering how they treated both the victims and their families, ask yourself, "What chance would a mere spectator have and just how welcome would any report have been?"
ROBERT JENNINGS
Miramar, Fla.
---
Tom Schindler's article, "Unionizing Catholic hospitals" (NCR, Aug. 11) gave form to the substance of my belief and experience. I serve on the Workers' Rights Board Fair Election Oversight Commission, formed by Portland, Ore., Jobs with Justice and Oregon Secretary of State Bill Bradbury to ensure fair union elections at Providence Health & Services hospitals in Oregon. I have heard firsthand from caregivers who have the courage to call for a voice on the job despite an atmosphere of fear and intimidation in their hospitals. They describe the extreme imbalance of power at work as they try to be better advocates for their patients and coworkers. Sadly, while hospital administrators claim to support Catholic social teaching in support of unions, they distribute antiunion materials and accuse pro-union employees of being disloyal.
The commission came to the same conclusion as Schindler that fair election ground rules are the best way to establish an environment in which workers can decide for themselves, free from intimidation, whether to form a union. We have released a report of our findings and are calling on Providence Health & Services to negotiate fair ground rules before workers move forward with an election. The report is available by e-mail at info@jwjpdx.org. In the end, as Schindler states, this is a matter of human dignity.
(Fr.) JACOB MOSBRUCKER
Portland, Ore.
---
I am disappointed that NCR has given free rein to one of its letter writers to chastise NCR for being biased in its reporting about Israel. It's not that Barbara Schlotfeldt (NCR, Aug. 25) isn't entitled to express her criticism of NCR's purported failure at fair journalism regarding Israel. It is simply that Ms. Schlotfeldt offers no foundation or reference to any article for her accusation. She offers no facts. In my extensive reading and study of this topic, I consistently come up against similar supporters of Israel who simply do not want to deal with facts but with ad hominem attacks against anyone who dares to criticize Israel . This is exactly what Ms. Schlotfeldt has done in her letter by suggesting that NCR has been "Jew-bashing" in its reporting.
She needs to be reminded that fully 20 percent of Israeli citizens are not Jewish, and of the remaining 80 percent who are, most freely criticize their country far more often and harshly than any press, Gentile or Jewish, in America does. She need only read the Israeli news source, Haaretz, on any given day. As a reader of NCR for the past 35 years, I can say that NCR has done a marvelous job of representing both sides, giving column space to representatives of Jewish and Israeli organizations to express their viewpoints. NCR is one of the few papers that is willing to step forward and challenge unjust Israeli policies. It is to be commended and not condemned as Ms. Schlotfeldt has done with her tired and overused charge of anti-Semitism against anyone calling Israel to account.
MICHAEL HUGO
Mundelein, Ill.
---
The Editor's Note (NCR, Aug. 11) affirming John Allen's thesis that with Catholics increasing in the southern tier of developing countries, the focus of conversation within the church is shifting away from internal concerns to more global concerns troubled me. I'm concerned that such a characterization might foster a sense that the internal justice issues of the church are separate and disconnected from global issues, rather than affirming and naming the connections. Underlying the issues of married priests and women's ordination are specific attitudes and beliefs about sexuality, women and power. Similar beliefs are reflected in attitudes toward HIV/AIDS, trafficking of women, exploitation of children, and war. Issues regarding liturgical translations and rubrics reflect concern about the philosophical and theological constructs that create the way we view reality. Such concerns parallel our vigilance to monitor how our political leaders choose to describe "terrorists," "enemy," "self-defense," "globalization" and so on. I encourage NCR to be in the forefront of making the connections so that we can see that all of us are part of the whole web of life working together for the future of our church and the future of our planet.
(Sr.) NANCY SYLVESTER, IHM
Detroit
---
I was disappointed to see Robert Royal's article "Defeating evildoers is our only option" (NCR, Aug. 11) taking up space. Is there some point/counterpoint reason to allow such a moral mishmash opposite the well-reasoned article by Steven Zunes, "Congressional resolution supporting Israeli attacks hurts U.S. credibility"? The pro-war encouragement and "Israel-never-wrong" proponents can always be found in ultraconservative publications or with the American Israel Public Affairs Committee. Please choose only pro-Gospel values articles for NCR. Your column space is too precious to squander.
RON DALE
Warren, Mich.
---
I am struggling to understand why Connie Statz still feels "rejected" (NCR, Aug. 11) because some 13 years ago a priest in her church advised her that her AIDS diagnosis prevented her from drinking wine at Communion. I assume that she wanted to drink from the common cup. It appears that the priest was acting to protect other members of his church. Have we accepted "victimization" to the point where our ego needs jeopardize the safety of others? I hope not!
T.A. LEHMKUHL
La Selva Beach, Calif.
---
How well George Bryjak (NCR, Aug. 11) wrote of the turmoil I also feel as a beneficiary of a privileged life who now lives a retirement dream come true. My "hard work" was as a wife, parent and a career volunteer in church and civic capacities. Except for a mission trip to Guatemala, my traveling in and learning about the world's underprivileged comes through various media and Catholic social teaching. I try to soothe my prosperity guilt by supporting a variety of social justice organizations, continued volunteering and writing letters to my government representatives. When I've tried to explain my personal unease and guilt, friends try to dissuade me with words to the effect that I can be just as effective in the circle of my friends and intimates. At this later stage in my life, I still enjoy the capacity to ponder and I try hard to live by the precept Walter Burghardt wrote of in his essay published in the July 14 NCR: "Live this day." And hope, too, that my exit is not disgraceful.
BARBARA HUBER
Mattawan, Mich.
---
Since many of us have worked hard to convince Congress that legislating for the common good is a moral imperative, it is heartening to see a rising interest in the concept. Joe Feuerherd's article on the common good (NCR, Aug. 25) raises important cautions, however. Translating a term like the common good into political capital can be tricky, especially when opposing ideologies seek to claim it as their own. Conservatives have, of late, been more skillful in claiming positive sounding terms such as "values," "pro-family" and "pro-life" than groups on the left. Now, it seems, some liberal politicians may be stumbling as they seek to present the common good as a progressive value even as conservatives mischaracterize its meaning.
We desperately need politicians on all sides who are willing to bridge their partisan differences and assume responsibility for the well-being of all of us. Quite simply, we can no longer afford to be a nation with a growing divide between rich and poor where tens of millions of people lack access to health care and decent housing. Care for the common good calls us beyond selfishness to community, human dignity and the valuing of all creation. Voters need to make sure that Congress hears that call.
STEPHANIE NEIDRINGHAUS
Washington
Stephanie Neidringhaus is communications coordinator for Network, a Catholic social justice lobby.
---
Canon 1024 of the Catholic church, which states, "only a baptized male validly receives sacred ordination," is merely a man-made rule that codifies a long tradition of male dominance that has existed since long before the organization of the Catholic church.
The continued defense of this rule most often heard is that Jesus appointed only men as his 12 apostles. This defense displays a woeful ignorance of the New Testament, which speaks of the "Twelve" who were selected by Jesus from his disciples, not apostles.
Scripture scholars now understand that this selection of the Twelve was meant to symbolize the 12 sons of Jacob, the founders of the 12 tribes of Israel, and that they were supposed to act as the judges of the 12 tribes in the soon-to-come last days (Matthew 19:28).
As anyone can see by even a cursory look at Paul's letters or at Luke's Acts of the Apostles, a fair number of the apostles were women. We don't know much about the development of the liturgy of the Eucharist except that it took place mainly in private homes. It would be hard to imagine that women would not have organized at least some of these celebrations of the Eucharist. It was not until the new religion had become better known to the general public that the role of women had to be suppressed in order to maintain the dominant social status of males.
CHARLES McMAHON
Lafayette Hill, Pa.
---
Letters to the editor should be limited to 250 words and preferably typed. If a letter refers to a previous issue of NCR, please give us that issue's date. We reserve the right to edit all letters. Letters, National Catholic Reporter, PO Box 411009, Kansas City, MO 64141-1009. Fax: (816) 968-2280. E-mail: letters@natcath.org (When sending a letter via e-mail, please indicate "NCR Letters" in the subject line. We've installed a new spam filter on our letters e-mail account. If it's not clear to us that yours is a letter, we might delete it.) Please be sure to include your street address, city, state, zip and daytime telephone number
National Catholic Reporter, September 8, 2006