Issue Date: April 4, 2008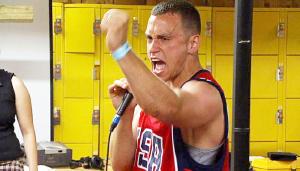 -- © HBO
Justin Fatica in a shot from the HBO documentary "Hard as Nails"
Hammering kids for Christ
Controversial Catholic youth minister Justin Fatica is tough and bruised, but softhearted, and few dispute that he has the knack for reaching troubled kids
By GREG RUEHLMANN
Burlington, Vt.
The children who show up for Kids ALIVE in Burlington's Old North End number between 40 and 50, and most range in age from about 8 to 16. Many live nearby, in poverty. On a grey, snowy Saturday morning in February, they trudge in from the cold, filling a small, blue-and-white room in an old building on Elmwood Avenue, and shed their coats, hats and snow boots. The younger kids are shepherded to an adjacent playroom; the rest linger and chatter until a pastor, who oversees the weekly, nondenominational outreach program, leads them in some opening music. They sing: "Jesus loves me, this I know ..." The crowd is larger than usual today, and the reason for this is a young man named Justin Fatica, who stands by the door, bellowing in a baritone that nearly drowns out the rest of the room. Only 29, Fatica has already staked a claim as the most intensely passionate -- and most intensely debated -- Catholic youth minister in America. As founder of the national Hard as Nails movement, and leader of the Syracuse, N.Y., diocese's Mega Youth Ministry, Fatica is the face of two successful ministry programs in the Northeast. Last December his life and work became the subject of a highly publicized HBO documentary (also called "Hard as Nails").
He's the one the kids have turned out to see. He takes the front of the room and begins his talk.
Justin Fatica, preaching in front of a group of youths, is a sight to behold. Compact and muscular with a square jaw, wide eyes and cropped dark hair, he jumps, dances, stomps and crouches. His voice vacillates between croaky, Jersey-tinged street talk and a sharp, excited bark. His eyes blaze and the tendons in his neck bulge, even when he's calm. For emphasis, he throws his right arm outwards, cocking his index finger in an exaggerated point, or flicking his wrist as if he were swatting something -- Satan, maybe -- away. Frequently he is overcome by tears and stops to compose himself, only to launch into another yell.
With a few too-cool exceptions, the kids are enthralled. Several of them saw Fatica during his first visit here in 2007 and took his message back home to their broken families. They seem to appreciate that Fatica talks with them the way he would with an older audience. "I keep it real," he tells them. (A Kids ALIVE volunteer informs me that some of these children have been exposed to all kinds of abuse. They can handle the straight talk.)
The kids laugh with Fatica's jokes, and some of the teen girls cry when, choking up himself, he gets to his main point: "I'm here to tell you you're not worthless. You're not those things you think you are. You are great, and you are amazing, and you have a God who loves you because of who you are."
Since the "Hard as Nails" film premiered, Fatica has been praised for his tireless crusade to comfort and challenge the church's hard-to-reach adolescents, and criticized from another corner for his "extreme" tactics. Both responses illustrate the explosion in notoriety that 2008 has brought to this married father of two, and his unconventional spin on the message of unconditional love.
A small gathering in Burlington, Vt., would seem an unlikely destination for someone in Fatica's demand. But as it turns out, this small city holds an outsized importance for a man whose zeal for one alienated group has in some ways alienated him from elements of his own church.
'Just a jerky kid'
Even as a child, Fatica says, he was brash and outspoken; he didn't hitch his demeanor to a higher calling until a teenage conversion experience. "I was just a jerky kid," Fatica remembers of his years growing up affluent in Erie, Pa. "I came from an amazing family, but I didn't focus on that. I was bored, trying to find something to excite me."
Fr. Larry Richards, a diocesan priest in Erie and a national speaker, taught Fatica in high school. "He was a kid I just couldn't stand," Richards recalls with a laugh. "Obnoxious and cocky. I had him on my prayer list because I prayed for my enemies. Since then, I'd say he's changed who he works for, but he hasn't changed his personality."
Richards encouraged Fatica to attend a weekend retreat when he was 17. At the time, he was tangled in disciplinary problems, his grades were terrible and he feared he had gotten a girl pregnant.
"My parents would tell you this," Fatica says. "Friday I go to this retreat, I'm a jerk. I didn't care about what I said or how I said it. Sunday, I was still a jerk, but a jerk who cared. It wasn't gradual like with most people. I came back and I was changed for life."
Richards says the transformation was immediate. "He had a great hunger to bring others to God and dragged people to daily Mass. We started a weekly prayer group of about 25 students. One day, of those 25, five told me, 'I came to know Jesus Christ through Justin Fatica.' "
When Fatica left for college at Seton Hall in New Jersey, he studied education, but ministry remained his passion. "There was a campus ministry office, but most of it was talking in a circle. That's fine for me: I have a contemplative prayer life, I was up every morning at 7 for Mass. But some kids need excitement. My struggle was: What's out there for them?"
Fatica started doing outreach at Seton Hall and at nearby Paramus Catholic High School, where he worked as a campus minister both as an undergrad and after graduation.
In 2002, Fatica founded a new ministry and christened it Hard as Nails. "At first," he explains, "it was just me speaking at events, really. But the vision was one day to have tens, hundreds, thousands of ministers on board." The program blossomed into a sizable nonprofit, beyond its New Jersey roots, with a board of directors, eight speakers, and a slew of volunteers. Chapters sprouted up in Washington, St. Louis and even on the islands of Barbados and St. Kitts. The growth continued, as did Fatica's involvement, even after he moved with his wife, Mary, to Syracuse in 2004, where she was raised and where Fatica assumed leadership of Mega Youth Ministry, a joint diocesan project among five area parishes.
More than a name, "Hard as Nails," evoking Christ's crucifixion, is a tough, terse creed -- a belief in more modern, "in-your-face" preaching to capture the ADHD-addled imagination of America's teenagers. "We try to talk to kids about Jesus the way MTV talks to them," Fatica says. "If I'm not more exciting than the iPod, they'll tune me out."
At events, Fatica frequently wears a basketball jersey, dances to Christian hip-hop, and walks upside-down on his hands. He prods teens with tough questions, sometimes urging them to stand if they've felt worthless or suicidal, or if they've been involved with cutting -- a form of self-mutilation prevalent among today's adolescents. Then he turns to those who remain seated. "You're afraid!" he roars, admonishing them to love their embattled peers. "You're afraid!"
"Our mission is to light a fire in the youth culture," asserts Tim Hanley, 24, who serves as the ministry's executive director in Newark. (Fatica remains, in many ways, its spiritual leader.) "We talk about loving God with an extreme love, and we do that by speaking at parishes, high schools, rallies, retreats." Hanley adds that they aim to build communities for teens, training them to continue the work after his team departs.
Though Hard as Nails is professedly Catholic, its contemporary modes of witness have attracted a large, ecumenical array of young Christians. "We're a Catholic group that happens to have a platform that appeals to evangelical circles as well," says Hanley. And though Fatica's personal devotion includes practices such as eucharistic adoration, he's pleased that the program attracts teens in a way that transcends theological liberalism or conservatism. "When we stop labeling and start loving, life will be a lot less complicated," he says.
Strengths and limitations
If anything, Fatica is a man who recognizes his strengths and his limitations. He knows his spirit galvanizes and encourages youths, but he's fast to point out he's a preacher, not a theologian. "I'm a moron," he chuckles. "I got an 820 on the SAT. Nobody accuses me of being an intellectual." He considers himself the "shock treatment" who comes in before Hanley and company catechize the teens and develop their community.
Fatica's candor and charisma made him a documentarian's dream, says filmmaker David Holbrooke, whose crew followed the youth minister both at home and on evangelization trips across America and the Caribbean for nearly 16 months beginning in 2005. The resulting documentary ran at the 2007 Tribeca Film Festival, and its HBO debut in December was covered by Newsweek, The New York Times and ABC's "Nightline."
"I honestly didn't even notice the cameras much," Fatica says of the filming. "I live my life as an open book. I can't live with myself if I'm not real, and Holbrooke liked that."
Criticism hasn't been lacking since HBO introduced Fatica to the world. The documentary includes several scenes that feature Fatica hugging and patting teens on the back, but it doesn't shy away from the strong reactions that Fatica provokes. The depiction of some of Fatica's more controversial practices have prompted some journalists and bloggers to paint him as a religious fanatic with a penchant for pro wrestling theatrics. In one scene, his face nearly purple, Fatica screams at a young woman, "If you sin, you better be willing to bash Jesus' face in!" In another, he lets a colleague strike him in the back with a folding chair (a symbol, he says, of Christ's sacrificial love). Later, an overweight team member tells a crowd about her struggle for acceptance, and Fatica shouts that it's "because she's fat." (He calls this a dramatic sketch, to which the team member gave her blessing.)
Fatica doesn't deny that some of his tactics are extreme. But he claims that they speak to disaffected young people, and are less prominent in his ministry than the film portrays. "You have to do the math. They had 120 hours of footage for a 78-minute film. They took the wildest stuff for entertainment."
The response from within his own church has distressed Fatica far more, however, than anything from the media. He knows that many Catholics, particularly traditionalists, view him with suspicion. According to Fatica and others, almost all of the positive response to the film has come from Protestant circles. "Does it hurt, not to get that encouragement from my own church?" Fatica asks. "Yeah, it hurts a lot."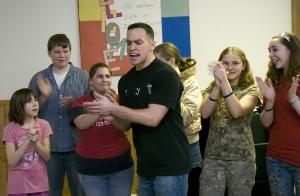 -- Allison Redich
Justin Fatica preaches to an appreciative crowd at the Kids ALIVE program in Burlington, Vt., Feb. 16.
Fr. Richards says he heard from some concerned priests after he appeared in the "Hard as Nails" documentary. "They said, 'This guy's a nut. What are you doing?' And to them I say: What are you doing to reach these teens? Sure, Justin would kill an older crowd, but he's touching people that we aren't dealing with."
Filmmaker Holbrooke defends Fatica, saying he sees a need for programs like it, while admitting he would have reservations about allowing his own children to participate. "What I learned watching Justin was how many kids are hurting out there," Holbrooke says. "He gives them comfort in ways they hadn't had before from their schools, their families or often from the church, quite honestly. They've been preached at by priests who sometimes don't get them, and in walks this 29-year-old who understands their pain."
Paul Houlis, 25, is a third-year seminarian in the Newark diocese. Like Tim Hanley, he was a student at Paramus Catholic during Fatica's years at the school. "[Justin] is intense and never meant to be for everyone," Houlis says. "He goes after the kids who are forced to be there, who just don't care and think they're too cool." Houlis counts himself as one of the troubled souls who responded to the message. At age 14, he landed in rehab for drug addiction; Houlis largely credits his friendship with Fatica for the faith and sobriety he enjoys today.
When critics attack Justin's methods, Houlis cites Matthew's Gospel. "By their fruits you will know them," he says. "I've seen the fruit from Justin's style. I am the fruit from it."
Preparation needed
In November 2005, the Burlington diocese invited Fatica and Hard as Nails to undertake a traveling tour of parishes in Vermont. (The previous year, his edgy message impressed diocesan leadership, and they were eager to bring him back.) With a van full of young event assistants, Fatica crisscrossed the diocese -- which encompasses the entire state -- and orchestrated a series of "evangelization nights."
"He really made a huge impact on a lot of kids," recalls Rob Szpila, the director of youth ministry for the diocese. "It was the most important thing, some kids said, that they had experienced of the church -- ever."
On the tour, Fatica contacted a teacher at South Burlington's Catholic high school, Rice Memorial, about scheduling a visit. It was quickly arranged for Fatica to spend a day speaking to the school's religion classes. In their haste, neither Fatica nor Rice's religion department alerted the administration, or the students' families, to Hard as Nails' extreme techniques.
Szpila says the event was poorly planned. "Without pointing fingers, the right kind of preparation wasn't done. Not even the guidance counselors knew about it. Some kids went home crying, and lots of parents were upset."
School officials asked Fatica to suspend his presentation for the day. As Fatica's team departed, Szpila says that complaints began trickling into the office of Bishop Salvatore Matano from Rice parents. Within the week, Matano had sent a message, through Szpila, to Hard as Nails, asking Fatica to desist from preaching at any parish in Vermont until further notice.
"There were a lot of kids who shared something serious," says Fatica, sounding both contrite and hurt, "and they had to go to guidance. I thought personally it was an amazing experience. But I messed up by not talking to the principal, and I'll never do that again."
More than two years later the diocese has yet to welcome him back, and Justin Fatica finds himself on the outside looking in -- a man with an HBO movie, a book deal with Random House, and national name recognition, preaching his message in a rundown building in Burlington, telling a small, tearful, nondenominational swath of the city's troubled youths that they are amazing.
"I come back here because these kids are worth that much," Fatica says. "There are hundreds of bookings we could do elsewhere, but until there's not one church that will have me, I'll keep coming. And it's good for my spirit to remember I make mistakes."
It changed her life
The morning after talking at Kids ALIVE, Fatica arrives at Community Bible Church on Williston Avenue for his second engagement in Burlington. The church's marquee advertises the event, and cars jam the parking lot, where the snow has been shoveled out of the way into mountainous piles.
In the foyer two Hard as Nails volunteers, Kim Kelly and Sean Campbell, sell the ministry's merchandise. One shirt sports a crown of thorns and boxing gloves; another lists the tell-tale signs of a H.A.N. disciple, like "I make my mess into a message." Kelly, 23, traveled here from her native New Hampshire to assist Fatica and share her own story. A rape victim at 13, she struggled with drugs and drinking through her teen years like Paul Houlis. By 19, Kelly was a single mother. She says Hard as Nails completely changed her life.
"Justin looks inside, and loves everybody no matter what they've done," Kelly says. "He took the time to care about me when nobody else did. Through him I got on track with God and learned that as I change, I can change other people's lives." That knowledge, Kelly says, has also changed her as a mother. "I learned to be faithful, and to lead my son in the right direction. Now that I'm going to church again, I take him with me."
When it's time to speak, Fatica takes the stage to address the Sunday service in a T-shirt, blazer and faded blue jeans. He bounds from side to side as he skips between talk of his conversion, video clips, and reading a few of the nearly 1,200 e-mails he received from people who were touched by the documentary film.
"[Fatica] seems to be speaking almost in the spirit of an Old Testament prophet," says Tom Legere, a Philadelphia-based fellow with the American Association of Pastoral Counselors, who studies the intersection between spirituality and psychology. Since watching the HBO film, Legere has followed Fatica's story with interest. "He's not necessarily trying to be logical or reasonable. He's trying to get people's attention in a way that sometimes challenges them. With teens, he's doing it by tapping into their idealism, so it's naturally attractive to them."
Even in front of a largely adult audience, Fatica's speech inevitably returns to that group that is closest to his heart. A concern for teenagers fastens together his disjointed talking points. "There are kids out there who cut their whole body because of the pain they live with," he tells the congregation. "I met some of them yesterday. They need us to worry about them and their suffering." His eyes well up, as they do when he mentions the beating he has taken from some circles because of the documentary.
"I've cried more this year than any time in my life," Fatica says about the HBO backlash. "But it's made me a better minister, because now I know what it's like to be those kids who say they're hated." And despite the polarized response, the experience has opened up new doors for Fatica. His first book will hit stores nationwide in January 2009, a sort of spiritual biography of the Hard as Nails movement. He now has an entertainment agent fielding scores of proposals for TV shows. "My calling," he says, "is to bring the Gospel to the world, not just Catholics or evangelicals" he says, and because of the film, that goal is in sight.
But even when Fatica says that word -- "Catholics" -- his voice catches slightly, betraying his longing for greater acceptance within the faith community he calls home. However much Fatica wears it on his sleeve, that desire may reveal a certain naivety. Historically, the church has viewed any new surfacing of spirit, any deviation from predetermined norms, with cautious scrutiny, particularly a spirit that roams as freely as Fatica's.
"You'll never find anyone more faithful to the Catholic church than Justin Fatica," says his friend, Fr. Richards. "But often the one you love the most hurts you the most, and the one hurting Justin the most is the church."
A frequent theme of Fatica's preaching is God as the loving parent that many of his followers don't find at home. "You have a God who is proud of you," he likes to say. When he concludes his speech at Community Bible Church, he calls the congregation forward. They flood the front of the stage to hug and pray over each other. Justin Fatica rarely resembles the teens he preaches to as much as he does at this moment in Burlington, where he waits to be welcomed again. His voice grows softer and seems uncommonly vulnerable as he encourages everyone to embrace. It is easy to picture him dwelling at this moment on his own hope for a sign of approval, for some indication that one day he might be wrapped up in the arms of his own Mother Church.
Greg Ruehlmann, 26, writes from Augusta, Ga.
ALSO ON BUSTEDHALO.COM
This article was done in partnership with -- and also appears on -- BustedHalo.com, an online magazine run by the Paulist Fathers for spiritual seekers in their 20s and 30s. See BustedHalo for an exclusive sidebar on the documentary, which will air again on HBO April 22 at 3:20 a.m. EST.
National Catholic Reporter, April 4, 2008