Issue Date: August 29, 2003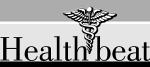 In housing, humble can mean health risk
Farm workers' trailer parks often unsafe, but alternatives are scarce
HEALTH AND HOUSING
FIRST IN A THREE-PART SERIES
Part One: Rural poor make a home in California's grape growing desert. Aug. 29
By ARTHUR JONES
Mecca and the Coachella Valley, Calif.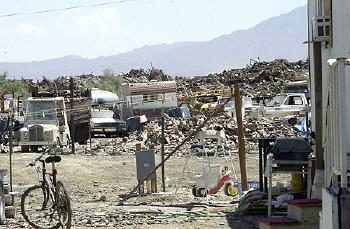 Blistering hot conditions in the summertime keep most residents indoors at the "Duroville" trailer community. The trailer park borders a salvage yard owned by Harvey Duro.
-- Jay Calderon
In Mecca, Calif., farm workers found a place so poor they could afford to live there. It is a place that brings together two aspects of the U.S. health care crisis: the working poor seeking physical and mental health care, and the contradictions inherent in the healthy dignity of owning a humble place of one's own -- yet so humble as to be a health risk.
In a nutshell: "Housing is a health issue." So said John Mealy, shaded from the burning desert sun by a tiled overhang outside Clinicas de Salud del Pueblo, part of the Nueva Vista Apartments in Mecca. So say many others nationwide, groups as diverse as Mercy Housing, the U.S. Centers for Disease Control, and the U.S. Department of Housing and Urban Development.
Mealy is executive director of the Coachella Valley Housing Coalition. The coalition helped fund and construct the Nueva Vista complex and clinic setting.
Housing may not make it alongside diet, exercise and cholesterol levels on most lists of health factors, but "housing's a big factor in health," said medical director Dr. Rudy Alegria, inside the clinic. Poor housing translates directly into poor health because it "reflects the general financial situation, so you're going to have substandard sanitary conditions -- old houses, problems with doubtful [drinking] water, diarrhea, elevated lead levels." But, he said, there's far more than that.
Note from the Editors:


This is a premium content page.



During the initial launch of Health Beat coverage, NCR will make these articles available for all Web site visitors.
Not usually factored in, he continued, is the ill health associated with family stress, particularly "the mental stress from overcrowding, from doubling up." This is on top of the constant financial stress simply from being poor. Parents, said Alegria, are besieged by questions such as, "How can I make the rent? Where will we go if we're thrown out?"
And in Mecca, as the story unfolds, being thrown out of parqueaderos, low- rent trailer camps -- or overcrowded housing -- has been a constant threat for many families during the past couple of years. And it continues.
Los Angeles-born clinic director Alegria, 11 years in his job, said, "I have to be half medical doctor, half psychiatrist -- because people haven't enough money to go for counseling."
Riverside County, Calif. is primarily a desert county so huge it runs from the Los Angeles-Orange County lines to the Arizona border 200-miles away, one of those vast stretches of mainly arid nothingness airline passengers gaze down on as their plane approaches the Los Angeles International Airport.
On its Western perimeter the county is not all poverty. Here are cities like watered, mansioned and millionaired Palm Springs. Not even an hour further east, there's Mecca, described by the housing coalition as "an unincorporated rural area with a large migrant farm worker population." It is the farm workers' own capital city of sorts in the desert.
For poverty this area ranks with the worst of the Mississippi Delta and the more depressed U.S. inner cities, even though the farm worker residents work hard at whatever jobs they can get.
Housing coalition director Mealy estimates that annual family income, with mother and father and all the kids over 16 working, is between $16,000 and $20,000 a year.
An adult farm worker, during two months or so following the harvest, and sleeping at the side of the picking fields on a sheet of cardboard or in the back of his pickup to save nightly rent money, might take home $8,000, said Emanuel Benitez, community worker with California Rural Legal Assistance, and a former farm worker himself.
Cheap trailers, cheap rents
But like other Americans, migrant farm workers do not want a life of permanent displacement. In the past three decades Mecca has become a mecca for settlement.
Hundreds and hundreds of families bought dilapidated old trailers, which they parked where they could. The trailers were "home," their permanent place to return to after following the harvest.
But the economics of life at the lowest end of the income scale requires cheap trailers and cheap rents. Mecca residents with a bit of land, many of them farm workers themselves, rented out corners of their modest plots as parqueaderos for a half dozen or more trailers.
| | |
| --- | --- |
| -- NCR photo | 'The feds don't appear to have any plans for these people either.' -- Sr. Carol Nolan |
Providence Sr. Carol Nolan was NCR's guide in June as thousands of nonresident migrant farm workers arrived to join locals to pick the slightly delayed table grape harvest.
Nolan had been in the area only nine months herself. She had arrived in California from Taiwan -- by way of her congregation's motherhouse in St. Mary-of-the-Woods, Ind. -- in September 2002, with not much more than her violin. (She doesn't get time to tune or play it, but she does keep its humidifier filled to combat the desert dryness.)
The Sisters of Providence had considered a Mexico presence, but that didn't pan out. Nolan focused on rural California and asked at the San Bernardino diocese where the most underserved area was. Down she came to the Coachella Valley.
Her idea was to spend a year getting to meet the people in order to understand how they view their lives, and to see if she and the Sisters of Providence could play a minor role by accompanying them. A couple now her friends, Jose and Gloria Pered, learning she had taught high school and college level music all her life, suggested she also work to introduce local elementary school-age children to music in an after-hours program.
Jose tactfully suggested guitar rather than violin, and at 70, Nolan is taking guitar lessons. Her California teacher's license has been approved, she's heard, though currently no one can find the paperwork.
Nolan encapsulates the Coachella Valley this way: "Many landless people, mostly undocumented, live at various standards -- relatively well in new trailers in permitted (legal and licensed) parks; relatively well in nice but not yet permitted parks; less well in permitted parks in old trailers; poorly, in larger parks, permitted and unpermitted; poorly, in garages and so on, particularly in Mecca."
The crisis worsened when attempts to deal with unlicensed parqueaderos provoked the law of unintended consequences.
At many small parqueaderos, services such as sewage disposal, reliable water supplies, and garbage disposal often were rudimentary or nonexistent.
Concerned county officials stepped in. Riverside County has not been backward in trying to get rural affordable housing. Fifty percent of all Coachella Valley Housing Coalition projects have some county involvement.
Hundreds of sites
As the county moved into action against the unlicensed parqueaderos, the impact was not anticipated. First, it turned out there were not dozens of illegal trailers parks, but hundreds of sites housing a total of several thousand trailers. (Think 500 hundred parks each with 10 trailers containing five people, and that quickly translates into an unincorporated city of at least 5,000 trailer occupants. Probably a low estimate.)
When officials closed unsafe or unpermitted sites, families had nowhere to park their trailers.
Nolan said some farm workers panicked, sold their trailers for a pittance and moved into rented overcrowded housing and apartments, or into garages, in central Mecca.
Starting in early 2001, however, hundreds of other farm workers lugged their dilapidated trailers to "Duroville," on Indian land, therefore outside state and county jurisdiction. "Duroville" was nicknamed for its founder, Harvey Duro, a member of the Torres-Martinez Band of Cahuilla Indians.
Meanwhile, the state and county inaugurated a low-cost loan program to provide monies so parqueadero owners like Nolan's friends, the Pereds, could bring their sites up to code. But there is much paperwork and much suspicion by plot owners who fear the built-in governmental controls.
Said Nolan, "Owners of small tracts are afraid of losing their land after owning it for many years. Some grow dates, oranges, have goats on the land, plus their work in the [harvest] fields. All had [trailer] tenants. Many were substandard, none had permits, but the small owners have already lost a substantial income source. They don't trust some of the terms of the county program."
Meanwhile, the resultant "Duroville" site, in the minds of the federal Environmental Protection Agency, the Bureau of Indian Affairs, and area activists and advocates, was a burgeoning rural slum. In March, the bureau ordered Duro to cease and desist operations.
Mobile health clinic day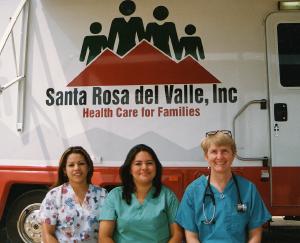 From left: receptionist Norma Martinez, medical assistant Linda Tantu and nurse practitioner Mary Barth at clinic day outside "Duroville"
-- NCR Photo/A. Jones
When NCR visited, it was Santa Rosa de la Valle mobile health clinic day outside the entrance to the Duroville compound. Nurse practitioner Mary Barth, receptionist Norma Martinez and medical assistant Linda Tantu were handling the day's schedule of moms and babies, and all manner of people seeking care.
Subsequently NCR talked to spokespersons at the Bureau of Indian Affairs and federal EPA, which jointly called in the U.S. attorney general's office to handle their case against Duroville.
The bureau spokesperson said that while a site being on Indian land complicated the issues, the fact it was on Indian land did not provide immunity from federal regulation.
The EPA said concerns about the Duroville site, in addition to drinking water standards and sewage disposal not being up to standard, included the fact it abutted a toxic waste dump where waste was burned, a dump with a huge lake of sewage. And the sewage was leaking.
A federal judge issued a temporary restraining order so that all sides could organize their cases.
As late as mid-July Duro told NCR that Duroville's future was, "all up in the air." He was guarded about the number of trailers now occupying Duroville, but suggested "about 250." He declined to have his photograph taken.
Initial August federal hearings on the dump and Duroville resulted in continuances to give facilities time to meet required standards.
Nolan said that same month, if Duroville closes, "the Feds don't appear to have any plans for these people either."
And once again complexity would confront confusion as hundreds of families are faced with nowhere to go.
This year, the housing coalition has opened its first trailer park, 106 slots with 60 manufactured homes already moved in. In light of "Duroville," said Mealy, the Department of Agriculture came up with $2 million to accommodate 48 families on the coalition site, and Myers hopes the coalition can find funds for a second park across the street.
What if Duroville closed? What about those scarcely roadworthy trailers that pack in scores of now frightened folk fearing further displacement of their collapsing aluminum boxes, boxes often with cardboard or plastic sheeting where windows used to be, inadequate electric wiring and the barest of cooking facilities?
Most, said Mealy, would "disappear into the illegal parks and the desert." And, for a little while, their health woes would disappear with them, until they worsened and the people found their way back to the clinics.
Arthur Jones is NCR editor at large. His e-mail address is arthurjones@comcast.net
The Moral Context
"Who is my neighbor?" Sister of Providence Carol Nolan wonders as she tags along to meetings to learn from the Coachella Valley's residents about their needs.
She sees racism as part of it. She quotes from the movie "Pocahontas": "You think the only people who are people are the people who look and think like you. You think you own whatever land you are on."
Mused Nolan, "I think the Anglos' experience of the United States is much different from the non-Anglos'. Anglos live lives of unconscious privilege."
"The gospel mandate as Jesus states it is you shall love your neighbor as yourself, and that," she said, "surrounds all the division and inequality. It gives context to the entirety, to the need, and to the way ahead. Those who are not poor have a moral obligation to take care of the poor. And I relate that to what I have been seeing and discovering."
-- Arthur Jones
National Catholic Reporter, August 29, 2003