Issue Date: September 12, 2003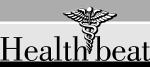 Catholic health takes on elderly housing
Wellness, autonomy focus of Missouri, Pennsylvania projects
HEALTH AND HOUSING
PART TWO OF A THREE-PART SERIES
Part Two: Catholic hospitals focus resources on housing nearby elderly. Sept. 12
By ARTHUR JONES
Orlando, Fla.
"My Dad is 79 and lives independently. I can't get him to move closer to me," said Mark Tozzio. "He may be sick some day and not able to care for himself, but he is not going to change until he absolutely has to -- and that's one of the big challenges we face in health care."
Tozzio, senior vice president for marketing and business development at St. John's Regional Medical Center in Joplin, Mo., mentioned his father to illustrate the problems being tackled by Catholic hospitals' concerned and concerted approach to housing for the elderly. St. John's is currently constructing a 66-unit apartment building on land donated by the hospital.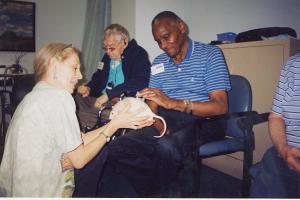 LIFE participants Clyde Jones (right) and Ernie Foreman meet an animal visitor with Majorie Shoemaker's traveling animal program.
-- LIFE St. Agnes Medical Center/Michelle Tiger
Tozzio and Emily Amerman tackled the topic of low-income housing for seniors at this summer's Catholic Health Assembly. In South Philadelphia, Emily Amerman is executive director at St. Agnes Medical Center's Living Independently for Elders (LIFE).
The 115-year-old St. Agnes Medical Center, operated by the Sisters of St. Francis of Philadelphia, is a 153-bed acute care teaching hospital. It is "very much a community hospital," Amerman said. "A third of the employees live in the neighborhood and the CEO was born in it." LIFE, which keeps elders independent in their homes, is about to move into the housing business, too.
Tozzio told NCR: "I've been talking about and working on the interrelationship between health and housing for eight years. And this is not assisted living -- it is independent living for lower-income seniors, a HUD grant."
The reason for Catholic hospitals to take aim at housing, he told the Catholic Health Assembly gathering in Orlando in June, is that "we're not just in the sickness business, but in the health and wellness business -- to keep people happy yet intervene before they have an acute episode."
That may be the goal, but the reality is hospitals do not necessarily have the expertise to plan, apply for and implement these programs. St. John's relied on Mercy Housing Midwest to create the plans for Mercy Village. Mercy Housing Midwest, founded in 1981 in Omaha, Neb., by the Sisters of Mercy and sponsored by 13 communities of Catholic women religious, develops new housing and rehabilitates existing structures.
Note from the Editors:


This is a premium content page.



During the initial launch of Health Beat coverage, NCR will make these articles available for all Web site visitors.
In the past two decades Mercy Housing nationwide has loaned more than $96 million to nonprofit developers subsequently leveraged into $800-plus million to finance 10,600 units of affordable housing in 22 states. Its real estate portfolio exceeds $1.3 billion and Mercy has built a strong reputation as a consultant on nonprofit housing development and in property management.
Funding of $5.4 million for Mercy Village in Joplin came from the U.S. Department of Housing and Urban Development.
St. John's trustees understood the growing reality facing both Catholic hospitals and the nation, Tozzio said: By 2050 about 22 percent of the U.S. population will be over 65, a high percentage over age 85-plus.
"St. John's already takes care of a disproportionate share of Medicare population patients," said Tozzio, "about 65 percent of our population, compared to about 36 percent for the average hospital in Missouri. Our relationship really is with the elderly population in a rapidly aging region: 25 percent over 65."
The expensive part of the problem is that people "wait until they have a disastrous event," he said. "They come with the heart attack, for repairs, rehab, instead of a more of a preventive approach."
St. John's, a member of the Catholic Health Initiatives network, is a regional medical center complex that covers 22 counties in Kansas, Oklahoma, Arkansas and Missouri.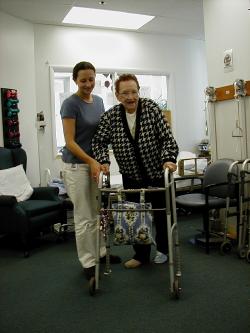 Physical therapist Jennifer Shaw assists Helen Portella at St. Agnes LIFE Day Health Center.
-- LIFE St. Agnes Medical Center/Michelle Tiger
There is housing -- expensive housing -- for seniors with $30,000-$40,000 annual incomes, said Tozzio, but none for the more typical senior living on $10,000-$15,000. Their only alternatives are to remain in their own home or move to an ordinary apartment. Nationwide more than a half-million seniors are spending more than half of their incomes on rent.
In Joplin, ground was broken for Mercy Village this month for the 66 units, with a planned move-in date of next fall. The seniors, all over 62 and living on less than $15,000 annually, will move into apartments on four wooded acres. "The senior housing is the most beautiful part of campus. Park-like, with trees," Tozzio said. And it will be at a cost they can afford, not to exceed a third of their income.
The medical center sits on 120 acres, though not all of it can be developed. The area is riddled with shafts from coal, lead and zinc mines. Residents will be a stone's throw away from medical facilities, and they will have their own "therapeutic healing garden" (See related story).
Housing, insisted Tozzio, is "a critical part of the continuum of health care."
In Philadelphia, Amerman said that St. Agnes Medical Center has a "decidedly geriatric focus" as it applies its "core values of reverence for each person" to building community. Nearly 74 percent of the people served are over 65. The LIFE program's outreach includes transportation, home health services, a wellness women's center and a skilled nursing facility in a city that has lost 50 percent of its population: Philadelphia is now down to 1 million people.
"A third of the people are at the poverty level," she said. There are a quarter-million older adults. The housing stock is old and rundown, with one bathroom per unit, and usually on the second floor -- "not conducive to those with a disability," said Amerman, noting that 42 percent of Philadelphia's elderly have a disability.
The LIFE clientele average age is 80, mostly female, with an average of eight medical conditions, many chronic. Congestive heart failure, coronary artery disease, hypertension, diabetes, Parkinson's and respiratory ailments are typical, she said. Further, 80 percent of the clientele have some level of cognitive impairment, they take nine medications on average, and most need assistance with dressing, grooming, feeding, bathing and using the toilet.
Amerman explained that all these factors are now coming together under the Franciscan Health System parent organization's idea of combining the services while partnering with new housing that promotes independence and autonomy.
"It keeps people in their homes, where they want to be," she said, "while improving their quality of life and health and death. It is working with housing as another alternative to keep people out of the hospital."
Currently, she said, "because we do not have option of service-enriched housing, the team of geriatricians, nurses, dieticians and social workers is often faced with having to think about nursing home placement.
"A lot of Philadelphia housing we encounter is beyond repair. These are houses that will be boarded up when these people move out," Amerman said. Plus, "sometimes because of the physical or social environment, it isn't safe for the care worker to go in -- there are weapons, drug-addicted adult children. Many reasons to relocate people."
Amerman also explodes a prevailing myth.
"The old notion that at some point every frail person will need a nursing home, and that's the end of the continuum where we're all going to end up, is really passé," she said. "A cognitively intact person, no matter their needs, can live alone if the right kind of services are available. So we have every reason to develop housing. We believe half the people in nursing homes today could live independently if service-enriched housing was available," she said.
Arthur Jones is NCR editor at large. His e-mail address is arthurjones@comcast.net.
The Moral Context
The holistic concept of health care insists there's more than one element to healing.

Sr. Corita Holmes
Sr. Corita Holmes, who has been a Mercy sister for 65 years, wants to do it with flowers. She grew up surrounded by them. Her mother loved gardens.
More than that, her mother, who raised eight children and ran a successful company, has made it possible. "The company had a lot of money," said Holmes, who has been chaplain at St. John's Medical Center in Joplin, Mo., for more than two decades.
"I have a vow of poverty, but I can use the money for the Clara Kingham Wilver Holmes Memorial Garden."
Holmes wants the elderly to be surrounded by flowers in their own "therapeutic garden" as part of the proposed Mercy Village at St. John's.
"It will be a healing garden," she said, explaining her own notion of creation spirituality, with walkways, benches, flower beds and herb gardens.
"There is a need for serenity in our lives. I want the residents to be able to see God within this garden," she said, "to sit out there, watch flowers grow, or plant their own flowers or herbs, find peace and quiet, and a place for meditation."
Gardens are an annual form of new life, and that rings true with St. John's own mission "to nurture the healing ministry of the church by bringing new life, energy and viability in the 21st century."
In Philadelphia, there may not be a therapeutic garden, but the holistic concept is not lacking. The urban elderly under the wing of St. Agnes Medical Center are part of the medical center's mission "to provide quality, compassionate, holistic health care to meet the needs of the multicultural communities we serve … guided by the spirit of Jesus Christ."
-- Arthur Jones
National Catholic Reporter, September 12, 2003