Issue Date: December 19, 2003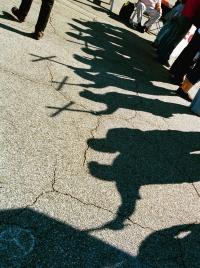 Protesters at the Western Hemisphere Institute for Security Cooperation in Ft. Benning, Ga., wait in lines 10-across to pay their respects to those they say were killed by graduates of the institute, formerly known as the School of the Americas.
-- Briana Brough
'Spirit at work' in crowd of 10,000
Annual SOA protest faces stepped-up Army response
By PATRICK O'NEILL
Columbus, Ga.
As Maryknoll Fr. Roy Bourgeois gave one of his final interviews of the weekend, the military police were already trying to take back Fort Benning from the approximately 10,000 protesters who gathered at the gates of the U.S. Army post here for the annual School of the Americas protest November 21-23.
"This is real painful. I don't know what to say," Bourgeois said Sunday afternoon as a group of about two dozen MPs destroyed a memorial left by the protesters near the post's main gate.
Hundreds of white wooden crosses, each with the name of a Latin American murder victim, were scooped up and tossed into dump trucks, along with posters and photos of the late Archbishop Oscar Romero and other Latin American martyrs. Also trashed were dozens of hand-lettered signs identifying religious orders and Jesuit schools that had sent representatives to this southwest Georgia town. They had come to commemorate the Nov. 16, 1989, murders of six Jesuit priests, their housekeeper and her daughter.
Graduates of the school, now known as the Western Hemisphere Institute for Security Cooperation, WHISC, were implicated in the murders. Opponents of the institute claim that scores of its graduates have committed human rights violations after their return to their native countries.
For 14 years, Bourgeois has led a mostly Catholic band of activists to Fort Benning's main gate in an attempt to close down the school. While Bourgeois reflected on the recent protest, the sound of cracking wood could be heard as a soldier jumped up and down on the load of crosses and placards. The memorial, which had been constructed by participants who processed to the fence over a three-hour period, was gone in a matter of minutes. "There's a contradiction," Bourgeois said. "Sacred symbols being picked off the fence and thrown in dump trucks. … We're going to take this and turn it into goodness. That's what I find we're doing here. We take hatred, we take violence and we're going to turn this into peace. I really believe that love is going to conquer evil. There's nothing they can do to stop the spirit, to stop God, to stop peace, to stop love. How are you going to kill love? It's not possible."
Despite the quick destruction of the memorial, Bourgeois believes SOA Watch, the group he founded to oppose the school, has become a significant irritant to the U.S. Army. One measure is the Army's responses this year that ranged from noisy attempts at disrupting the protests to harsher treatment of those who engaged in civil disobedience.
Gina DiNicolo, Army spokeswoman, countered the claims of the protesters. "Every course at WHISC includes a mandatory human rights block with a minimum of eight hours and a maximum of 40 hours," DiNicolo said in an interview with NCR. "Human rights training is woven into all the courses of instruction.
"If you look at a lot of -- I don't want to say a lot -- of these people who committed these crimes, they've attended various courses throughout their careers in many different places, so they're a product of their environments. So there's a lot more to it than the two- or three-week course or a six-week course [they took] at the now-closed School of the Americas," DiNicolo said.
Each year, thousands of people come to Fort Benning to join the resistance. For the past several years, those numbers have included hundreds from Jesuit high schools, colleges and universities. Although fewer activists risked arrest this year than in the past, the sheer numbers that came from all points of the United States and Canada were impressive. Organizers of the annual Ignatian Family Teach-In held events that included representatives from all 28 Jesuit colleges and universities, both Jesuit schools of theology, 17 Jesuit-run high schools and the Jesuit Volunteer Corps. Held over two days in a huge white tent pitched along the Chattahoochee River near downtown Columbus, the teach-in often resembled a tent revival. Scores of young activists were moved to tears as they heard the stories of the martyrs. Teach-in speakers included missionaries, former SOA Watch activists who have spent time in prison, Jesuit school faculty members and representatives of numerous groups working in Latin America.
Jesuit Fr. Fred Kammer, provincial superior of the New Orleans Province welcomed the group. Other speakers included Jesuit Fr. Charlie Currie, president of the Association of Jesuit Colleges and Universities; Sr. Helen Prejean, author and death penalty opponent; and Bourgeois. Attendance at the annual Mass said by Jesuits Saturday night was far too large for the 1,500-seat tent. At least 1,000 more people stood on the grass along three sides of the tent.
Jesuit Fr. Paul O'Brien, alumni chaplain at Indianapolis' Brebeuf Jesuit Preparatory School, was among six chaperones who accompanied 16 Brebeuf students to Fort Benning. O'Brien, who knew five of the six Jesuit martyr priests, said all Jesuit schools "have the basic philosophy of social justice," and coming to the Georgia protest is one way to drive home the point to students. "As Paul VI said, if you have faith, you have to prove it by working for justice, and on the other hand you can't have justice without faith," O'Brien said. "Both of them go together."
Her first protest
This was a first for Brebeuf senior Cara Caponi. On Sunday morning, as she stood among the large crowd gathered along Fort Benning Road near the post's main gate, she said her first-ever protest was "truly phenomenal." She said the teach-in, the Mass and the witness were collectively a life-changing experience for her. "Once you know, you can't not know," she said, "and so because I do know more information about this particular issue, I feel a responsibility that I have to go and do something with my life. I don't think I can just return back home and be a content American and just make all the money and have the perfect little family and house in the suburbs. I don't think I can go back and do that."
Her mother, Robyn Caponi, who came along as a chaperone, said being at the SOA protest was her first public demonstration since attending a Right to Life march about 20 years ago. The mother of three daughters said she was moved by the SOA witness. "I feel very much more called to some kind of action and a sense of responsibility," she said. "I've been keeping my eyes shut for too long."
Krissy Caponi, another of Robyn's daughters, is a Holy Cross associate who will be spending the next two years doing missionary work in Santiago, Chile. "[Krissy's] awakening, Cara's awakening drew me in," Robyn said. "I thought, 'I need to listen to these kids, and what they're learning, and I need to speak.' It was amazing." Robyn said the Mass was a "very powerful experience. The Gospel and Eucharist meant a whole lot more last night and that sense of taking Jesus in and then going out and meeting in communion with our brothers and sisters in South America, our brothers and sisters in Iraq, our brothers and sisters all over the world. I had such a sense of it last night."
Behind-the-scenes work to put together the Ignatian Family Teach-In began in March when key organizer Sarah Berger, a 21-year-old Boston College senior, sent out e-mails to get the ball rolling. Berger agreed to take over the organizing effort following the death last January of her uncle, Ignatian Family Teach-In founder and former SOA prisoner Bob Holstein. Berger said her uncle left no instruction manual for organizing the teach-in, and so she became "the main point person" on the conference calls that were held several times a week among organizers at Jesuit schools. Berger estimates that 1,700 Jesuit students attended this year's gathering.
Berger's group from Boston College had the most participants with 100 students. Berger, who first attended an SOA gathering in 1996 at her uncle's invitation, said just 14 Boston College students came to the SOA protest in her freshman year. The number of Boston College students coming to Georgia has increased each year since. Berger says she invites other students to come to what she calls a gathering. "It's not a protest; it's a gathering," she said.
A lot of questions
Those invited ask a lot of questions, she said. " 'Why are you called to gather?' 'Why do these people keep going down every year?' And often the answer is, 'You know what, I can't explain it in words. You've got to come experience it yourself.' "
Brebeuf senior Hilary Parker, said she has had her issues with the church, but after experiencing the SOA gathering, she found herself more excited about it. Of the Jesuits, she said, "I was just overwhelmed with their willingness to take a risk and bring up political things during Mass. A lot of Catholic churches wouldn't do that. That was really empowering for me."
In a front-page story in the Sept. 21 edition of the Columbus Ledger-Enquirer, Col. Richard Downie, commandant of the Western Hemisphere Institute for Security Cooperation, was quoted saying, "Far too many protesters come here with deaf ears," and that he wanted to dialogue with SOA protesters. Berger took issue with Downie's statement. "We don't come with deaf ears," she said. "We come with open hearts. We come with open minds. We come with that every year. It's about love. It's about human life. That's truly what it's about," she said. "We listen, and we know the truth. We hear the truth.
"The reality is the violence cannot be permitted," she said. "This is life, and we can't choose death over life."
Veronica Bricker teaches Spanish at St. Ignatius College Prep in San Francisco. This was her third trip to the annual SOA gathering. She came with eight students, four faculty and eight alumni. The school gave financial support to the group and even held a send-off commissioning Mass. To be at the Ignatian teaching and hear firsthand accounts of the Jesuit martyrs is a powerful experience for the students, Bricker said. "It makes it real to them," she said. "They hear stories. They hear firsthand testimonies. They see the spirit at work in the crowd."
Patrick O'Neill is a freelance writer living in Raleigh, N.C.
NCR coverage of SOA protests since 1997
National Catholic Reporter, December 19, 2003