Issue Date: August 27, 2004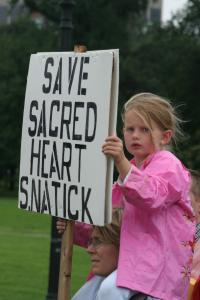 -- CNS/Gregory L. Tracy
Seven-year-old Kate Quigley helps her mother hold a sign during a Mass sponsored by Voice of the Faithful on the Boston Common Aug. 15.
Boston Catholics gather for Mass in response to church closings
By CATHOLIC NEWS SERVICE
Boston
Cold, cloudy and windy weather did not deter about 1,000 people from gathering on the Boston Common Aug. 15 for a Mass planned as a response to the Boston archdiocese's decision to close 80 parishes in the coming months. The Mass, held on the feast of the Assumption of the Blessed Virgin Mary, was organized by Voice of the Faithful.
In May Archbishop Sean P. O'Malley announced that 70 of the 357 parishes in the archdiocese would close. In early August, the archdiocese announced 10 more parishes would be closed. (

See related story.) Another five parishes are scheduled to continue as worship sites and five new parishes are to be created.
Maryetta Dussourd, the mother and aunt of victims of convicted child molester John Geoghan, spoke before Mass began.
She told worshipers, "I know that you suffer pain and sadness. ... I know these pains, but I also know you're in the greatest church.
"It is time to realize that God is more important than buildings," she said. "You haven't lost your faith and you haven't lost each other."
The Mass was meant to "attend to the grieving of all parishes that are closing," and worshipers were encouraged to "stand in solidarity and unity with all Catholics in the archdiocese of Boston during this difficult time," according to an advertisement that ran in the archdiocesan newspaper.
However, many worshipers were also there to protest the closing of their parishes. They brought signs that read, "Open windows, open hearts. Closed doors?" and "Fire all Bishops. Start American Church."
From the Kyrie to the remarks before the final prayer, the celebrants, too, took the occasion to criticize bishops and the archdiocese's parish reconfiguration program.
"The archdiocese of Boston has confused the mission of the church with the money of the church," Fr. Robert J. Bowers, St. Catherine of Siena, one of the parishes slated for closure, said in his homily. The statement evoked a round of applause from the crowd.
Bowers went on to criticize bishops who cite lack of priests, church buildings in need of repairs and low attendance as reasons for closing parishes.
"What we don't have are bishops who have the courage to say, 'Why?' " he said.
"Look what we have. We do have each other. We have a voice of the faithful, strength, resource and God with us," he continued.
The altar was placed on a stage under a blue canopy and decorated with sunflowers and ferns. It stood in the same place where Pope John Paul II celebrated Mass during his 1979 visit to Boston. It rained on that day 25 years ago.
National Catholic Reporter, August 27, 2004